News
Jessica Chastain Helped Octavia Spencer Reach Equal Pay in New Movie
Octavia Spencer says Jessica Chastain "walks the walk" and helped her overcome the even steeper equal pay gap faced by women of color.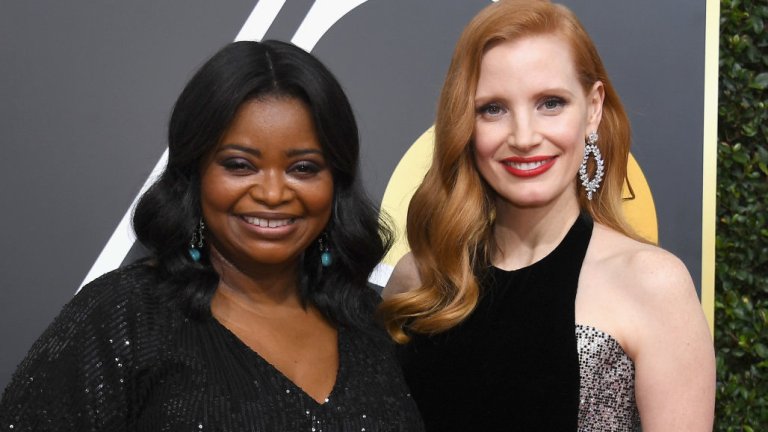 It's Movie Publicity 101 to have actors who starred together in a film—particularly one that leaves audiences smiling—to say that they're good friends. But Jessica Chastain and Octavia Spencer appear to be more than just pals who appeared together in The Help; they're living their own truth both as friends and as professionals while fighting to change the paradigm of equal pay for women and women of color, one film at a time.
Indeed, word came out earlier this month that Chastain and Spencer are partnering for an untitled holiday-themed comedy at Universal that sounds like a spiritual successor to Planes, Trains, and Automobiles. But it is the behind-the-scenes story of the film that is truly remarkable. For while Chastain has come to social media prominence as a vocal supporter of the #MeToo and #TimesUp movement, it was a teary-eyed testimonial from Spencer that proved Chastain is "walking the walk" too.
The revelation that Chastain had to fight with Spencer so that the latter would be paid the same as her white co-star occurred during a panel at the Sundance Film Festival. Recalling a conversation that she had with Chastain before the #MeToo movement began last year, Spencer said she had to explain to her The Help co-star that even though Spencer was an Oscar winning (and twice nominated) actor, she still faced as a woman of color an even steeper pay gap than Chastain.
Says Spencer, "I said, 'But here's the thing: Women of color on the [equal pay] spectrum, we make far less than white women. So if we're going to have that conversation about pay equality, we've got to bring the women of color to the table."
At that point the now thrice Oscar nominated actor paused to fight back tears before saying, "I love that woman because she's walking the walk and she's actually talking the talk. She said, 'Octavia we're going to get you paid on this film… You and I are going to be tied together… We're going to make the same thing, and you're going to make that amount.' And fast forward to last week, and we're making five times what we asked for."
It's remarkable to have a positive story about Hollywood contracts coming out in this day and age, especially when it involves actors facing the same insidious pay gaps and inequalities that are pervasive in all industries. Because while posting hashtags on Twitter can be therapeutic and satisfying, actually causing genuine change, and improving inequality along gender and racial lines in the real world, will always be what truly improves things. Plus, for an actor like Chastain, who's developed a reputation for playing fierce women on the big screen with Miss Sloane and Molly Bloom in the incredibly underrated Molly's Game, it's better than any awards recognition to hear that some of that movie magic comes from a place of real steel.
You can watch Spencer tell her full truth in the video below, which begins at the 19:30 mark.