News
Jeremy Holt Will Bring Nirvana Back To Time In New Comic
Jeremy Holt and Alex Diotto bring a timeless love of grunge to Skip to the End.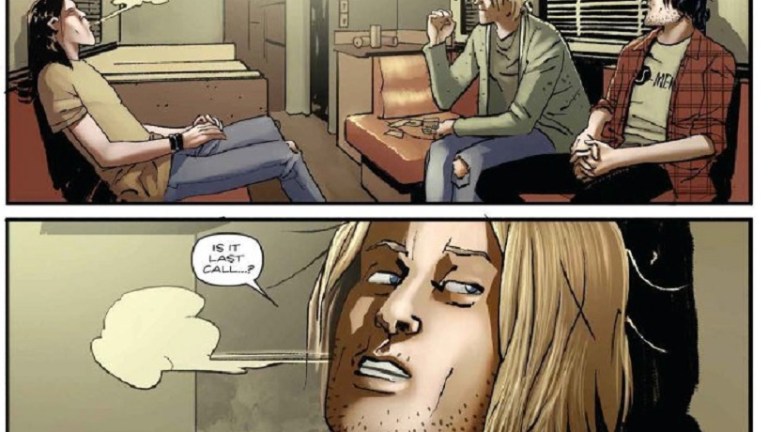 Writer Jeremy Holt and Italian illustrator  Alex Diotto, who brought us the 2014 werewolf comic Southern Dog, are collaborating again on the new comic book series Skip to the End, about a musician who shreds a mysterious guitar that propels him through time. The band at the center of the comic, Samsara, is based on the iconic masters of grunge, the Seattle band Nirvana, led by the late Kurt Cobain.
Vermont-based comic book writer Holt also published the comics After Houdini and Pulp. He recently detailed the new comic to Newsarama.
"Skip To The End explores the concept that music is a form of time travel," Holt told Newsarama. "I think just about everyone has experienced that unique sensation of hearing a particular song and being instantly transported to a specific time and place. This story takes that feeling a step further."
The series will center on Jonny Wells, a musician who is looking for some "closure to some very tragic events in his life. Most notably, the death of his bandmate and best friend, who also happened to be the most famous rock star of the 90's," Holt told the publication. Wells is loosely based on bassist Krist Novoselic, who "is the least famous member of Nirvana, which makes him the most accessible from both the writer's perspective as well as the reader's," Holt told Newsarama.
Holt said he "originally set out to do a straight up bio comic on the Nirvana leader, but the comic became "closely tied to historical events of the band, and less so with the life of Kurt Cobain."
"Samsara's career trajectory mirrors Nirvana's in almost every way," Hold explained. He streamlined the story by "suggesting that the three members of Samsara, leader Kirk Jansen, bassist Jonny Wells, and drummer Mark Strong, are the only members of the band. In reality, Nirvana had gone through several drummers before Dave Grohl joined them in 1990.
Unlike Novaselic, the bassist Wells foundered for the twenty years following the bandleader's death and "is now a heroin addict working at a dive bar on the wrong end of town. He's reminded of his grunge rock royalty past any time Samsara's hit song "Skip To The End" comes on the jukebox, and is desperate to return to his glory days when he discovers a guitar that allows him to—literally," Holt told Newsarama.
"The guitar serves as the spacial collider (i.e. hardware) that facilities the time jump," Holt explained. "A 1930's National Duolian Guitar is–at least to me–the musical equivalent of a DeLorean."
Heavy Metal will publish Skip To The End as a four-issue series starting on August 3, 2016.
SOURCE: NEWSARAMA