News
Jennifer Lawrence Gave Phantom Thread "Solid 3 Minutes" Before Turning It Off
Jennifer Lawrence confesses that she could only stomach watching three minutes of Daniel Day-Lewis' Phantom Thread before hitting stop.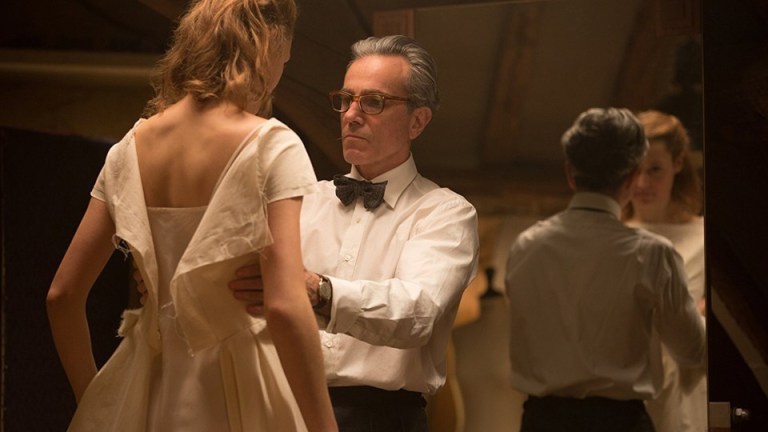 It is fair to say that not every movie will please every person, but Jennifer Lawrence didn't mince words in her brutal—if somewhat lighthearted—shutdown of Paul Thomas Anderson's Phantom Thread. The admittedly gingerly paced film about the obsessions of an artistic dressmaker and his unusual marriage is intended to be Daniel Day-Lewis' final performance, and one that has seen him receive yet another Oscar nomination. It has also been nominated for Best Picture, Best Supporting Actress, and Best Director by the Academy Awards, but Jennifer Lawrence is not having it. Quite literally, as she really hasn't seen it.
While chatting with Marc Maron on the WTF Podcast, Lawrence was blunt in her appraisal of what amounts to Phantom Thread's opening credits.
"I got through about three minutes of it," Lawrence confessed to her host. "I put in a good solid three. I'm sorry to anybody who loved that movie. I couldn't give that kind of time. It was three minutes, and I was just [oof]."
She then added, "Is it just about clothes? Is [Day-Lewis' character] kind of like a narcissistic sociopath and he's an artist, so every girl falls in love with him because he makes her feel bad about herself and that's the love story? I haven't seen it, so I don't know. I've been down that road; I know what that's like, I don't need to watch that movie."
The film, if you stay for its full 130 minutes is most certainly about a narcissistic artist and his rather unique marriage to a waitress he turned into his muse and then his wife, played by Vicky Krieps. As much as it is about his issues, however, it is also about how she approaches the man, and what drives her too.
Still, not every film is for every viewer. Our very own Don Kaye was left discernably cold by Phantom Thread in his review (although, I personally found it to be an intriguing film with wonderful details, if not one of the best overall movies of the year). Even so, Lawrence's words are a bit surprising given that she herself recently starred in a far more controversial film that, at least on one level, is about a woman who gives herself to a narcissistic artist who slowly drains away her will to live in their imbalanced marriage. And unlike Phantom Thread, mother! has received far more intense criticism.
We're all entitled to our opinions, but the best film criticism occurs from more than three minutes of consideration.