News
Jeff Jarrett Out at GFW, Anthem Looking to Sell?
Sports Illustrated is reporting that Anthem Sports is considering selling GFW, once again making Impact Wrestling's future uncertain.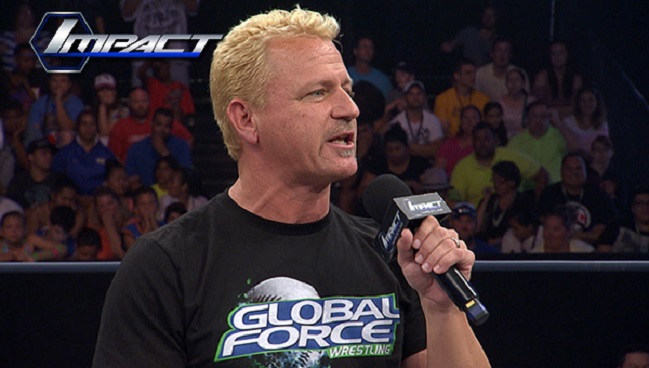 On Tuesday, Global Force Wrestling announced Jeff Jarrett would be taking an indefinite leave of absence to focus on personal matters. According to several reports, including one at PWInsider.com, Jarrett met with Anthem Sports VP Ed Nordholm and Nordholm made the decision to play Jarrett on leave.
"Effective immediately, Jeff Jarrett is taking an indefinite leave of absence from his position as Chief Creative Officer to focus on personal matters," the company said in a statement. "Jeff will be available on a consultative basis as needed."
The news continued to trickle in on Wednesday. According to Justin Barrasso of Sports Illustrated, Anthem Sports is looking to sell GFW after sustaining heavy financial losses over the course of the past year. Barrasso reports that Anthem is "hemorrhaging funds" and that Anthem even had to gut the Fight Network in order to finance GFW. 
Anthem acquired GFW late last year from Dixie Carter, taking on a company that was, at the time, in massive debt. 
The Wrestling Observer reported last week that Impact Wrestling would remain on Pop TV in 2018, which pointed to signs that GFW was not able to land a better television deal in the United States. 
Barrasso speculates that Anthem could be considering selling to WWE or Ring of Honor or even former GFW investor, Billy Corgan. However, it seems WWE is the most likely suitor. WWE has a way to monetize the tape library that the other potential buyers simply do not. WWE also has the most money at their disposal, if it were to go to bid between more than one party.
Barrasso also reports that Anthem doesn't own the GFW name and trademark. Despite an announced merger earlier this year, the name and trademark for GFW is still owned by an LLC that is controlled by Jarrett. So essentially, Anthem doesn't even own the name to their own company.
We'll update you with more information as it becomes available.