News
Japanese Pop Metal Band BABYMETAL To Make Animated Short Series for Warner Bros.
The future of heavy metal is in the hands of a trio of Japanese teenagers and all they want is chocolate.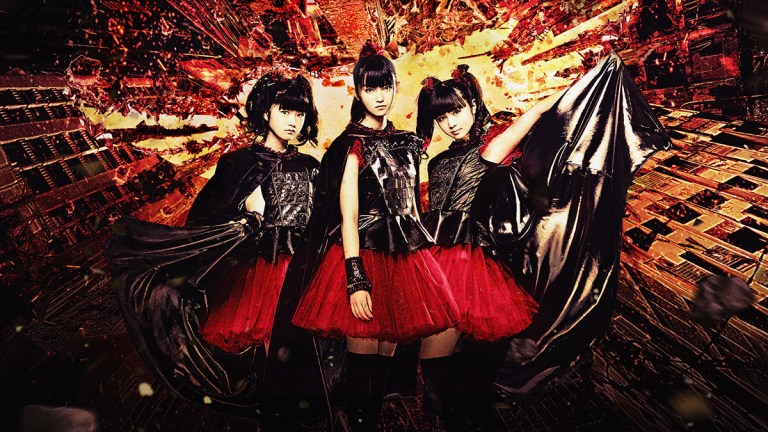 It's not too too late for heavy metal. BABYMETAL, a teen-J-pop-metal band, has been recruited to shred non-believers with melodic amusement.
SU-METAL, YUIMETAL and MOAMETAL will star in an original hybrid live-action and animated shortform series that is being developed by Warner Bros.' digital studio Blue Ribbon Content and Japan's Amuse Inc.'s subsidiary, Amuse USA.
 "We are grateful for Warner Bros. and Blue Ribbon Content's interest in BABYMETAL, and to be moving onward with the project," Tatsuro Hatanaka, President, Amuse, Inc. and Amuse USA, said in a statement. "We are very much looking forward to working on this project with Sam and his team, and hope everyone will enjoy our completed work."
The project is currently in development, Sam Register, President, Warner Bros. Animation and Warner Digital Series, announced.
"BABYMETAL have to be seen to be believed — a mind-blowing, fun combination of pop vocals, heavy metal music and dance choreography brought to life by three incredibly talented teenage stars," Register said in a statement. "We are huge fans here at Blue Ribbon Content and are extremely excited to help bring the BABYMETAL phenomenon to U.S. audiences through this upcoming digital series."
According to the official synopsis:
The action-adventure will take viewers inside the magical world of heavy metal music as it comes under attack, and one lonely god, Kitsune, forms the warrior band BABYMETAL to save the day. In the series, SU-METAL, YUIMETAL and MOAMETAL join together to ultimately redefine the genre. The series will also feature new live-action performances from the group, who will enter the animated world through a secret portal.
The series will also be produced by Key Kobayashi, the Manager and creator of BABYMETAL (a.k.a. KOBAMETAL).
BABYMETAL recently topped off a 2016 world tour by performing to over 110,000 fans at the Tokyo Dome. The band is fronted by three teenage girls with choreographed dance moves to accompany their vocals. They will be touring with the Red Hot Chili Peppers, when they hit the U.K. for their first tour in five years.
Rob Zombie told Billboard that BABYMETAL "are like nothing I've ever seen before."  The Japanese metal dance unit has developed a devoted fan base that describes their concerts as both energetic and unforgettable. Slipknot's Corey Taylor and Slash from Guns N' Roses' can't get enough of them.
"With a name inspired by "the birth of new metal" and a goal of fusing metal and pop music, BABYMETAL has already achieved two major debut singles, both of which ranked in the Top 10 Oricon chart in Japan," reads their press release. "Their first studio album also earned the #1 spot on Billboard's World Album chart, and the official live music video for their debut album's lead single,"Gimme Chocolate!!," has garnered more than 60 million views on YouTube.
"Their sophomore album, METAL RESISTANCE, made them the first Japanese act to make the Billboard 200 album chart's top 40 in 53 years. They have also won several awards, including: The Breakthrough Act award at the 2015 Metal Hammer Golden Gods; The Spirit of Independence award at the 2015 Kerrang! Awards;  MTV Europe's Wildcard Best Japanese Act; The Discovery Prize at GQ Japan's Men of the Year 2015 Awards and the Women of the Year prize at Vogue Japan's Women of the Year 2015 Awards.