News
Jack Kirby Museum Pop-Up Event Coming to NYC for Kirby's 100th Birthday
If you're in New York City you can celebrate Jack Kirby's birthday at a special event and gallery space.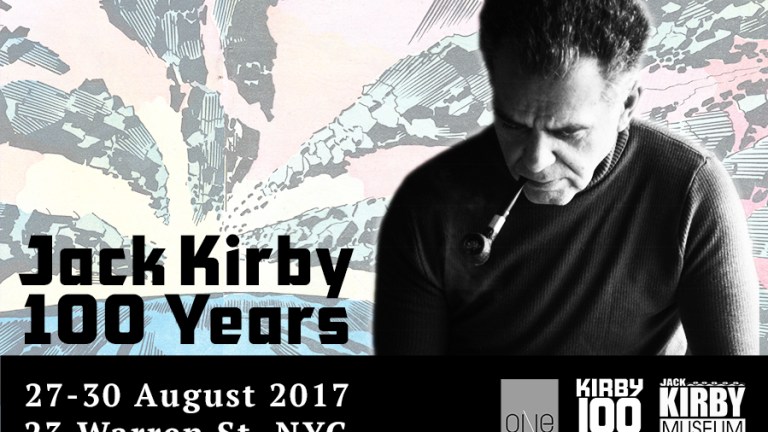 Jack Kirby, the co-creator of most of the Marvel Universe as you know it, would have turned 100 on August 28 of this year. To celebrate, The Jack Kirby Museum and Research Center is putting together a special, limited-engagement event focusing on Kirby's life, creations, and boundless pop culture influence.
The Kirby Museum will open Jack Kirby: 100 Years at One Art Space at 23 Warren Street in New York City on August 27th. The event will run through August 30th, and will feature oversized reproductions of Kirby's work, screens that will allow visitors to swipe through the Museum's archive of scanned Kirby original art, talks from the Kirby Museum founders, trustees, and more. August 28th will see a fundraising effort for The Hero Initiative and Kirby4Heroes.
The current schedule of events follows…
Sunday, August 27th
Opening Celebration All Day!
3pm – "Explore Kirby Original Art"  with Kirby Museum President Tom Kraft
5pm – Silent Auction starts  (Please note: no original art will be offered). Telephone bids MAY be available. Stay tuned.
6pm – "What is the Jack Kirby Museum?" with Tom Kraft and Founding Trustee Rand Hoppe
7pm – Silent Auction ends.
Monday, August 28th
50% of all profits will go to Kirby4Heroes campaign for the Hero initiative
6pm – "Jack Kirby – 100 years" talk by Rand Hoppe
Tuesday, August 29th
Open from Noon until 7pm
Event schedule pending.
Wednesday, August 30th