News
Is Vince McMahon Bringing Back the XFL?
McMahon started a new company, "Alpha Entertainment," and it's filing for trademarks ...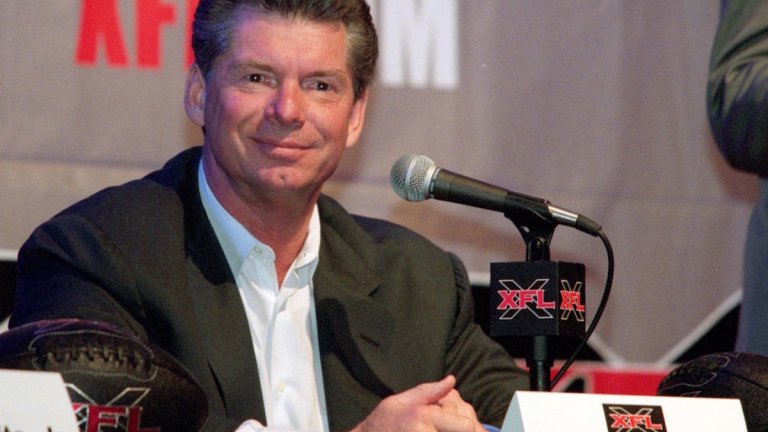 It's one of those Vince McMahon moments that still lives on today.
It was 2001, opening night of Vince's new football league, something he founded in partnership with NBC. McMahon walked to the 50-yard line, and in his over-the-top Mr. McMahon voice exclaimed, "This … is … THE XFL!"
The league folded less than a year later and McMahon was out of the football business.
At least, for the time being.
News broke this weekend that McMahon will soon announce that he's, once again, starting a new football league. Brad Shephard reported this weekend that the announcement could come as soon as January 25. WWE released a statement to Deadspin this weekend, and the company didn't deny the rumors.
"Vince McMahon has established and is personally funding a separate entity from WWE, Alpha Entertainment, to explore investment opportunities across the sports and entertainment landscapes, including professional football. Mr. McMahon has nothing further to announce at this time," the statement read.
According to several reports, Alpha Entertainment applied for two trademarks recently. First, the company applied for "URFL" and the company also applied for "United Football League."
According to The Score in Canada, McMahon's company also trademarked "For the Love of Football."
What's interesting is that ESPN ran a documentary earlier this year on the XFL, and interviewed Vince McMahon as part of the film. At the end of the film, McMahon is having dinner with former NBC sports exec Dick Ebersol, and they talk about whether or not the XFL would work in 2017.
During that conversation, Vince mentioned that he had conversations with Dallas Cowboys owner Jerry Jones about, essentially, a minor-league football organization to serve as a feeder to the NFL.
McMahon and Jones have been business partners in the past, most notably when WWE used Jones' AT&T Stadium in Dallas for WrestleMania 32.
The problem here is that I don't see McMahon wanting to be "minor league" anything. That might be the plan, but Vince doesn't do minor league.
Will a new football league work? No, probably not. But the XFL had a chance to succeed before Vince decided to "WWE it up" too much, hiring strippers for cheerleaders and putting Jerry Lawler on commentary to yip and yap about "puppies!"