News
In Search Of Reboot Coming to History Channel with New Spock
The History Channel's upcoming reboot of In Search Of finds a new Vulcan science officer to read the tricorder.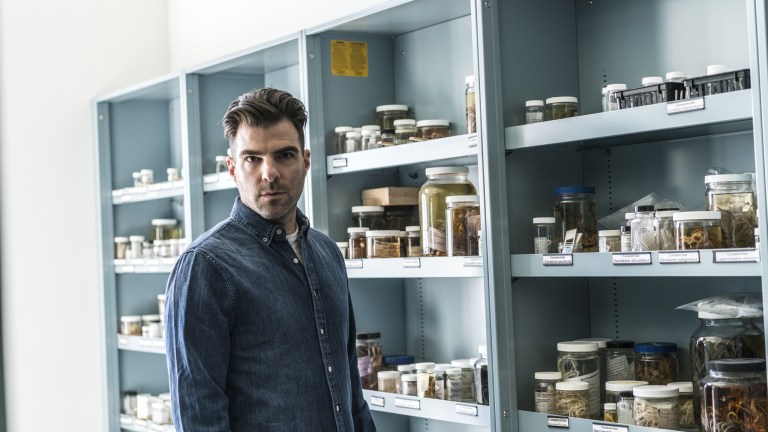 "Lost civilizations, extraterrestrials, myths and monsters, missing persons, magic and witchcraft, unexplained phenomena," promised Leonard Nimoy as host of the original In Search Of series. The History Channel will keep those cameras traveling the world, seeking out great mysteries under a new generation Mr. Spock, Emmy-nominated actor Zachary Quinto (Star Trek, Snowden), who will host and executive produce the newly greenlit unscripted series.
"I am so excited to be reimagining In Search Of and exploring new questions and phenomena with all of the advancements in science and technology from which we have benefitted in the past forty years since the original series first aired," Quinto said in a statement.
"In the spirit of my late dear friend Leonard Nimoy, we intend to honor and perpetuate his endless curiosity about the world – and universe – in which we live."
The ten-episode series In Search Of was inspired by the iconic franchise which aired from 1977-1982, was first hosted by The Twilight Zone and Night Gallery creator Rod Serling. Nimoy took over the investigations following Serling's death.
"In the '70s and '80s, the legendary Leonard Nimoy captivated viewers by transporting them through the world of unsolved mysteries and paranormal phenomena," History EVP of Programming Eli Lehrer said in a statement. "To this day, the investigations conducted in this series remain relevant and a source of public obsession. Now with Zachary's passion and prevalence in the science fiction genre, the groundbreaking series is back for a new audience."
Directed by Eddie Schmidt, In Search Of will examine "unexplained phenomena from all over the world. UFOs and paranormal mysteries remain relevant as the Pentagon recently acknowledged a secret UFO program which investigated sightings of UFOs from 2007 – 2012."
Each week, Quinto will investigate a different subject within a dynamic theme, from the mythical to the scientific, such as "alien encounters, mysterious creatures, UFO sightings, time travel and artificial intelligence – and searches for the truth to some of the world's greatest mysteries."
In Search Of will explore enigmas told through the eyes of witnesses and scholars with a personal connection to the phenomenon and include immersive demonstrations and experiments that contextualize each episode's theme.
In Search Of joins one of The History Channel's longest running nonfiction series Ancient Aliens, and the upcoming scripted series Blue Book, which stars Aidan Gillen (Game of Thrones), and is executive produced by Robert Zemeckis. Blue Book will chronicle the true top secret United States Air Force-sponsored investigations into UFO-related phenomena in the 1950s and '60s known as "Project Blue Book."
There is no official In Search Of release date.