News
Impact Wrestling's Booking Goes Sideways
Alberto El Patron is the No. 1 contender for Lashley's title, but Impact took a long road to get there ...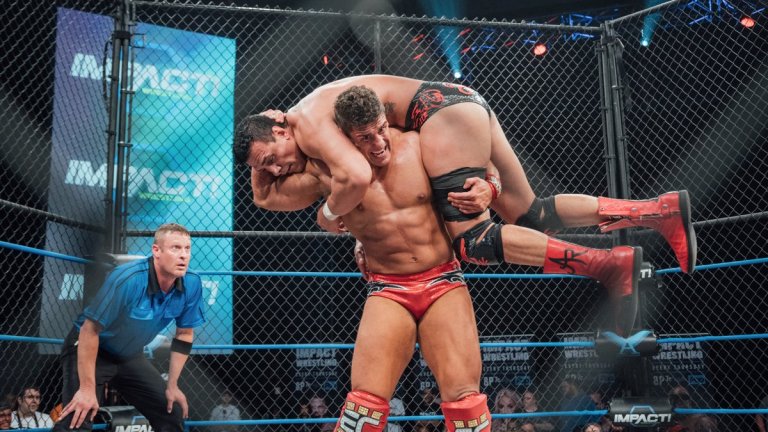 To open Thursday's Impact Wrestling, new No. 1 contender Ethan Carter III made his way to the ring for a celebration. It was soon interrupted by Bruce Prichard, who informed ECIII that despite winning a No. 1 contender's match on last week's show, he would have to defend that status in a match against Alberto El Patron later in the show, in the main event. Not only that, but it would be a six sides of steel match … just because.
Infuriating booking. Just infuriating. Why did viewers invest in a No. 1 contender match last week, only to have that completely disregarded … IN THE FIRST SEGMENT OF THE NEXT SHOW! Not only that, but according to this narrative, Impact officials went on the air without a main event, and just decided to book a steel cage match? C'mon.
Impact has done such a good job recently starting the show hot with matches and also advertising main events ahead of time, usually a week in advance. This was poor storytelling at best, and mindless at worst.
Not to mention that Impact was up against Game 1 of the NBA Finals. This should have been an important night to pre-book a main event, instead of booking one on the fly.
We're supposed to believe that the crew of people in charge of Impact Wrestling knew about this ECIII situation — remember, he beat up Prichard two weeks ago — for a week, and didn't choose to address it until after the next show was on the air? You can go outside the wrestling rulebook here for a second. Announce the El Patron-ECIII match on the website Monday, and say "the board" came to the decision. Then open the show with the promo only it's ECIII complaining about having to defend his No. 1 contender status. Instead it makes the management characters look like shoddy leaders, who are just flying by the seat of their pants.
This wasn't the only time they made their own management look less than intelligent on the show, either. We'll get to that in a bit.
Moose beat Eli Drake to retain the Impact Grand Championship via decision
The commentary for this match was – surprise! – awful. This is the problem with having the announce team fill a storyline. Instead of putting over the guys in the ring, which is their job, Mathews spends the entire match playing the heel and putting himself and Scott Steiner over. It's distracting, and not helping anyone on the roster other than Mathews. Aside from that, it's really hard to invest in any title on Impact right now that isn't the World Title, because with all of the GFW Titles on the show, there's way too many belts and everything that's a "secondary" title is watered down.
Allie beat Amber Nova
I like Allie. I like the character and from what I can tell, I'd like the person. She seems like a genuinely nice person. But this character is starting to feel more and more like Eugene every week.
LAX beat V.O.W. in a No DQ match to win the GFW Tag Titles
Why was this a No DQ match? Was it ever explained? And why are the people in charge of Impact OK allowing one team to come to the ring for a No DQ match with three people in their corner? All these are logical questions, I think.
Impact seems really intent on making the people in charge of their show tonight look like bumbling fools. The match itself was fine, but the booking on this show has been very odd and out of left field. Now, the good news is that I assume the tag titles are now unified, so that gets rid of some titles on the show. There were, at one point, eight different championships on the two-hour show. That's a bit too many. Just a bit.
Low Ki beat Andrew Everett to retain the X Division Title
Good match that shined a spotlight on both guys while building up the eventual Sonjay-Low Ki match. Sonjay Dutt was on commentary here, and there were plenty of seeds planted.
WWE is failing to build stars due to 50-50 booking, but this is a good example of how you can continue to put one guy — Low Ki — over, and still keep someone like Everett looking strong in the process
Alberto El Patron beat ECIII to retain the GFW Global Title and become No. 1 contender to the Impact World Title at Slammiversary
A lot of this has been hashed out already, but this match never needed to take place. If they wanted to go with El Patron as No. 1 contender in a unification match — which they should, by the way, it's the right choice — then get rid of all the stuff in the middle with ECIII. It only provided some small steam for the ECIII-James Storm feud. At the end here, it just feels like a lot of wasted time. Impact took a really long road between Point A and Point B.