News
ID Tasks Former DA Anna-Sigga Nicolazzi With Nailing a True Conviction
Former Brooklyn DA Anna-Sigga Nicolazzi explains why open and shut cases are rare in ID's True Conviction.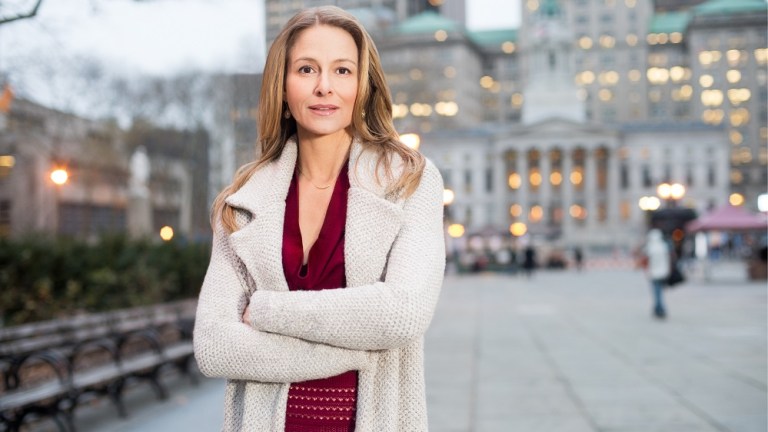 We are spoiled by TV which can wrap up a homicide case, from death to verdict, in an hour, on episodic cop shows. A show like Law and Order can even spend time pondering ethics. Real investigators, like Homicide Bureau Attorney Anna-Sigga Nicolazzi, pound more concrete and put in a lot more hours. Nicolazzi spent 21 years as a prosecutor with the Brooklyn District Attorney's office, one of the largest and busiest in the country.  She held a Homicide Conviction record of 35 wins and 0 losses. Investigation Discover's new series True Conviction promises to takes viewers inside the fight for justice.  
"True Conviction allows true-crime fans to follow along as armchair detectives in a whole new way, providing intimate access to the prosecutors' perspective as they recall their most hard-fought battles for justice," Henry Schleiff, Group President of Investigation Discovery, American Heroes Channel and Destination America, said in a statement.
True Conviction explores real stories of how homicide cases are solved on the street and won in the courtroom in a close cooperation between detectives and prosecutors. Nicolazzi was Chief of Trials in the Brooklyn District Attorney's Homicide Bureau. She served in the office for 21-years. She spent the last 16 in Homicide.  
"I've investigated similar cases," Nicolazzi said in a statement. "I've had to make the difficult decisions and have also sat in their same seat in the courtroom. By using these common experiences as a lens for viewers, my goal is to bring these true crimes stories to life and tell them in a way that hasn't been done before."
Nicolazzi specialized in multiple defendant and other complex cases. "Homicide investigations aren't over when the suspect is in custody," read the official statement. "It's then that the next phase begins with a high-stakes game of cat and mouse between the prime suspect and the prosecutor tasked with putting them behind bars. Pressure is high to solve the case."
Nicolazzi tried over 50 felony cases to verdict, including notable cases like the Fairfield College murder of football player Mark Fisher; the murder of Hunter College student Ramona Moore, the targeting and murder of Michael Sandy, the shooting death of New York City Police Officer Russel Timoshenko; and the murder of ABC news radio personality George Weber. Nicolazzi reveals how the complex layers of each murder investigation came together in the courtroom.
"Anna-Sigga's flawless reputation for exposing the truth, while remaining a steadfast advocate for the victim, carries over to her role in True Conviction as she gets to the heart of each case," Schleiff said in a statement.
Nicolazzi's cases and prosecutorial style have been profiled in The New York Times, New York Magazine, and Vanity Fair. She served on the faculty of Harvard Law School's Trial Advocacy Program. For the series, Nicolazzi will travel across the country to reveal how the nation's top prosecutors tackled their toughest cases.
Cases examined in the first season of True Conviction are:
 "A Match to Murder" premieres Monday, January 1 at 5/4c

In March 2000, life couldn't be sweeter for 71-year-old Margarita Ruiz and her adult daughter Hope. They spend their days in the warm Florida sunshine caring for Hope's two young children. Then one morning, a stranger arrives at the Ruiz home and senselessly murders both women. Detectives and family members are stunned and the case goes unsolved for six years. Then, out of the blue, a mysterious phone call from nearly 1500 miles away leads investigators to the killer. Prosecutor Anna-Sigga Nicolazzi travels to Florida to revisit the shocking crime and talk with the dogged detective and tenacious prosecutor who ultimately won justice for the Ruiz family.

"The Final Call" premieres Tuesday, January 16 at 11/10c

Donna Decker returns home from work late on a Friday night and enters the grips of an intruder, who ties her up in the kitchen. She manages to free herself and goes after him with a knife, but he grabs it and stabs her 17 times. He then shoots her husband, father-in-law and two-and-a-half-year-old son, who had earlier been handcuffed and hogtied in the bedroom. But a family friend who is present during the crime is allowed to leave unharmed. Undefeated prosecutor Anna-Sigga Nicolazzi revisits the case through the eyes of the lead detective and state attorney. Over six years, these men followed a tangled web of leads until finally they identified and convicted the true killer.

"Witness to a Nightmare" premieres Tuesday, January 23 at 10/9c

The evening of March, 1990, seems ordinary for single mother Donna Willard. Her three children go to bed and her fiancée plans to come over later that night. But when a knock comes at the front door of her Southwest Philadelphia home, she finds herself instead face to face with a hooded gunman. He shoots Donna twice, killing her instantly, with her twelve-year-old son witnessing the murder from the top of the stairs. For months, the hunt for her killer leads investigators to a maddening series of dead ends. Prosecutor Anna-Sigga Nicolazzi travels to Philadelphia to revisit the horrific crime and reveal how justice was finally won for the Willard family.

"The Witching Hour" premieres Tuesday, January 30 at 10/9c

It's late by the time 26-year-old law student Tracey Schoettlin finishes her serving shift at a restaurant in downtown Birmingham, Ala. She clocks out but never makes it home. The next day, her body is found beneath a bridge with 19 stab wounds, igniting a panic throughout the city and in the media. Investigators have no credible leads and the case goes cold. Then eight months later, a man shows up at the detectives' door with mystical visions from God about the brutal murder. Anna-Sigga Nicolazzi heads to Birmingham to get a first-hand account of the investigation and to discover how prosecutors obtained justice for the Schoettlin family.

"The Devil in Dallas" premieres Tuesday, February 6 at 10/9c

December 23, 1981, is supposed to be a happy day for Roxann Jeeves and her son, Kristopher. It's the boy's fifth birthday and they have plans to tour a candy factory. Instead, the day ends in unthinkable tragedy. Mother and son are brutally murdered together in a field outside Dallas. Their killer flees the scene and the case ultimately goes cold, but he leaves behind a critical piece of evidence that leads Det. Larry Forsyth on an epic 20-year hunt. Prosecutor Anna-Sigga Nicolazzi travels to Dallas to revisit the shocking crime and find out how justice was finally won for the Jeeves' family.

"Deception in the Desert" premieres Tuesday, February 13 at 10/9c

An unidentified young woman is found murdered in the Arizona desert on Christmas Eve, 1988. Detectives soon learned her name, Cindy Monkman Apelt, who was reported missing by her husband the night prior. As investigators painstakingly piece together an account of Cindy's final hours, they move closer and closer to revealing her killer. Prosecutor Anna-Sigga Nicolazzi revisits the shocking crime with the detectives and state attorney who solved the case and ultimately won justice for Cindy's family.
ID will broadcast a sneak peak of True Conviction on New Year's Day at 5 p.m. Eastern Time. The six-episode series series premieres Tuesday, January 16 at 11 p.m. and will air on Tuesdays at 10 p.m.