News
ID Drops the Clues to Jodi Arias: An American Murder Mystery
Investigation Discovery explores the modern femme fatale on three-part mini-series Jodi Arias: An American Murder Mystery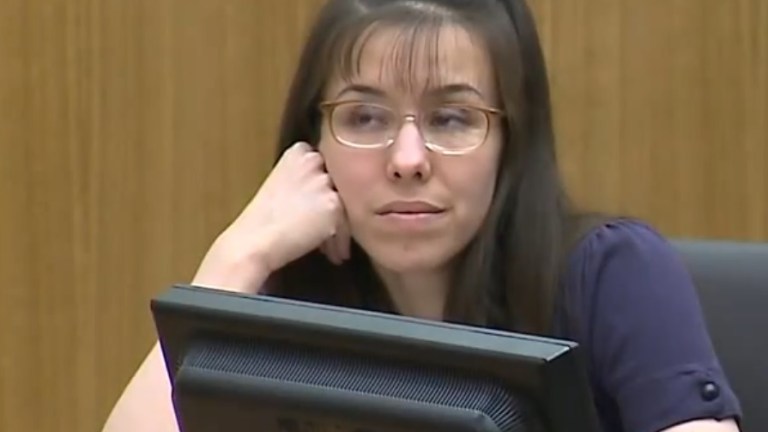 The brutal June 2008 murder of Travis Alexander caught the attention of the entire country. Headlines blared that former waitress Jodi Arias stabbed her 30-year-old former lover nearly 30 times, slit his throat almost from ear to ear and shot him in the face. The accused said she acted in self-defense. Prosecutors said she killed him in a jealous rage. The court battle mesmerized the nation. But the most hypnotic figure was the lethal lady in stripes at the center of it. You couldn't take your eyes off her, even as cameras were barred from the courtroom. Jodi Arias was the femme fatale of the 2000s, joining Salome, Mohini, and Barbara Stanwyck in Double Indemnity. Investigation Discovery's  Jodi Arias: An American Murder Mystery will re-examine one of the "most salacious and sensational crimes to rock the nation" in the latest installment of American Murder Mystery. The three night special event starts Sunday, January 14 at 10 p.m. ET.
Jodi Arias: An American Murder Mystery is a comprehensive exploration of the death of Travis Alexander and the subsequent legal circus as Jodi Arias was tried for first-degree murder. "Sadomasochistic sex, obsession, and jealousy gone wrong create a deadly combination," true-crime network Investigation Discovery promises, "in a case that was almost too stunning to be believed. When 30-year-old Alexander is found brutally murdered in his Mesa, Arizona home, police are shocked – who would have wanted to harm the popular salesman with no known enemies?  But soon, investigators receive a bizarre phone call that changes everything. The caller is Alexander's mysterious ex-girlfriend – Jodi Arias. What happens next is too shocking to be real – but, it is. 
Arias first claimed she had nothing to do with the murder, blaming it on intruders. She later changed her story and claimed he acted in self-defense. Arias testified that Alexander was abusive and attacked her. Defense experts gave testimony that Arias has been suffering from post-traumatic stress disorder and memory loss since Travis' death. At one point Arias testified that she dated a vampire hunter who slit his wrists in a suicide attempt after she broke up with him over the phone.  Juan Martinez, the prosecutor, attempted to dismiss tape-recording showing Alexander saying that he wanted to tie Arias to a tree and sodomize her. The victim, who had been labeled truly innocent, was caught on tape using porn-movie terms.
"Hell hath no fury like a woman scorned, and Jodi Arias is one hell of a scorned woman," Henry Schleiff, Group President of Investigation Discovery, Destination America and American Heroes Channel, said in a statement. "The brutal murder of Travis Alexander is one of the most provocative crimes of the century, as a whirlwind romance transformed into a fatal attraction in a salacious trial that was tailor-made for the tabloids."
Jodi Arias: An American Murder Mystery featuring all-new and exclusive interviews with key players in the case, the three-part mini-series showcases a stunning look into Jodi's bizarre, attention-grabbing behavior that led to her arrest and conviction. Notable interviews in the series include Kirk Nurmi, Arias' public defender; Juan Martinez, deputy attorney, Maricopa County; and Nathan Mendes, former detective, Siskiyou County, along with legal analysts and reporters who covered the case on the ground.
About the Case
"On June 4, 2008, friends found 30-year-old Travis Alexander dead in the shower of his Mesa, Arizona home. He was stabbed more than 20 times, his throat was slit and he was shot in the head. Alexander's family and friends are stunned, and phone calls flood the police station with tips and information about the case. Alexander's family and friends point fingers to one key person of interest – Jodi Arias. 

Arias and Alexander first met in the fall of 2006 at a work conference in Las Vegas. Their meeting quickly evolved into a whirlwind relationship, and just months later, Arias is baptized into the Church of Jesus Christ of Latter-Day Saints, a faith that Alexander is strongly devoted to. But when their passionate new relationship becomes contentious the following summer, the two break up officially. Although they are no longer dating, Alexander and Arias maintain a fiery physical relationship and continue to see each other for sex for more than a year, despite Alexander dating other women and Arias moving back to California.  Jealousy begins to seep into their relationship, and when Arias hacks into Alexander's Facebook in June 2008, Alexander ends things for good.

After hearing the news of Alexander's murder just weeks after breaking up, Arias calls police offering assistance in any way possible. Little does she know, they have damning evidence against her; while investigating the crime scene, they discovered a digital camera that was run through the washing machine at Alexander's apartment. The recovered photos reveal that Arias was with Alexander the day he died, and even shows images of Alexander in a pool of his own blood with Arias' pants visible in the shots. And when DNA testing links hair strands found at the crime scene to Arias, a grand jury officially indicts her on first-degree murder charges in the death of Alexander.

Over the next five years, Arias was tried in one of the most salacious public trials in recent history. Claims of abuse, home invasions and self-defense riddled the courtroom and her bizarre behavior provided prime tabloid fodder around the world. Arias was officially convicted of Alexander's murder in May 2013, and is currently serving a life sentence without the possibility of parole in Arizona."
Jodi Arias: An American Murder Mystery premieres Sunday, January 14 at 10 p.m. on ID.