News
Iconic New York Actor Sylvia Miles Dies at 94
Sylvia Miles was the original Sally on the Dick van Dyke Show, and a fixture of New York's entertainment world.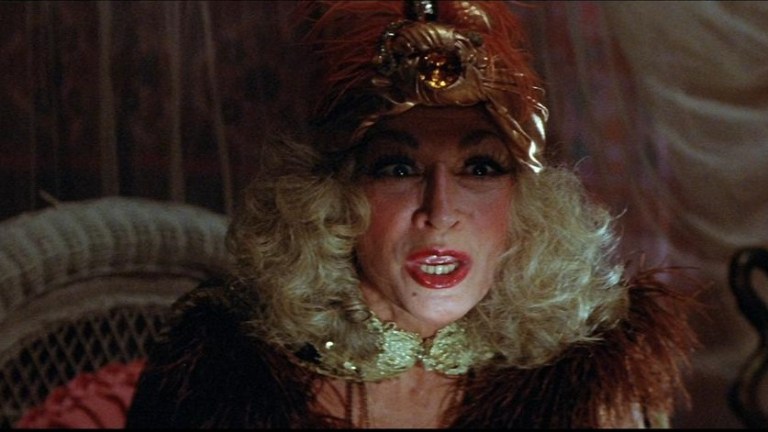 Iconic New York stage and screen scene-stealer Sylvia Miles died at age 94, according to Variety.  Miles created a string of incredibly memorable, very New York characters, often with very little screen time. She was on the screen for six minutes in Midnight Cowboy (1969), about five and a half minutes in Farewell, My Lovely (1975), and she was nominated as Best Supporting Actress for both. She only sold two apartments in Wall Street and its sequel Wall Street: Money Never Sleeps. Miles had three short scenes selling Amy Irving to the pickle guy in Crossing Delancey.  
Her starring role in Andy Warhol's Heat, is no less memorable, though criminally under-watched. A take on the classic Sunset Boulevard, as if any of Warhol's movies weren't, Miles played the Gloria Swanson- aging-film-star part while Joe Dallesandro took on William Holden's role as the younger man she's enjoying. The 1972 X-rated film may have been the best of the Warhol movies because he didn't directed it. That was done by Paul Morrissey. Miles posed nude in a magazine layout on the film and topless in European posters for the movie.
Miles was no less memorable in her appearances at New York hot spots. She was a staple at Studio 54. At a 1973 party during the New York Film Festival she dumped a plate of quiche Lorraine, steak tartare, brie and potato salad on New York theater critic John Simon's head.  Not because of the bad review he gave her performance in the Off Broadway play Nellie Toole & Co. but because he called her one of New York's leading gate-crashers. Miles was always invited.
Miles was born in Greenwich Village on Sept. 9, 1924, although her age is disputed because she listed her birth year as 1932 for a long time, and raised there. She went to Washington Irving High School and Pratt Institute and studied at the Actors Studio. She was a pioneering actor in Off Broadway productions. She made stage debut in 1954 in the play A Stone for Danny Fisher, with Zero Mostel. She played brothel thief Marlyse in the Obie-winning 1960 production of The Balcony, put on by José Quintero at Circle in the Square Downtown. Miles replaced Eileen Ryan, who originated the part of the prostitute Margie in the 1956 production of The Iceman Cometh with Jason Robards.
She played a witch in A Chekhov Sketchbook in 1962, starred in The Kitchen in 1966, opposite Rip Torn, and was praised for her 1972 turn in the 1972 play Rosebloom (1972). Her Broadway appearances included The Riot Act in (1963) and the 1976 revival of Tennessee Williams's The Night of the Iguana. Her 1981 Off Broadway solo show, It's Me, Sylvia, ran only nine performances. Miles wrote the book and lyrics. The music was written by Galt MacDermot, best known for Hair.
Miles made her motion picture debut with the 1960 gangster classic Murder Inc. with Peter Falk and Stuart Whitman. She also played in the film Parrish in 1961, Terror in the City (1964); Dennis Hopper's The Last Movie (1971), Who Killed Mary Whats'ername? (1971), 92 in the Shade (1975), the 1978 Bollywood thriller Shalimar, the 1982 adaptation of Agatha Christie's novel Evil Under the Sun (1982), Spike of Bensonhurst (1988); She also played Meryl Streep's mother in the comedy She-Devil (1989); Denise Calls Up (1995); and The Boys Behind the Desk (2000). She played a carnival fortune teller in Tobe Hooper's The Funhouse.
Miles was the original Sally Rogers in the pilot episode of The Dick Van Dyke Show. The pilot starred Carl Reiner as the head writer. The Sally Rogers role went to Rose Marie when it went to series. She guest starred on a 2002 episode of Sex and the City.
Miles was a competitive chess player who participated in tournaments. She was married to William Miles from 1948 to 1950, to actor Gerald Price from 1952 to 1958, and to radio personality Ted Brown from 1963 to 1970.  She is survived by her sister.
Culture Editor Tony Sokol cut his teeth on the wire services and also wrote and produced New York City's Vampyr Theatre and the rock opera AssassiNation: We Killed JFK. Read more of his work here or find him on Twitter @tsokol.