News
How Kingsman: The Golden Circle Found Its Taste for America
We chat with Old Forester about the special relationship between Kingsman: The Golden Circle and what became Statesman bourbon.
If I can be honest for a moment, I have to admit that I'll never be a Kingsman. At least not the kind in Matthew Vaughn's dapperly depraved franchise. I lack the total wit, sophistication, and, oh yes, that decidedly English sensibility. But a Statesman? Those whom Vaughn describes as the Kingsman's hyper-Americana cousin in this year's Kingsman: The Golden Circle? Cowboy hat or no, that seems much more attainable, particularly while drinking a Statesman Old Fashioned in the company of the Old Forester taste master who envisioned the beverage in my hand.
It was one of the two glasses offered when I sat down with Jackie Zykan, Old Forester's master taster, and the whiskey's lead publicist, Wendy Treinen, on a rainy Manhattan afternoon. The other was the equally delicious Kingsman Tea Sling, a richer and slightly more continental alternative that includes Earl Grey Tea (Unsweetened), simple syrup, and cucumber wheels. Whereas my bourbon of choice was prepared with maple syrup, tobacco bitters, and a lemon peel. Plus, the new Old Forester Statesman bourbon. Of course. Either drink contains that truly possessed spirit that is straight out of the movie, although to my relief I picked the American alternative. If this is the closest I can get to being a horse-wranglin', ass-kickin', superspy Kentuckian… it's not so bad.
This friendly get together with Old Forester marked the rather unusual and intimate connection between a premium brand of century's old whiskey and a Hollywood blockbuster. Old Forester is keen to point out this is more than mere product placement, and they have a point. In addition to consumers getting the chance, beginning on Aug. 1, to purchase the 95-proof Statesman bourbon from Old Forester (at a retail price of about $55), the product will be on sale in perpetuity after the release of the movie in which it plays an exceedingly pivotal role.
As gleaned in the first Kingsman: The Golden Circle TV spot, after an attack on the Kingsman Estate by an unknown foe, Eggsy (Taron Egerton) and Merlin (Mark Strong) follow the breadcrumbs to Berry Bros. & Rudd, the oldest liquor store in London, wherein there is a crucial clue: a bottle of whiskey bourbon distilled in 1919.
"Old Forester is the only brand that's been around before, during, and after Prohibition," Treinen tells me with more than a hint of pride. "It's been continuously owned by the same family, so it's kind of our historical stake in the ground. So we told [Matthew] that story and he said, that's the bourbon I need in the film."
It is the moment of the movie in which the plot turns, and what brings the Kingsman to their Statesman kin in Kentucky (not unlike James Bond traveling to horse country in Goldfinger). And it is something that Vaughn wanted in the film from the beginning before he had even sipped Old Forester.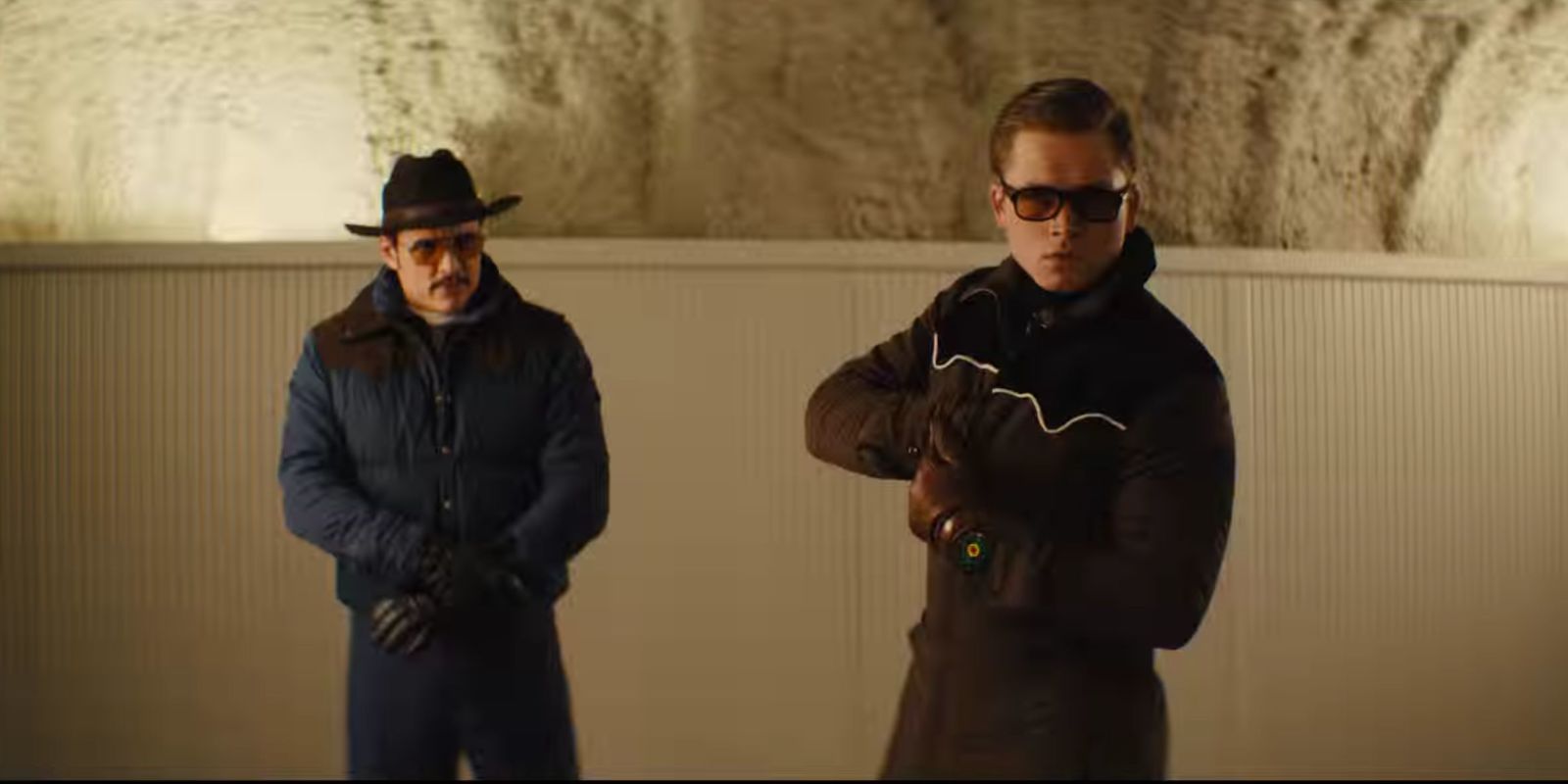 Currently, the bourbon is owned by the Brown-Forman Corporation, and has stayed in the same family's hands since its inception in 1870. Treinen relays this story and how much it intrigued Vaughn, who was on the hunt for great American whiskey before he met the cousins of current Old Forester President Campbell Brown at a London cocktail party.
"Matthew was talking about, 'Yeah, I'm the director of Kingsman and I'm working on the second film. And in the second film, I'm creating this really hyper-Americana thing, and they're called Statesman, because I made them, and because what's more American than bourbon?! So they're master distillers. And I'm looking for the perfect bourbon that really authenticates this storyline.' And the cousins said you've got to talk to my other cousins, and they're in the whiskey business."
The subsequent meeting clearly went well, not least of all because it was a chance to give a taste of America—at least as perceived by a British director who puts Texan oater hats on Kentuckians—to any moviegoer who is willing to spend a little more than they would on popcorn. Treinen herself carried a bottle of Old Forester's new Statesman bourbon in her suitcase to London a few months ago, taking the finished product to Vaughn. In a promotional video I glimpsed, the director appeared more than pleased.
"What we did do with Kingsman is create the high, high end. The best of the best of the best of British quality, [and we] wanted to replicate it in America with the alcohol business," Vaughn explains before taking a sip of Old Forester Statesman. Afterward, his smile said as much as his characteristically understated review: "I have to say that is delicious." Obviously, he felt justified then in placing some familiar faces from Old Forester history on the boardroom walls of the movie's Statesman.
The bourbon itself that Vaughn and I sampled is not in the actual item in the movie, simply because it was two years in the making to prepare the product for mass consumption.
"The whiskey that's in the bottle is a four to six-year blend," Zykan says. She especially enjoyed being "choosey" in selecting the exact bourbon used, picking from the hottest areas in Old Forester's distillery warehouse. "So in doing so, it was more what we already have on-hand, because this has been about two years of a project in the making."
The soon-to-be buyable Old Forester Statesman is nonetheless guaranteed to be at least four-years-old. Explains Zykan, "At Old Forester, we never release before it's four-years-old, because we don't do age statements, and by law with bourbon, you have to put an age statement on there if it's less than four-years-old if it's straight Kentucky bourbon whiskey. So we chose from what we had to combine into this blend."
But they chose more than that. As the film slowly unrolls over the next several months preceding its Sept. 22 release date, Old Forester will be putting out a complete list of cocktails from the film designed by Zykan after each Statesman character, including Agent Champagne (Jeff Bridges), Agent Whiskey (Pedro Pascal), Agent Ginger (Halle Berry), and Agent Teliqua (Channing Tatum). Zykan seemed to especially enjoy Agent Ginger's ginger-infused drink. "It's a sling tea, but very Southern."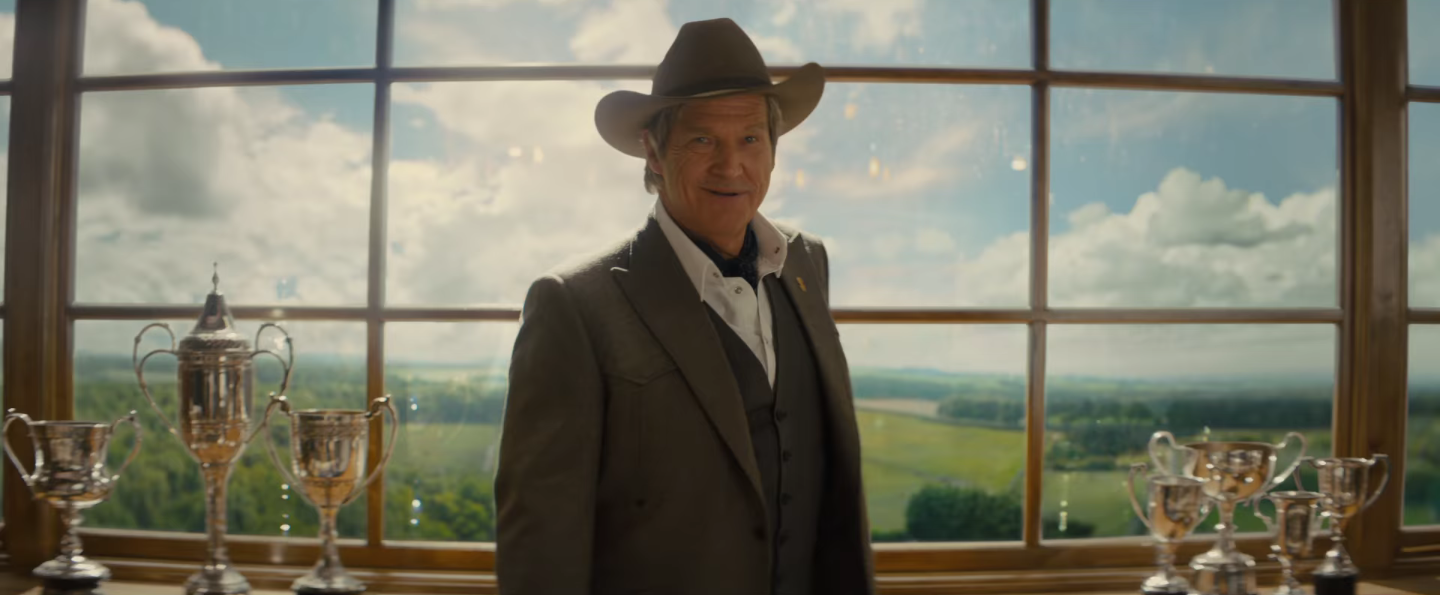 As for the actors who played these characters, only Jeff Bridges has had a chance to drink the real Old Forester Statesman goods thus far. And he did it at perhaps the most fitting place imaginable: The Kentucky Derby.
Treinen was there at the Derby where the Agent Champagne Dude enjoyed his own Old Fashioned Statesman before personally calling the riders up to the gate. Then again, it wasn't exactly his first horse race. After all, he played Charles Howard, the owner of the titular Seabiscuit, in the 2003 movie of the same name.
And as it so happened, one of Bridges' co-stars, the real-life jockey and Kentucky Derby winner Gary Stevens, was racing at Churchill Downs the very day that the Statesman came to the races.
 "Jeff pulled me over and was like, 'Wendy, I want to talk to Gary. Is Gary around?'" Treinen recalls with a laugh. "Well Gary's riding actively and was in the jock's room." And there was no way they'd let a jockey out before the big race, nor was there any chance that Jeff Bridges was going to be able to wade through hundreds of people to the jockey's locker room.
"So Jeff was saying, 'Can you do that thing where you put him on the screen and I can see him? Let's do that thing!' And I said, 'You want to FaceTime him in the jock's room?' And he's like, 'Yeah, let's do that!'" And so they did. "Gary's in his silks, and Jeff's like, 'Hey, Gary, good to see you buddy!' It was just such a cool thing. Old friends connecting over Seabiscuit at Churchill Downs."
Well Seabiscuit and Kingsman's Statesman bourbon. As it turns out, that is about as American as you really can get.