News
Hollywood: women over 35 must be accompanied by someone hot
Martin argues the case for actresses who absolutely aren't past their sell-by date...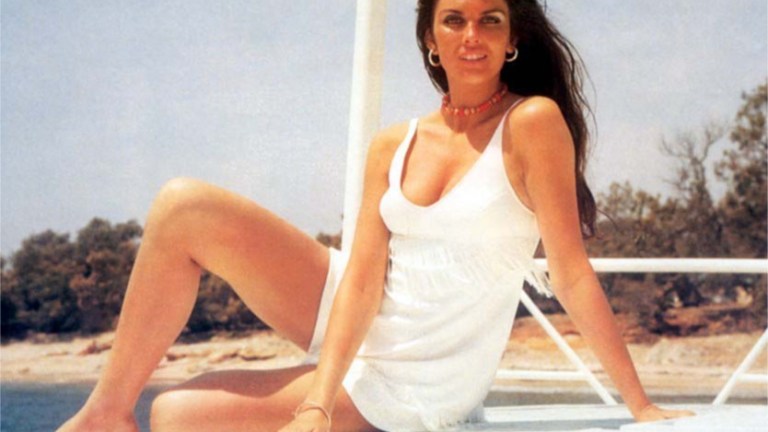 As you may have gathered from other pieces on the site this week, the Geeks descended on Memorabilia at the NEC in Birmingham last weekend. Whilst seasoned old conventioneers like Simon Brew and Robert McLaughlin may scoff to walk amongst Daleks and Imperial Stormtroopers, and stand insouciantly by the entrance chatting with Batman, I was pretty impressed by it all.
Not least by the numerous signing areas where so many of the goddesses of my misspent adolescence were to be found chatting with fans and the numerous small film and radio crews, signing items and selling photos and autographs.
Caroline Munro – who graciously conceded a quick chat to us – was there, in front of me, descended finally from the enormous Lamb's Navy hoardings that brightened hour-long waits for the bus home from school in the 1970s and 80s for me.
Madeline Smith, through the looking glass, out of Frankie Howerd's bath and Roger Moore's closet, was sitting chatting with acolytes next to fellow Bond-girl Lana Wood (who is still Plenty), across the hall a little from our lovely Ingrid Pitt, with whom she had gotten quite playsome in The Vampire Lovers.
I'm not in my early teens anymore and these lovely women are not in their mid-20s, as when they forged their place in cult film history, but I'm still me and they're still amazing and attractive women.
And then suddenly I cut back in my mind to two days earlier in an idle chat with a Dennis Publishing colleague that I don't yet know well.
"They're all old now, aren't they?" he says.
I haven't abandoned hope of quitting the filthy habit of smoking, but if I do I will almost miss some of the glib things I hear from the twenty-somethings on the smoking deck.
Before going on to the finer points of my colleague's criticism, I'd like to make a broad observation about the appreciation of cinematic beauty: it's all fantasy anyway. Even discounting the fact that lighting cameramen, make-up people and editors have made a major contribution to the legacy of all screen sex symbols, what nineteen-year old fool watches Up Pompeii (1970) for the first time and decides to go to a current convention to chat up a twenty year old Maddy Smith? Do the maths. And what chance would he have had even in 1970?
Cinematic beauty is like the dawn or the sunset – you can admire and be breathtakingly inspired, but you can't reach out and touch it; even if you could, you'd only break the spell to find yourself being told to cut your toenails in the bathroom again; being dragged pointlessly into knicker stores on shopping trips; pulling long hairs out of the plughole, etc. Even if you could use the IMDB as a dating site, trying to equate the on-screen personae of movie stars with the people behind them is like trying to appreciate music by licking a record.
In the second place: old relative to what? Some time back, I mentioned here at DoG the fact that all of the original Charlie's Angels were pushing or exceeding thirty when that series began in the mid 1970s; that cult scream queens Adrienne Barbeau and Sybil Danning were in their mid-30s when they became pin-ups, along with Deborah Harry, possibly the most adored pin-up since Marilyn Monroe – who herself remains the world's most resilient and mesmerising icon of glamour and beauty despite being not merely old but actually dead.
And by today's standards, Marilyn didn't die that young – I recently heard a 26-year old actress described as a MILF by an early-20smale.
Perhaps it's the right time for the forthcoming remake of Logan's Run, in which the denizens of a future society summarily execute their citizenry on their 21st birthday, which for them is known as 'Last Day'. The new film will be a little more faithful to the original novel by William F. Nolan and George Clayton Johnson than the 1976 adaptation, which raised that age-limit to thirty for practical reasons (there were no box-office actors around that were anywhere near that young, and Jodie Foster was presumably still too young).
It's a sad state of affairs: a fetishisation of youth that pointlessly reduces the careers of many serious as well as 'glamorous' actresses, as leading men continue to have screen partners 10-20 years their junior as an acceptable status quo, while their abandoned leading ladies wait out the years for the usual bunch of stereotyped, age-based character pieces to turn up. Some few are able to extend their careers by extraordinary natural preservation – Salma Hayek and Halle Berry are the same age as me, but can comfortably knock 5-8 years off that most days.
Since Tarantino and his retinue no longer have the power to automatically revive the careers of their once-adored male and female stars, we may have to wait for some new champion to stop Hollywood's output turning into Bugsy Malone.
Films such as Robert Zemeckis's Death Becomes Her have played with these themes without arriving at any useful conclusion, and the subject of aesthetic immortality has been treated of in the vampire genre for over a hundred years, again with few constructive undertones. Ironically the annals of science-fiction, fantasy and horror cinema are replete with actresses who dealt with the themes of female disposability only to struggle themselves for roles later on: Barbara Steele in the Poe cycle and various cult horror films; Katherine Ross in The Stepford Wives…and even Caroline Munro played the dead but eternally beautiful Victoria in the Dr. Phibes films alongside Vincent Price.
Caroline was talking to Simon and me on Saturday about the difficulty of getting a role based on her age. She remains extraordinarily attractive and with a devoted fan base that would like to see her in movies again, but the spectrum band of box-office attractiveness as defined by Hollywood is narrowing ever further, encouraging more and more paranoia among even the current generation of 'hot' actresses who feel the crystals in their hand turning black…and that Last Day may be hard upon them.
Martin writes his (mostly) sci-fi column every Friday at Den Of Geek.