News
Hectic Ending To Impact Wrestling Sets Up Slammiversary
TNA has hit the sweet spot between promoting for television and promoting a quality PPV ...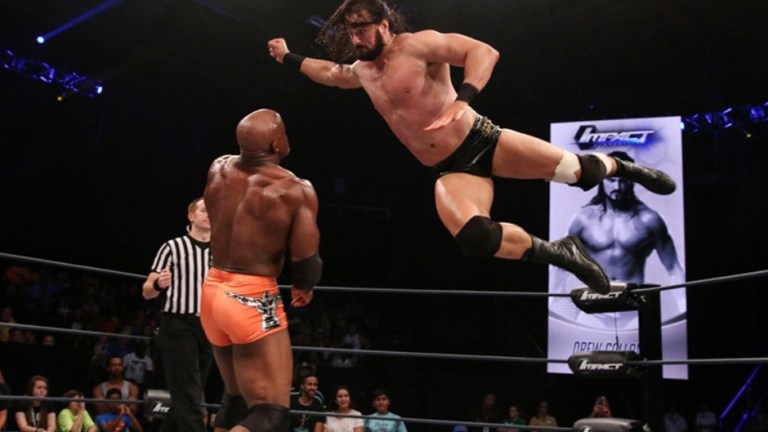 What a hectic ending to last night's Impact Wrestling, but it was good.
The inconclusive result of the Drew Galloway-Lashley main event for the TNA World Title  likely leads to a re-match between Galloway and Lashley at Slammiversary. That should be a strong pay-per-view card with Lashley-Galloway, Matt Hardy-Jeff Hardy, and Mike Bennett-ECIII as the headliners. Granted those are all matches we've seen for free recently on Impact, but there have been good back-stories built to make people want to see these re-matches.
Slammiversary is still just about one month away, but TNA is really building well to this pay-per-view, all while keeping the television show a priority. That's a delicate balance, with as many matches TNA has to give away for free to build Impact. For now, TNA is just a television product, anyway. But they are keeping some big re-matches for Slammiversary.
Perhaps that's the best formula for TNA right now. They're doing a nice job building up these re-matches, but they're saving the fresh first-time matches for Impact. That's a small sweet spot to hit, but so far, I would say TNA is hitting it well.
After the Lashley-Galloway match ended, a brawl spilled all around ringside, with the lumberjacks all fighting one another. Some of the spots in the post-match brawl to close the show were really interesting. D.J. Z had another spot to shine, as well as teaming with Eddie Edwards earlier in the show, landing the first of a few suicide dives.
Edwards suplexing Andrew Everett to the outside looked incredible. It was nice not to see the entire group waiting there for Edwards and Everett with their arms up ready to catch them. That always looks too fake. Instead, the lumberjacks just fought and caught Everett and Edwards, but it didn't look so much like a stunt as much as it did a natural part of the fight.
They also teased Bennett-ECIII, Bram-Eli Drake, and Matt-Jeff all in that final brawl. Robbie E. also was showcased with a dive off the top.
Overall, the second hour of this show was very strong. The opening 50 minutes, up until the ECIII-Tyrus match, really dragged and felt slow and disjointed. But, the final hour was full of action and some good storytelling.
1. Jeff Hardy beat Willow
We're not totally sure who this Willow was, however it was revealed in a post-match promo that another Willow, who emerged from the back, was Matt Hardy.
The one-week Willow mystery is solved. This is another evolution for Matt Hardy, who has went really dark in his promo. Matt Hardy has been doing some of the best work of his career since his heel turn and it will be interesting to see where this evolution takes him.
2. Sienna beat Velvet Sky (Velvet is forced to retire from TNA)
That's it? Okay, so Velvet Sky wasn't Steve Austin or anything, but there's nothing ceremonious about her exit? The match ended and no more than 10-15 seconds later, TNA threw to the next video package. … Seemed like a very abrupt ending for Velvet. This is a good, solid win for Sienna though, as Velvet puts her over on the way out the door.
3. Mike Bennett beat Earl Hebner
Yup, you read that correctly.
The set-up here is that Bennett will now brag about beating a TNA Hall of Famer. That's okay heat, so the segment did it's job (assuming Bennett keeps using this win moving forward). But did they have to throw in the spot with Earl kicking out?
The 67-year-old referee kicked out of a pin from a guy who is supposedly one of the best up-and-coming talents in the company? A guy who certainly seems like he'll be a World Champion down the road? … That's silly. That makes people – the casual fans – laugh at pro wrestling.
Sure, he kicked out after a long pause and only after one punch, but it didn't have to be there. Or, if you want to do that, don't do it with Bennett. He's a guy that needs to be protected and shouldn't be used for a cheap laugh like that, or to give Earl a gold watch moment for service to TNA.
4. Ethan Carter III beat Tyrus in a Last Man Standing Match
Very good match. They kept Tyrus stronger here than they did coming out of his title match against Galloway a few weeks back. The spot with the guardrail, where ECIII dropped Tyrus through it, looked great, really showcasing ECIII's strength to get Tyrus up like that. Tyrus looked more like a monster in this match than he has in recent weeks on Impact.
5. D.J. Z & Eddie Edwards beat Trevor Lee & Andrew Everett when D.J. Z pins Everett
There's no doubt that this is D.J. Z's biggest win on Impact in quite some time. He shined here and it looks like they could be heading in a direction where he gets into the mix for the X Division Title either now or maybe down the road, once Edwards is put back with Richards upon his return. The show is starting to pick up after a very lackluster opening 50 minutes.
6. Drew Galloway beat Lashley via a count-out in a TNA World Title match
There's no question this will force a rematch, and it's all but guaranteed that takes place at Slammiversary. Still, this was a solid World Title match. Lashley is hitting on a lot of MMA-inspired offense. He still needs to work on his lackluster promo, though. He could really use a manager, similar to how WWE utilizes Paul Heyman with Brock Lesnar. The only problem is that, given TNA's financial struggles, they really don't have room for that unless they use an agent, like Shane Helms with Lee and Everett.