News
Heath Ledger Wanted to Make Another Batman Movie as the Joker
According to Heath Ledger's sister, he was not only thrilled about playing The Joker in The Dark Knight, but planned to reprise the role.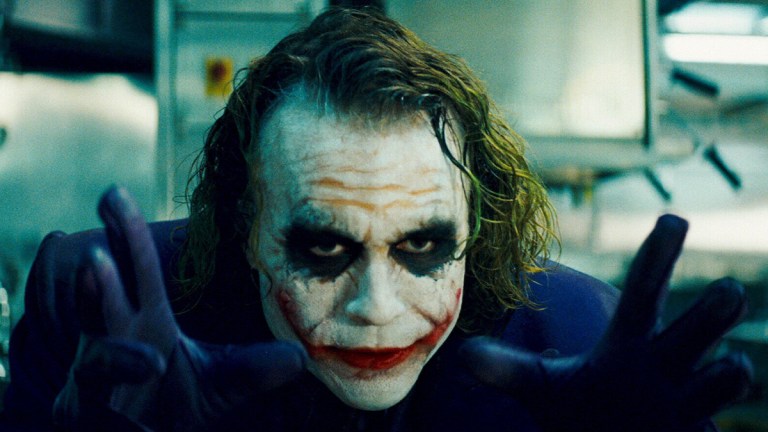 Heath Ledger has been on our minds a lot lately. With the release of the documentary I Am Heath Ledger, which debuted for a limited engagement on the big screen yesterday and premieres on Spike TV on May 12, many have been looking to reevaluate the legacy of an actor taken too soon after a brief but legendary run, including his turn as the Joker in The Dark Knight.
We chatted specifically about the aim of refocusing that public image of the man while interviewing the documentary's directors Adrian Buitenhuis and Derik Murray, as well as Ledger's close friend Matt Amato last week.
But the rumors about Ledger, and his posthumous Oscar winning role as the Joker, persist. Now Kate Ledger, sister of Heath, is speaking out over recent film reviews. Several notices have suggested the documentary hides Ledger's demons, which strikes a chord with the sister who flatly dismissed the notion that Ledger was either depressed with his life or driven to insomnia due to being haunted by playing certain roles. In fact, she told Australia's News.com.au that Ledger not only loved the role of the Joker and his life, but he had every intention of playing the character again in another Batman movie with Christian Bale and Christopher Nolan.
"He was a really happy person and he had huge plans for his future," she said ahead of the release of I Am Heath Ledger next week.

"I spoke to him the night before (he died) and we were laughing and joking.

"He was so proud of what he had done in Batman. And I know he had plans for another Batman. He loved working with Chris Nolan and Christian Bale and Gary Oldman. He just had the best time ever doing that film.

"When he came home at Christmas he couldn't wait to tell us all about it and he was doing the voice and laughing, showing me all the rushes. We had a great time."
Having seen the documentary, it really does depict a man who was filled with a manic energy to enjoy and take advantage of life. He was also preparing to direct his own movie called The Queen's Gambit before his death, and the genesis of visual artist was transparent as much of the film is comprised of home movies and experiments that Ledger himself took with his own camera.
As for another Batman movie, keep in mind that Christopher Nolan's approach was to take these movies one at a time, but it is an appealing notion that Ledger could have donned the purple suit and pancake makeup again for another go at one of cinema's best villains.
When I Am Heath Ledger premiered in Tribeca in April, Kate and Ashleigh Bell, Ledger's other sister, were in attendance. According to what Amato told us, they were satisfied because I Am Heath Ledger got it right. "They said, 'We can stop worrying now.'" Hopefully, that feeling will continue.
I Am Heath Ledger premieres on Spike on May 17.