News
Hari Kondabolu Addresses The Simpsons' Response to The Problem With Apu
Hari Kondabolu calls The Simpsons' response to his Apu documentary a "victory."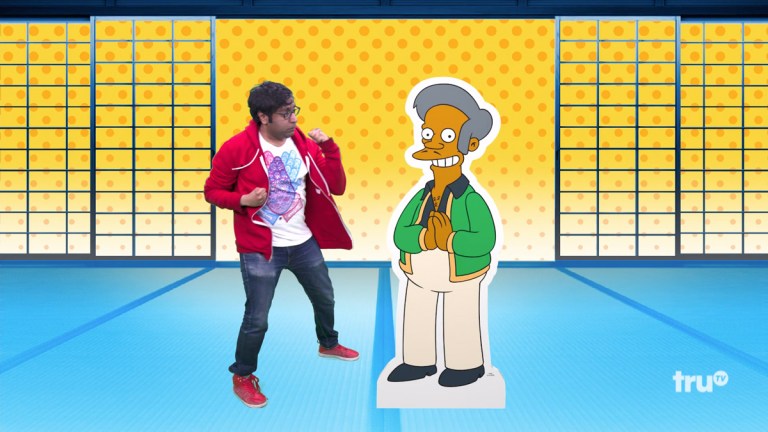 A very public conversation about Apu Nahasapeemapetilon, the Indian immigrant Kwik-E-Mart owner portrayed by white actor Hank Azaria on The Simpsons, is happening right now. Criticisms of the character's stereotypes, and how their popularity have affected South Asian immigrants and their descendants in America, have existed for decades. Yet it wasn't until comedian Hari Kondabolu's documentary The Problem with Apu premiered last November that these concerns exploded. Since then the comic, whose new Netflix special Warn Your Relatives streams Tuesday, May 8th, has entered into a sometimes nasty discourse with those responsible for Apu's creation and an array of internet trolls.
"When Hank Azaria was on The Late Show with Stephen Colbert, he said that we have to listen to Indian-Americans about their experiences," Kondabolu says of the actor's April 24th appearance on the late night program. "That's incredibly thoughtful, and to me that was the victory. It wasn't a real concrete thing, but it was the acknowledgment that mattered."
The documentary made headlines when it first premiered, but it quickly fell to the back of the news cycle. That changed when The Simpsons aired "No Good Read Goes Unpunished" on April 8th. While discussing a beloved, but outdated, book from her childhood, Marge indirectly addresses the controversy with Lisa. "Some things will be dealt with at a later date," she says. Lisa, often the show's moral compass, adds, "Something that started decades ago and was applauded and inoffensive, is now politically incorrect. What can you do?" And when she said this, Lisa looked directly at the screen, then at a framed black and white photo of Apu.
Needless to say, Kondabolu and his supporters were not happy. "Wow. 'Politically incorrect?' That's the takeaway from my movie & the discussion it sparked?" he tweeted. "Man, I really loved this show. This is sad." At the same time, those who felt Apu wasn't all that problematic — including showrunner Al Jean and co-creator Matt Groening — were also speaking out. In an interview with USA Today, Groening went so far as to say he was "proud of what we do on the show," noting that "it's a time in our culture where people love to pretend they're offended."
"The Simpsons responded by saying, 'You don't matter,'" Kondabolu says of these collective comments. "I didn't expect them to respond at all. I wasn't trying to troll anybody. I just wanted to make a thoughtful film. But if I was a troll, I won. You're not supposed to respond to me. What's wrong with you? Go about your business. It's absurd how fragile these old men are."
Hari Kondabolu: Warn Your Relatives streams Tuesday, May 8th on Netflix.