Features
Happy Birthday, Hunter S. Thompson
Happy birthday to the original freak who brought drooling mutants to life in the counter culture world.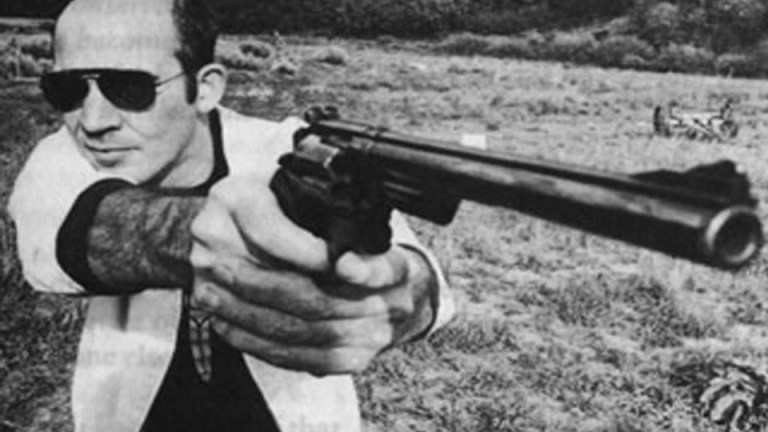 Hollywood loves the news, movies like His Girl Friday with Cary Grant and Rosalind Russell, The Front Page, All the President's Men, Network, The Year of Living Dangerously, or Jon Stewart's directorial debut, Rosewater. These newspaper men were the guys who rolled up their sleeves and ruined their shoes climbing stairs and pounding pavements for a story. Journalists who pushed things just a little too far, like James Cagney's tabloid reporter in Picture Snatcher.
Jimmy Breslin, who threw a screwball into journalism when he interviewed a gravedigger at Arlington Cemetery as his piece on the Kennedy assassination, probably would have worn out roller-skates. Breslin opened the door to Gonzo journalism. Oh, he'll deny it, but it will make him grin, because he made it possible.
One journalist, the one who started me on the road to reporting, didn't have to roll up his sleeves because he usually went sleeveless. He logged his miles, but he rolled other things. Mutants sucked his sleeves to get at sloppily spilled hallucinogens. Hunter S. Thompson rode with Hell's Angels and chased the great white shark on the campaign trail across the sands of Las Vegas.
Two movies were made from his journalistic tales and one from a novel he wrote. Thompson inspired the long-running character Duke in Gary Trudeau's social commentary comic strip Doonesbury. Today most people associate Hunter S. Thompson with Johnny Depp in the Terry Gilliam dreamscape Fear and Loathing in Las Vegas. Johnny hung with Thompson, drank with Thompson, I'd like to think he did buttons with him. Thompson took him under his wing and Depp repaid him with an uncanny comic portrayal.
On Newsroom, Dev Patel, played by Neal Sampat, the hamwit that runs the blog for the corporate network news show, gets caught up in the budding Occupy Wall Street movement. He pitches "I believe America is on the verge of starting its own Arab Spring." He gets rejected but attends an Occupy Wall Street planning meeting to give his opinions. This subplot is the closest thing the HBO show has to true Gonzo journalism. Too bad Hunter isn't around to see it.
Or maybe not.
Given the way he thought of TV news and its ilk he might have savaged the whole thing as rancid trash. "The TV business is uglier than most things. It is normally perceived as some kind of cruel and shallow money trench through the heart of the journalism industry, a long plastic hallway where thieves and pimps run free and good men die like dogs, for no good reason."
Fuck the Pope
Hunter S. Thompson shot himself in the head at the fortified compound he called Owl Farm in Woody Creek, Colorado, at 5:42 p.m. on February 20, 2005. His daughter-in-law and grandson who were visiting for the weekend, thought the gunshot blast was a book falling in his office and didn't investigate for about a half hour. They found a suicide note that Hunter had written to his wife, Anita Thompson, who was on the phone with him at The Aspen Club helping him write his ESPN column at the time. Anita mistook the cocking of the gun for typing and hung up the phone as Hunter pulled the trigger.
"No More Games. No More Bombs. No More Walking. No More Fun. No More Swimming. 67. That is 17 years past 50. 17 more than I needed or wanted. Boring. I am always bitchy. No Fun — for anybody. 67. You are getting Greedy. Act your old age. Relax — This won't hurt."
When the police arrived on the scene, Juan Thompson fired three shotgun blasts into the air outside the home. In Hunter's typewriter the police found a single sheet of paper dated Feb. 22, 2005 with a single word on it, "counselor." Rolling Stone published the suicide note in their September 2005 issue under the title "Football Season Is Over."
Thompson's family told the press they believed Thompson's suicide was a premeditated attempt to escape pain from chronic medical conditions. Thompson recently had his hip replaced. The internet wasn't so sure. A wave of conspiracy theories came out saying that Thompson was "suicided" because he was working on a piece about 9/11 and was getting too close for the comfort of the powers that be. Thompson wasn't happy with the down-home president. "Anybody who wanders around the world saying, `Hell yes, I'm from Texas,' deserves whatever happens to him."
Thompson wasn't sure if he believed in a Gonzo heaven. He once wrote "Who knows? If there is in fact, a heaven and a hell, all we know for sure is that hell will be a viciously overcrowded version of Phoenix — a clean well lighted place full of sunshine and bromides and fast cars where almost everybody seems vaguely happy, except those who know in their hearts what is missing… And being driven slowly and quietly into the kind of terminal craziness that comes with finally understanding that the one thing you want is not there. Missing. Back-ordered. No tengo. Vaya con dios. Grow up! Small is better. Take what you can get…"
"Maybe there is no Heaven. Or maybe this is all pure gibberish—a product of the demented imagination of a lazy drunken hillbilly with a heart full of hate who has found a way to live out where the real winds blow—to sleep late, have fun, get wild, drink whisky, and drive fast on empty streets with nothing in mind except falling in love and not getting arrested . . . Res ipsa loquitur. Let the good times roll."
It's a strange world. Some people get rich and others eat shit and die
Hunter S. Thompson was born on July 18, 1937 in middle-class Louisville, Kentucky. His father died when he was 14 and he was raised by his heavy drinking mom. Thompson was an avid sports fan and athlete when he was young. He started the Hawks Athletic Club at his elementary school, which got him invited to join Louisville's Castlewood Athletic Club, where he played baseball.
The athletic club was supposed to prepare kids for high school sports, but Thompson didn't join any high school teams. He wrote about sports instead. He got kicked off his high school newspaper after he did time at Kentucky's Jefferson County Jail for accessory to robbery for driving in a stolen car with a friend. He celebrated his release from jail by sinking all the boats he saw with a shotgun and joining the Air Force.
Thompson became a sports writer in the Air Force, covering Florida teams and writing a sports column. He didn't write under his own name because the Air Force had rules about that. Thompson wasn't good at playing by rules. Thompson got an early honorable discharge as an Airman First Class in June 1958. His commanding officer, Col. William S. Evans said, in pushing Thompson out,  "In summary, this airman, although talented, will not be guided by policy. Sometimes his rebel and superior attitude seems to rub off on other airmen staff members." We all get a little rubbed.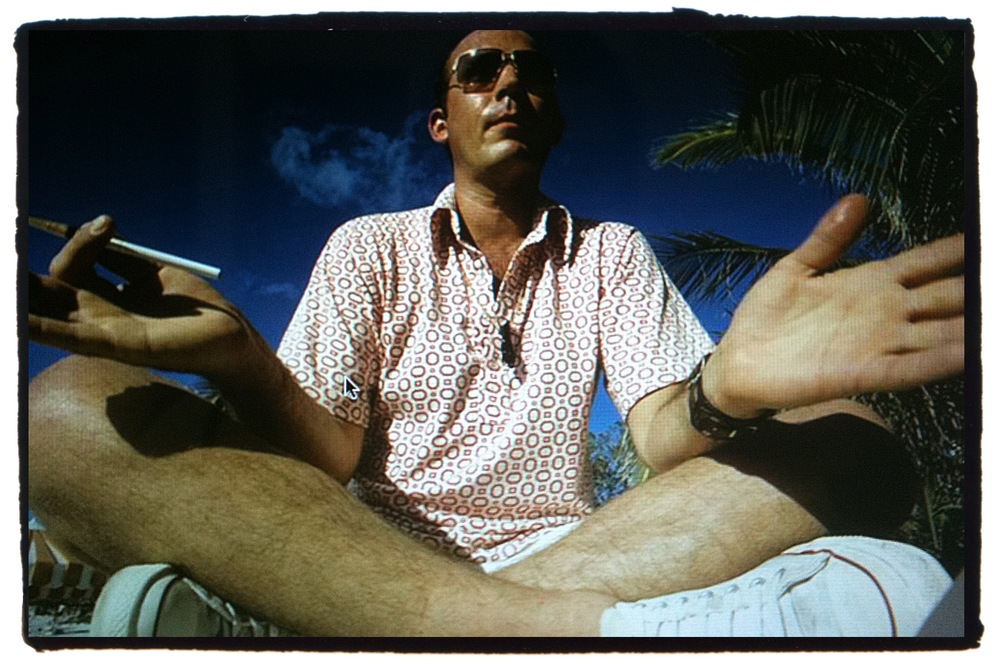 When the going gets weird, the weird turn professional
After the Air Force, Hunter got a job as a sports editor for a paper in Pennsylvania before lighting out for New York. He took creative writing classes at Columbia on the G.I. Bill and got a job as a copy boy. He was fired for insubordination. He got a job as a reporter for The Middletown Daily Record but was fired for breaking the office candy machine and getting into an argument with one of their advertisers.
He moved to Puerto Rico and wrote for El Sportivo, which immediately folded. He hitchhiked across America to Big Sur, California, where he wrote features about bohemians for Rogue magazine. He got fired, but not before he wrote the novels Prince Jellyfish and The Rum Diary.
Thompson took off to South America to work at The National Observer and the Brazil Herald. He married Sandra Dawn Conklin on May 19, 1963 and had a son, Juan Fitzgerald Thompson, on March 23, 1964. Hunter and Sandy got divorced in 1980, but they stayed friends. The family relocated to Glen Ellen, California, where Thompson wrote about Ernest Hemingway's suicide. He stole some elk antlers and quit the Observer after they refused to publish one of his reviews. He moved to San Francisco and started writing for the Berkeley underground paper The Spyder.
As you were, I was. As I am, you will be
Then Hunter went riding with the strange and terrible outlaw motorcycle gang The Hell's Angels. "The Angels don't like to be called losers, but they have learned to live with it. `Yeah, I guess I am' said one. `But you're looking at one loser who's going to make a hell of a scene on the way out.'"
He wrote the saga up for The Nation in 1965, but the Angels wanted a cut. They beat the shit out of Thompson at a party. A fight between Skip Workman of Hells Angels ("It was obvious that he was a man who marched through life to the rhythms of some drum I would never hear") and Thompson was broadcast live on CBC TV in 1966. "The highways are crowded with people who drive as if their sole purpose in getting behind the wheel is to avenge every wrong done them by man, beast or fate. The only thing that keeps them in line is their fear of death, jail and lawsuits," he reasoned.
After recovering from the beatings and positive reviews, Thompson got high and wrote pieces about the new hippie movement for The New York Times Magazine, Esquire, Pageant, and Harper's. He protested the Vietnam War by pledging not to pay taxes in the "Writers and Editors War Tax Protest" and watched cops kick the shit out of protestors at the 1968 Democratic Convention in Chicago from his hotel room.
He wrote the satirical "The Johnson File" about Lyndon B. Johnson but LBJ said he wouldn't accept the nomination for re-election and it never got published. So Thompson ran for sheriff on the "Freak Power" ticket in Pitkin County, Colorado, promising to fight for the decriminalization of drugs for personal use and to change the name of Aspen to Fat City. He shaved his head so he couldn't be called a long-hair. He won Fat City, I mean Aspen, but lost the election.
"October is the cruelest month of any election year, but by then, the pain is so great that even the strong are like jelly and time has lost all meaning for anybody still involved in a political campaign. By that time, even candidates running unopposed have abandoned all hope of victory and live only for the day when they will finally be free to seek vengeance on all those treacherous bastards who once passed themselves off as loyal friends and allies and swore they were only in it because they all shared the same hopes and dreams…."
In 1970 Thompson ripped pages out of his notebook and sent them to Scanlan's Monthly. He uncovered, in the most Gonzo terms, that "The Kentucky Derby Is Decadent and Depraved." Scanlan's Monthly folded, but Thompson met his long-time collaborator, the artist Ralph Steadman.
The journalist Bill Cardoso was the first to call Thompson's style Gonzo. Thompson took it to heart and went full-tilt Gonzo in his next piece, Fear and Loathing in Las Vegas. Rolling Stone sent him to check out some "Strange Rumblings in Aztlan." Rubén Salazar, a Mexican-American TV journalist was shot in the head at close range with a tear gas canister by LA's Sheriff's Department for protesting the Vietnam War. Thompson couldn't get anyone to talk and split for Las Vegas with "two bags of grass, seventy-five pellets of mescaline, five sheets of high-powered blotter acid, a salt shaker half full of cocaine, and a whole galaxy of multi-colored uppers, downers, screamers, laughers … and also a quart of tequila, a quart of rum, a case of Budweiser, a pint of raw ether, and two dozen amyls" to cover the Mint 400 motorcycle race for Sports Illustrated.
He was supposed to write 250 words. He submitted 2,500 words. Sports Illustrated rejected it.
Thompson wrote "Free Enterprise. The American Dream. Horatio Alger gone mad on drugs in Las Vegas. Do it now: pure Gonzo journalism." Rolling Stone published it in two parts under Hunter's AKA, Raoul Duke who was tripping with his friend, the 300-pound Samoan attorney Dr. Gonzo, and it became a book in 1971. It was the best book written that decade on dope. Or the best book written on dope that decade.
Thompson started to write exclusively for Rolling Stone. He chased President Nixon in Fear and Loathing on the Campaign Trail '72. Nixon was running against Senator George McGovern and Thompson came to loathe the incumbent president, who he said "could shake your hand and stab you in the back at the same time." He concluded that Nixon was a "swine of a man and a jabbering dupe of a president" who was "evil in a way that only those who believe in the physical reality of the Devil can understand it." When President Ford pardoned Nixon in 1974, Thompson wrote "if there were any such thing as true justice in this world, his rancid carcass would be somewhere down around Easter Island right now, in the belly of a hammerhead shark" and his casket should be "launched into one of those open-sewage canals that empty into the ocean just south of Los Angeles."
Thompson went to Saigon to cover the end of the Vietnam War, but got stranded there without money or insurance. His story wouldn't be published for ten years.
I hate to advocate drugs, alcohol, violence, or insanity to anyone, but they've always worked for me.
Where the Buffalo Roam came out in 1980. It wasn't a smash, but Thompson and Bill Murray became good friends. Thompson moved to Hawaii, let a bunch of runners do a marathon at his place and wrote "The Charge of the Weird Brigade" for Running magazine and Playboy in 1981. Thompson wrote "A Dog Took My Place" about the bestiality in Palm Beach wealthier neighborhoods and then spent his nights at strip clubs for the novel The Night Manager, which was never published. Thompson rode out the rest of the '80s writing for the San Francisco Examiner.
In 1990, porn director Gail Palmer said Thompson twisted her breasts when she wouldn't get into a hot tub with him, accused him of sexual assault and told Colorado cops about his cocaine. When cops searched his place they found all kinds of drugs and a couple of sticks of dynamite. The charges were dropped but he wrote Kingdom of Fear.
Thompson wrote "Fear and Loathing in Elko" about the Clarence Thomas hearings for Rolling Stone and did a semi-fictional interview with Bill Clinton, Bubba, for "Mr. Bill's Neighborhood."
"Let's face it, Bubba. The main reason I'll vote for Clinton is George Bush, and it has been that way from the start….There is no way around it (for me) and no reason to apologize for it. George Bush is a dangerously failed President and half-bright top-level Nerd who has spent the last four years avoiding grocery stores and gas stations while he tried to keep tabs on the disastrous fallout from the orgy of greed and short selling that was the `Reagan Revolution.'"
Instead of going on the campaign trail, Thompson watched the 1992 presidential campaign on cable and wrote Better Than Sex: Confessions of a Political Junkie via fax.
Too weird to live, too rare to die!
Fear and Loathing in Las Vegas, the movie with Johnny Depp, came out in 1998. Thompson became good friends with Depp who helped get Thompson's lost novel, The Rum Diary, published and made into a movie. Terry Gilliam was a perfect choice to translate Thompson's experiments with excess.
Of course, excess isn't the same from person to person. Marilyn Manson hit the nail on the head when he said drug abusers gave drug users a bad name. Gilliam and Thompson both rode a psychedelic wave to recreate their fields, comedy and journalism. Gilliam's animation work with Monty Python's Flying Circus continues to inspire. 
South Park has explored Gilliam riffs to great success. Trey Parker and Matt Stone kidnapped Gilliam's mother to convey their thanks.
"1) Never trust a cop in a raincoat.

 2) Beware of enthusiasm and of love, both are temporary and quick to sway.

 3) If asked if you care about the world's problems, look deep into the eyes of he who asks, he will never ask you again.

 4) Never give your real name.

 5) If ever asked to look at yourself, don't look.

 6) Never do anything the person standing in front of you can't understand.

 7) Never create anything, it will be misinterpreted, it will chain you and follow you for the rest of your life."
Thompson shot his assistant, Deborah Fuller, in July 2000, and told reporters he had "mistaken her for a bear." Hunter married his relatively unscathed assistant, Anita Bejmuk, on April 23, 2003. Thompson wrote about the post-9/11 world in Kingdom of Fear in 2003.
"Bush is really the evil one here and it is more than just him. We are the Nazis in this game and I don't like it. I am embarrassed and I am pissed off. I mean to say something. I think a lot of people in this country agree with me…we'll see what happens to me if I get my head cut off next week — it is always unknown or bushy-haired strangers who commit suicide right afterwards with no witnesses." 
Thompson ended his career where it started, as a sports writer, writing the weekly column "Hey Rube" for ESPN. His last magazine feature was about the John Kerry presidential campaign in "Fear and Loathing, Campaign 2004." Thompson gave an interview on KDNK radio in Colorado in January 2003 where he suggested that he may be murdered to shut him up about what he was uncovering about the Sept. 11 attacks.
"There are times, however, and this is one of them, when even being right feels wrong. What do you say, for instance, about a generation that has been taught that rain is poison and sex is death? If making love might be fatal and if a cool spring breeze on any summer afternoon can turn a crystal blue lake into a puddle of black poison right in front of your eyes, there is not much left except TV and relentless masturbation. It's a strange world. Some people get rich and others eat shit and die."
To celebrate Hunter S. Thompson's birthday, I dropped half a tab about a half hour or so before I started writing this. I waited for my neck to start smiling, which is the first sign for me that the shit is working. Where I got it and who I got it from is unimportant. Suffice it to say he'll never drink clean water again.
I have the soundtrack to Where the Buffalo Roam coming out of my computer speakers while the images of Fear and Loathing in Las Vegas shows on my TV screen. I am in the middle in a puddle of rum. 
Fear and Loathing brings me back to the days when acid was relatively easy to get. When you could buy a quart of ether in Times Square, when you could go to the free clinic and get codeine cough syrup. I loved codeine cough syrup. I put it on my pancakes. Today's drug world of prescription pills and rapidly-being-legalized pot isn't the same. Decriminalize it, you scurvy bastards. Legalize it and people will have to register as pot smokers, it'll be taxed and prices will soar. That's fine for Bill Maher, the fiend, who can afford it. Maybe he should have spent his million on bail for drug offenders instead of re-electing Obama, who is more of a drug czar than an enabler. I want to be enabled.
That's all I really wanted to say about Hunter S. Thompson, but no, the speed effects of the acid have taken hold and there's no sleep til Brooklyn. I promised the demented Den of Geek editors a piece on SharkNado or was it a retrospective on Tara Reid? No, it was a Hunter S. Thompson trilogy. I have both Where the Buffalo Roam and Fear and Loathing in Las Vegas on DVD, but I've never seen The Rum Diaries. It's not on cable or roku or for free download that I can find, so my first stop was Little Italy to see a guy who sells bootleg DVDs. But the thieving savage said he never heard of it.
There is an app or something that churns out Hunter S. Thompson insults. I couldn't run it on my computer, but I ran it through my head for the birthday send up.
Happy birthday you vicious troll. You rancid savage. Thank you for your fiendish profiles on the filthy, rotten, demented men in power. Those treacherous, heinous, scurvy pigs who look out for other devious, grisly hamwits. You have written filthy, fetid cheapjack about hellish, festering and stinking sores for crazed, deranged, drooling, thieving, swine like me, you pile of albino warts.
This article originally ran on July 18th, 2013. It will run every July 18th for as long as Tony Sokol or Mike Cecchini draw breath and/or a paycheck from Den of Geek.