News
Handmaid's Tale Sequel Coming From Margaret Atwood
Gilead will get an update as Margaret Atwood takes on the present in upcoming Handmaid's Tale novel sequel, The Testaments.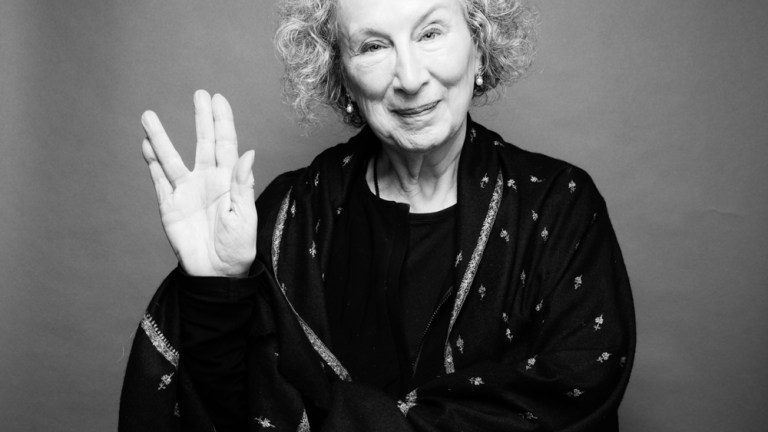 Margaret Atwood plans to fill in the gaps between the stories in her next novel, a sequel to The Handmaid's Tale. Atwood tweeted her upcoming book will be called The Testaments. It is set to be published by Penguin Random House in September 2019.
"Yes indeed to those who asked: I'm writing a sequel to The #HandmaidsTale," Atwood confirmed on Twitter. "#TheTestaments is set 15 years after Offred's final scene and is narrated by three female characters. It will be published in Sept 2019."
"Dear Readers: Everything you've ever asked me about Gilead and its inner workings is the inspiration for this book," Atwood says in the video teaser that came with the announcement. "Well, almost everything! The other inspiration is the world we've been living in."
Before Brett Kavanaugh, who was accused of sexual assault, showed up at his confirmation hearing for the U.S. Supreme Court in September, demonstrators dressed in the red robe and white bonnet of the handmaidens were waiting for him. The robe-and-bonnet uniform has also been seen at pro-choice rallies in Argentina and Ireland.
The Handmaid's Tale was originally published in 1985. Set in a dystopian America known as Gilead, where women are used as breeding vessels after a fertility crisis, and are not allowed to read or write, The Handmaid's Tale is a modern classic. The book follows Offred, a handmaid, a Gilead term for a slave taken from their families and forced to become surrogates for the rich and powerful.
The novel ends ambiguously with Offred getting into a van headed for freedom or betrayal. Atwood did not mentioner whether any of the three female characters narrating The Testaments will be Offred.
The Handmaid's Tale was adapted by Hulu into an award-winning television series last year starring Elisabeth Moss. The Testaments will not be connected to the television version, which continues Offred's story.
Atwood has written over 40 books of fiction, poetry, and critical essays. Her novels include Cat's Eye, Alias Grace, which was made into a miniseries by Netflix, The Blind Assassin, and Oryx and Crake. The Hulu series won the 2017 Emmy award for outstanding drama series. The show extends beyond the novel's ending and is currently gearing up for a season 3.
The Handmaid's Tale season 3 is expected to premiere in 2019.
Culture Editor Tony Sokol cut his teeth on the wire services and also wrote and produced New York City's Vampyr Theatre and the rock opera AssassiNation: We Killed JFK. Read more of his work here or find him on Twitter @tsokol.