News
Hamilton Movie Coming to Theaters in 2021
Disney is going to release in theaters a filmed production of the original Hamilton cast, including Lin-Manuel Miranda!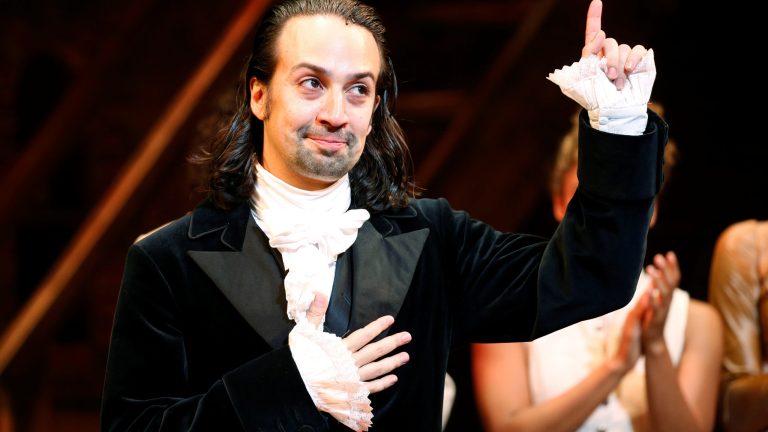 Pretty soon we'll all be in the room where it happens—and we'll do so while sitting across from Lin-Manuel Miranda and the entire original Hamilton Broadway cast! That was the news the Hamilton musical's official social media account broke Monday afternoon when it was announced that a production of Hamilton recorded between 2015 and 2016 is going to be headed to theaters for a limited engagement, courtesy of the Walt Disney Company.
"[Disney] to release [Hamilton] with the Original Broadway cast," read the tweet. "Filmed on stage at the Richard Rodgers Theatre. In a theater near you. October 15, 2021."
While that release date is more than a year away, undoubtedly it's announcement is music to the ears of countless theater fans the world over… most of whom never having had the opportunity to see Hamilton either on Broadway, West End, or its various other touring shows. With Hamilton orchestra tickets on the Great White Way still costing about $550 a seat, one of the most popular entertainments of the 21st century remains decidedly out of reach for most of its fans.
Hamilton is of course the Tony and Pulitzer Prize winning smash that took the world by storm when it debuted on Broadway in August 2015. Premiering at the Public Theater the February before that, Hamilton is the brain child of Miranda, who wrote both the music and lyrics, as well as the book, while starring as Alexander Hamilton in the original cast. Fusing hip hop, jazz, classical Broadway melody, and a number of other musical influences, Miranda injected a new vitality into theater and the popular understanding of American history.
read more: Best Movie Musicals of the 21st Century
By pulling from Ron Chernow's 2004 biography, Alexander Hamilton, which had been nominated for National Book Critics Circle Award in biography, Miranda recontextualized the American Revolution and one of the Constitution's chief framers, Alexander Hamilton, for the 21st century. By casting a diverse and multicultural cast, Miranda emphasized both Hamilton's own status as an immigrant and the universal legacy of the American experiment for all its citizens, even those who look decidedly unlike the country's founders. It also reminds millions of the complex rivalries and contradictions that emerged in the country's earliest days, as opposed to the deceptive image of a peaceful conclave of godlike deities.
Probably most impressive to Disney, Hamilton also calls back the origins of Broadway and musical culture, which was once upon a time the center of American popular culture. As late as the 1960s saw major Broadway musicals creating mainstream popular music—an arena showtunes even dominated several decades before that. But generations after Broadway music became increasingly more insulated and segregated from how popular music's own diverging sounds evolved, Hamilton acted as a reminder of theater and popular music's ability to intersect and influence the culture in exciting ways.
The original Hamilton cast is still beloved for the roles they originated (and performed on the Broadway cast recording). Among them are Miranda as Hamilton, Leslie Odom Jr. as Aaron Burr (for which he won a Tony), Daveed Diggs as Thomas Jefferson and the Marquis de Lafayette (another Tony winner), Renée Elise Goldsberry as Angelica Schuyler (won a Tony as well), Phillipa Soo as Eliza Schuyler, Christopher Jackson as George Washington, and Jonathan Groff as King George III.
Seeing those actors in those roles on the big screen will be a showstopper for undoubtedly millions of fans. And with Disney's involvement, it's fair to wonder if this same production might one day appear on Disney+. You know, down the road…
David Crow is the Film Section Editor at Den of Geek. He's also a member of the Online Film Critics Society. Read more of his work here. You can follow him on Twitter @DCrowsNest.