News
Guardians of the Galaxy Music Video Goes Disco With David Hasselhoff
Check out this music video ASAP, it is the pinnacle of human achievement. No, really.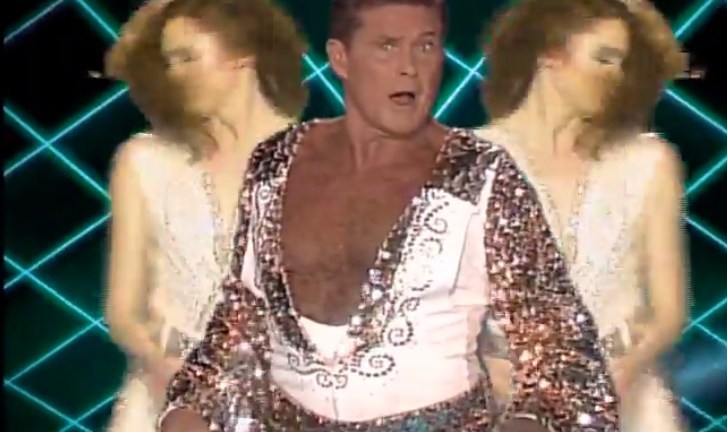 Given the enjoyable 1970s pop aesthetic of the songs featured in the Guardians of the Galaxy films, I guess it was just a matter of time before a retro-themed music video inspired by the flick was thrust upon the world. Well, one finally has been, and it is glorious. You may remember "Guardians' Inferno" — the disco-tinged jam with lead vocals from David Hasselhoff — from Guardians of the Galaxy, Vol. 2's end credits.
To promote the film's DVD/Blu-ray/4K UHD release on August 22nd, Marvel Studios has just released a music video for the song that is a sci-fi explosion of cool cheese. Filled with plenty of unfortunate outfits and dance moves, it is a wayback machine to a less serious, if not self-conscious, time.
Take a look:
Being a person who has an unreasonable passion for oddball music videos with a sci-fi twist (Silicon Dream's "Andromeda" or Billy Ocean's "Loverboy," anyone?), this "Guardians' Inferno" clip is right up my weirdo alley. Oh, make no mistake, this is a very carefully crafted video whose only goal was to go viral  — a task it already has easily accomplished — but it is really well done, and features more homages to the '70s than you may realize.
The first and most obvious is how the tune disco-fies elements of Tyler Bates' theme for Guardians of the Galaxy, a very deliberate tip of the hat to disco godfather Meco and his dancefloor renditions of popular film themes.
Here's his most famous number, "Star Wars Theme/Cantina Band":
The above performance was taken from the long-running UK music series, Top of the Pops, a program whose corny dance troupe and no-budget visuals was a clear influence on "Guardians' Inferno." (See also: Any Eurovision performance from the 1970s or '80s).
Elsewhere, the video features some weird costumed characters who bring to mind the goofy disco group Ganymede, a band I can totally see Star Lord crushing on:
The overall look and feel of the clip also brings to mind the general mindfuck aesthetic of Sid and Marty Krofft, those purveyors of 1970s nightmare kitsch whose house band Kaptain Kool and the Kongs are another apparent source of inspiration for this Hasselhoffian journey into the bizarre. See for yourself:
Wow.
Finally, it's worth mentioning that as great as this video is, the idea of cashing in on '70s sci-fi nostalgia to promote a movie's home video release has been utilized before. Enter this full version of Dewey Cox's cover of David Bowie's "Starman" that shares the exact comedic sensibility:
Even without cameos from Chris Pratt, Stan Lee, Dave Bautista, Karen Gillan, and Sean Gunn, this is an epic clip, wouldn't you agree?
What makes "Guardians' Inferno" so special is that it perfectly ties in to the retro feel of the source material. And yeah, it's a pretty rad song too. Thank you Zardu Hasselfrau, you are one in a million.
Chris Cummins lives for this kind of nonsense. Follow him on Twitter at @bionicbigfoot and @scifiexplosion
Read and download the full Den of Geek Special Edition magazine here!