News
Guardians of the Galaxy 2 Soundtrack Release Date, Artwork, Song List, and Details
We'll soon be rocking out to a brand new batch of tunes when Guardians of the Galaxy Awesome Mix Vol. 2 hits.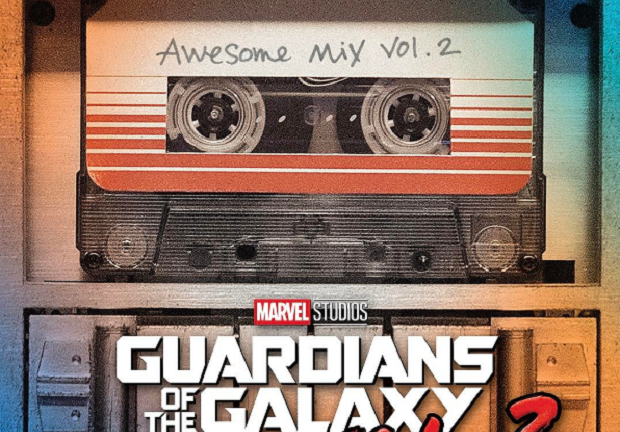 A key piece of the appeal of the first Guardians of the Galaxy movie was that soundtrack, a perfect collection of classic power pop (The Raspberries), glam rock (David Bowie), and AM radio gems (c'mon, Redbone?). Make no mistake, we're excited about Guardians of the Galaxy Vol. 2, and genuinely impressed by director James Gunn's absolute refusal to give too much away about the plot in the trailers, but in my case, I'm just as excited about the prospect of Awesome Mix Vol. 2 as I am about the movie itself.
Awesome Mix Vol. 2 Track List
The full set list for the music that will set the tone for Guardians of the Galaxy Vol. 2 has been officially unveiled!
Similar to the original soundtrack, we have an eclectic, upbeat "AM Gold" style playlist that maintains the spirit of personal nostalgia that fuels Chris Pratt's Walkman-rocking Peter Quill/Star-Lord.
However (and it's a big "however,") the trailer usage of David Bowie's Ziggy Stardust-era 1972 smash "Suffragette City" did NOT yield the song a place on the soundtrack. The same thing occurred with the first film's soundtrack regarding Norman Greenbaum's "Spirit in the Sky."
Interestingly enough, an original comedic song caps off the compilation, called "Guardians Inferno," which was written by director James Gunn and composer Tyler Bates, performed by the Sneepers and the television treasure of Deutschland himself David Hasselhoff. Marvel has made this plot-referencing quasi-70s disco tune available on YouTube.
And here's the full set list.
1. Electric Light Orchestra (ELO) – "Mr. Blue Sky"
2. Sweet – "Fox on the Run"
3. Aliotta Haynes Jeremiah – "Lake Shore Drive"
4. Fleetwood Mac – "The Chain"
5. Sam Cooke – "Bring it on Home to Me"
6. Glen Campbell – "Southern Nights"
7. George Harrison – "My Sweet Lord"
8. Looking Glass – "Brandy (You're a Fine Girl)"
9. Jay and the Americans – "Come a Little Bit Closer"
10. Silver – "Wham Bam Shang-A-Lang"
11. Cheap Trick – "Surrender"
12. Cat Stevens – "Father and Son"
13. Parliament – "Flashlight"
14. The Sneepers ft. David Hasselhoff – "Guardians Inferno"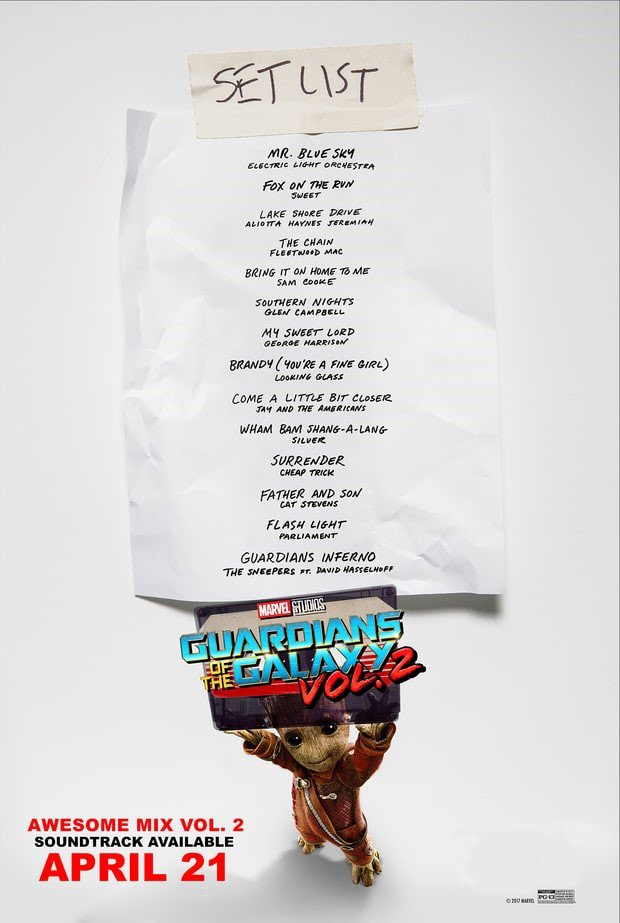 For your convenience, we've also compiled all of these into a handy Spotify playlist.
Here's a look at the cover art, courtesy of James Gunn. It shouldn't come as a surprise, but it's still pretty cool to know that they're keeping the same aesthetic from the first movie, too.
Anyway, Guardians of the Galaxy Awesome Mix Vol. 2 hits digitally on April 21 and in physical format on April 28th!
You can pre-order Guardians of the Galaxy Awesome Mix Vol. 2 on Amazon.