News
Going to Westworld: The Experience at SDCC
We go to Westworld at San Diego Comic-Con and lived inside Robert Ford's dreams first-hand. And we can help you find it.
You and I will never get to go to Westworld. As in, neither of us shall board an elaborate locomotive that will transport us to a land (or planet?) designed for the uber-rich and morally flexible with cannily realistic artificial life. This fact should be greeted with a sense of relief for both of our souls, no?
… Yeah, I'm actually pretty disappointed about it too. Hence, my surprise when HBO rather cryptically invited Den of Geek to "Westworld: The Experience." Which is more or less as it sounds like—a San Diego Comic-Con activation that feels ripped right out of the imagination of Westworld creators Jonah Nolan and Lisa Joy, and placed in sunny Southern California for the more discerning nerd's pleasure.
Instantly, you know you're in for more than just a mere escape room or VR experience when you arrive to an elegant hotel and are greeted with two very friendly, but absolutely blank, hosts garbed in all white.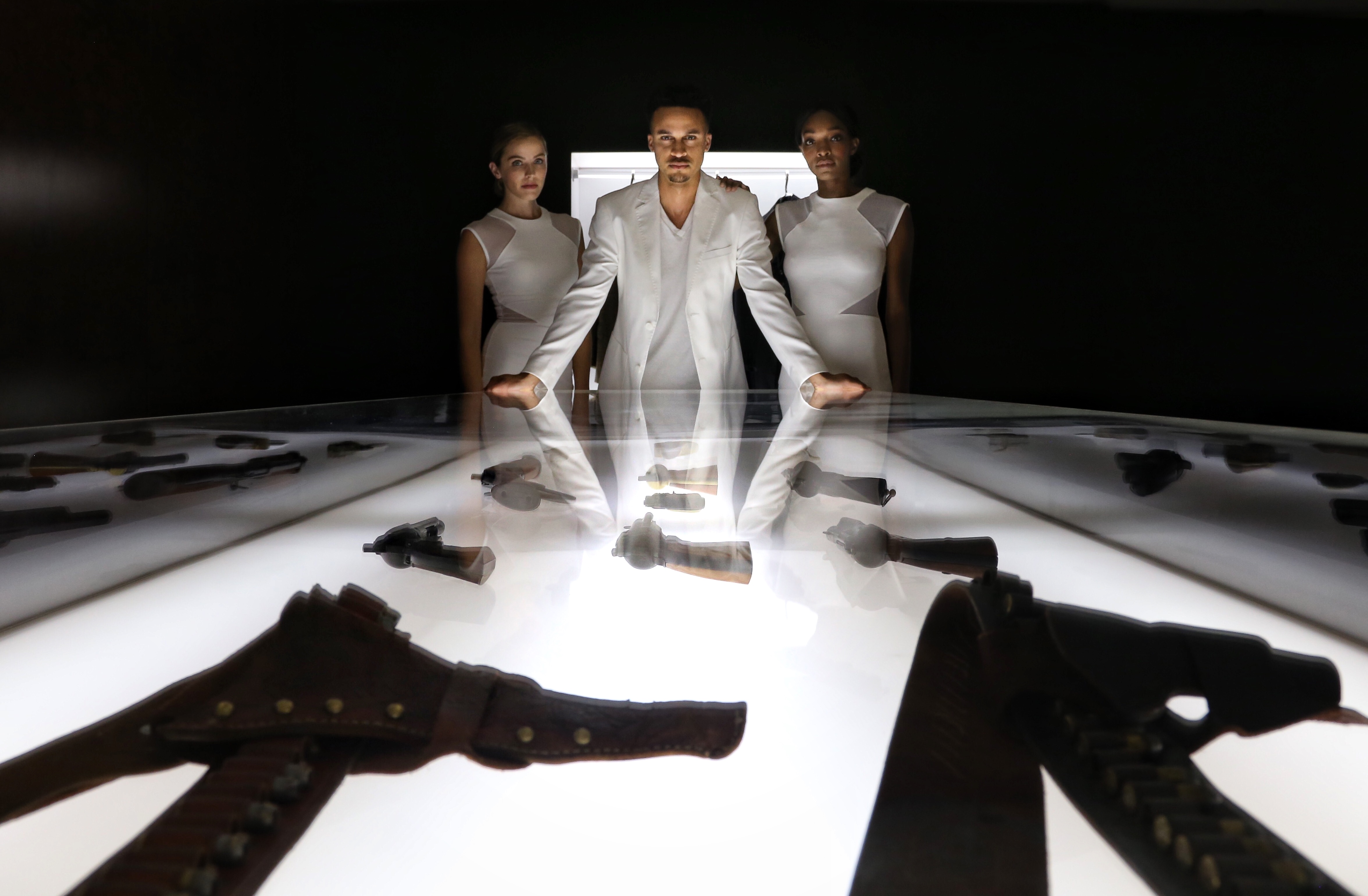 They each promise that I and a group of other journalists are entering a world without limits, and they aren't just whistling Soundgarden. For instance, almost right off the bat, every guest, including yours truly here, was ushered into a personal "dressing" room where we received a personality test. With questions worthy of Harrison Ford and Sean Young in Blade Runner, I'm asked which finger would I cut off in a survival situation (right pinky), how many of my dreams are nightmares (10 percent), and would I join a killing spree with a gang of bushwhackers when they offered me a gun (take it and shoot 'em dead, obviously).
Consequently, I was pleasantly surprised that I've maintained just enough morality to receive a white hat, but given that this is only a 30-minute taste of Westworld, I'm sure that like William, I'd eventually pick up a black hat as needed.
Of the many "experiences" and geek friendly installations offered at San Diego Comic-Con over the years, "Westworld: The Experience" is easily the most immersive and seductive creation. During the course of half an hour, almost a dozen "hosts" are introduced, each perfectly copying the too-friendly sweetness of Talulah Riley's welcoming presence in the HBO series, or the cagier, practical conversationalist attitude of Thandie Newton's saloon-owning Maeve Millay. We're escorted through gun racks, mask halls, and even a seeming confirmation that the name of the other park glimpsed in the Westworld season 1 finale is indeed "Samurai World."
While the world "Samurai" is never seen, right across from a door marked "WW," there is a "SW" sign from which echoing swordplay is heard.
Eventually, the old Mariposa Saloon & Hotel is discovered where a group of bartenders proved to know their stuff. This probably isn't too surprising since they're led by real-life mixologist Paul McGee of Chicago's Lost Lake and the Milk Room. Working from the Jerry Thomas Bartenders Guide of 1862, cocktails included glasses of blended sherry, the San Francisco: Blue Blazer with literally burning whiskey, and a brandy-laced dessert. All the while a player piano hacked away, all by its lonesome, at out-of-tune renditions of the Westworld and Game of Thrones themes (both by Ramin Djawadi) and, of course, Soundgarden's "Black Hole Sun."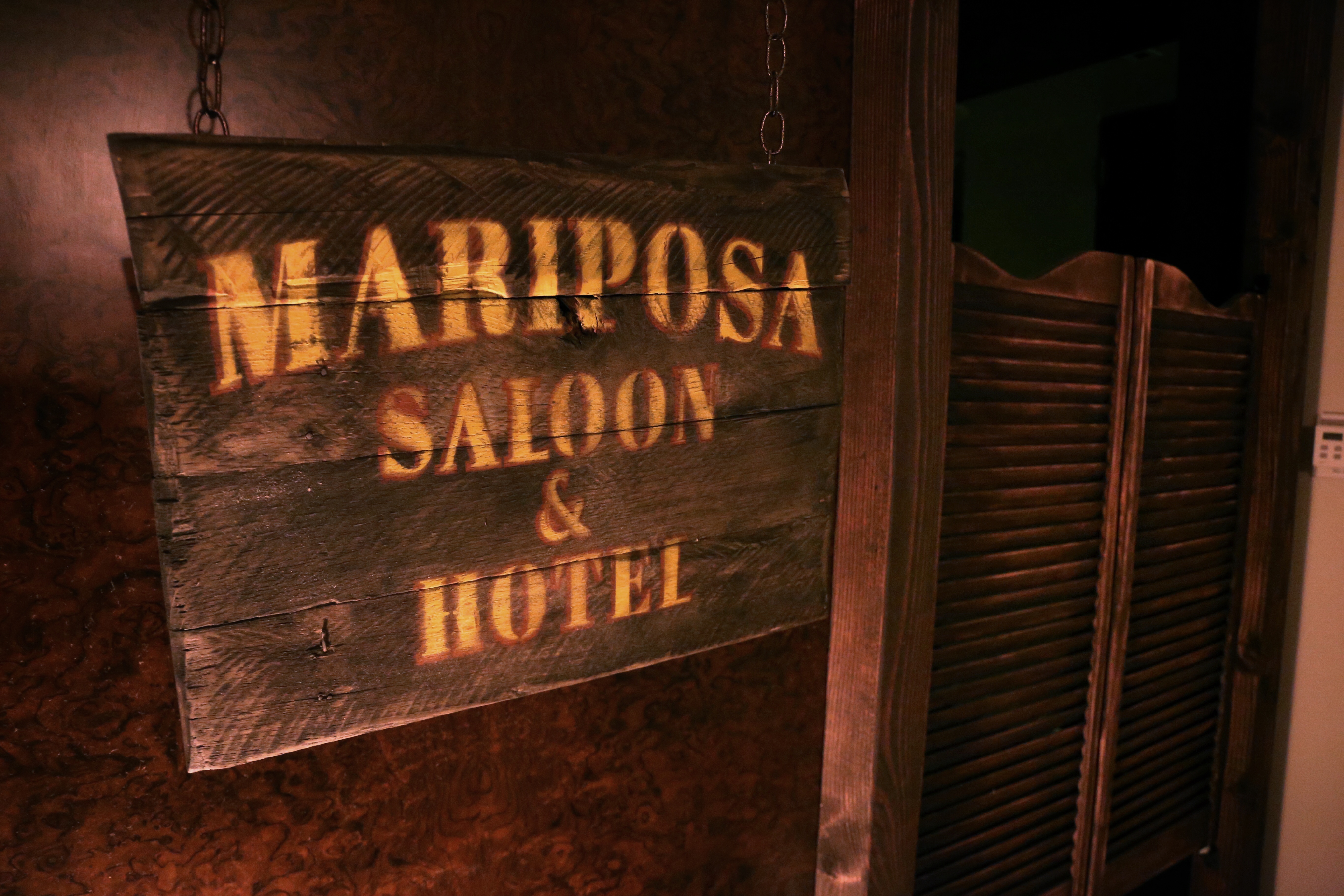 The SDCC version of Maeve also told me that she misses Gary, but he's gone and exited her establishment. He thoughtfully left behind the piano though (along with traces of his blood in the recording cylinder).
As a whole, "Westworld The Experience" definitely lives up to its name. Obviously for the 21-and-up crowd, it provides drinks, tests of morality, and more than a few charming hosts… except of course for when that one glitched a little and started side-eying us like wolves observing the cattle…
But I wouldn't worry about that, because she then complimented my hat right afterward, snapping back to default sunshine and smiles. And I got to keep the hat. So everything's fine at Westworld… right?
You can currently make a reservation to go to Westworld at San Diego Comic-Con at the Hilton San Diego Bayfront Hotel. Appointments will be on a first come, first serve basis beginning at 9:30am on Thursday through Saturday.
— Den of Geek News! (@DenofGeekUS) July 20, 2017