News
Giveaway: Win a Marvel Pulp Hero From Far Out Toys!
Ten lucky winners will receive a Pulp Hero from Far Out Toys before the line's launch in September!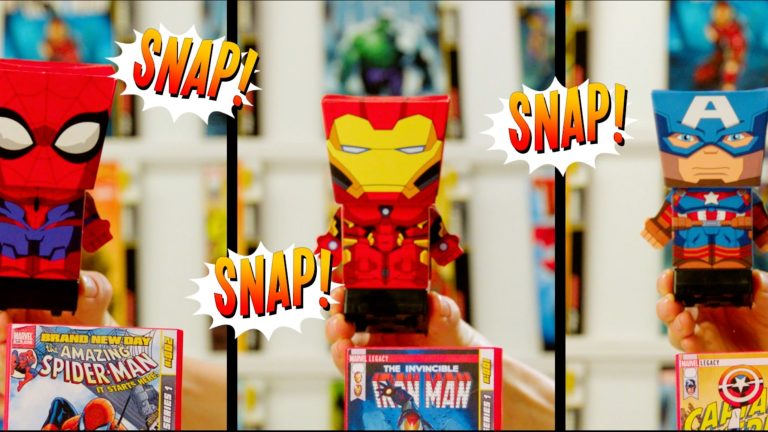 Ahead of the highly anticipated San Diego Comic-Con, we're teaming up with Far Out Toys and giving away ten Pulp Hero figures! Pulp Heroes are flat, spring-loaded popular characters that literally snap out of the story into a 3-D form when ejected from their colorful, comic book-themed protective sleeves! The Pulp Heroes Snap Bots spring into action with pullback motor technology that send them zooming into battle against their arch enemies.
Click here to enter via our official giveaway page.
We're giving away…
– One Captain America figure

– One Black Panther figure

– One Spider-Man figure

– One Incredible Hulk figure
– One Thor figure
– One Iron Man figure
– Two Groot figures, and
– Two Star Lord figures 
Note: Giveaway entrants will be able to select a preferred Pulp Hero, but choices are NOT guaranteed due to limited stock. Winners may receive a figure different than their preferred choice.
Rather not wait? Far Out Toys is also providing an exclusive opportunity to pre-order the collection-worthy Pulp Heroes from some of the most popular entertainment properties, in advance of their national launch in September. Series 1 of Pulp Heroes includes beloved Marvel characters such as Iron Man, Captain America and Spider-Man and will be available for a limited time. 
San Diego Comic Con attendees will have an opportunity to receive a free Pulp Heroes character, in-person on Friday, July 19. Pulp Heroes' Instagram page will have more details.
Click here to enter via our official giveaway page.
Entries will be accepted until July 19th. Ten (10) winners will be drawn randomly and then notified immediately. If any of the winners don't respond within fory-eight (48) hours, another winner will be chosen. Good luck!