News
Giveaway: Win a Copy of Scrooged on Blu-ray!
We're giving away three Blu-ray copies of the Bill Murray classic Scrooged (along with a rare ornament) in time for the holidays!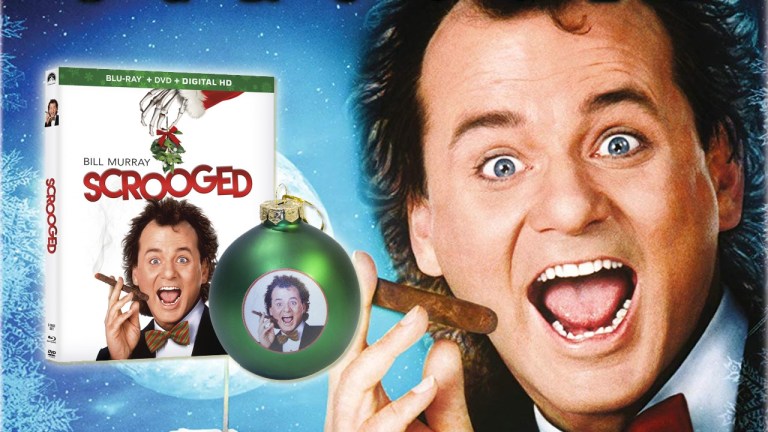 Just in time for the holidays, we're giving away three Blu-ray copies of the 1988 Bill Murray classic Scrooged for the movie's 30th anniversary! Featuring an all-star cast including Karen Allen, John Forsythe, Bobcat Goldthwait, Carol Kane, Robert Mitchum, and Alfre Woodard, the perennial holiday favorite is more uproarious and touching than ever. Each lucky winner will also receive an ornament that goes along perfectly with the film!
From the home release's synopsis…
"Frank Cross (Murray) is an uncaring, and unforgiving television executive whose live production of 'A Christmas Carol' is more important than any true meaning of Christmas. Before the night is over, he'll take a hilarious journey through his past and into the future to find redemption and put a little love in his heart."
Scrooged is a modern retelling of Charles Dickens' classic 1843 novella A Christmas Carol. It was directed by Richard Donner, who previously directed such blockbuster hits like 1978's Superman and 1987's Lethal Weapon. Besides Scrooged, Donner's most famous comedy is the 1985 hit The Goonies. The comedic legend Bill Murray became a household name after being featured on Saturday Night Live. In addition to starring in Scrooged, he has also starred in classics such as 1980's Caddyshack, 1984's Ghostbusters, and 1993's Groundhog's Day. 
Final entries will be accepted until November 28th. Three (3) winners will be drawn randomly and then notified immediately via email. The winners will be given 48 hours to respond or another winner will be chosen. Good luck!
(Need a refresher on the classic Christmas hit? Check out the original trailer below!)