News
Free Your Mind in 2019: Giving Away $1,500 in Prizes
One lucky winner can win up to $1,500 in prizes that'll bring mindfulness and self-growth for the rest of 2019!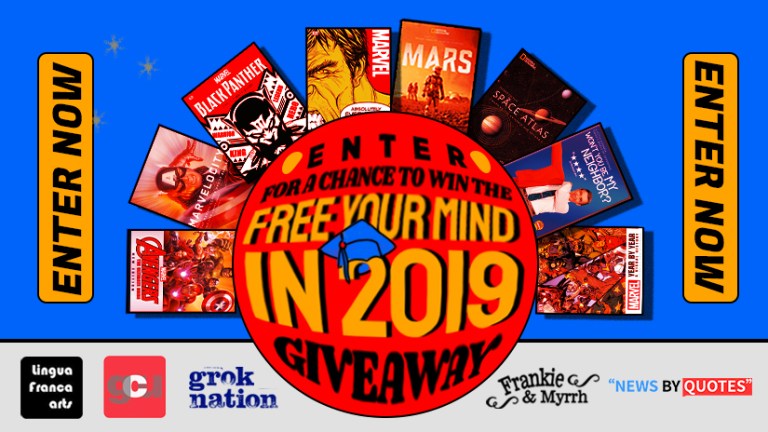 The beginning of the year can be stressful. Resolutions, new projects, and new expectations can oftentimes be overwhelming. To help you make the most of your 2019, we've partnered up with tons of geeks to curate the perfect prize package for mindfulness and self-growth! Our friends at Lingua Franca NYC, News by Quotes, Grok Nation, genConnectU, and TTF have helped us put together the Free Your Mind In 2019 Giveaway, giving away over $1,500 in prizes to one lucky winner.  
Click here to enter via our official giveaway page.
The new-year-new-you wellness prize package includes:
• One pair of GenconnectU online courses on expert wisdom and advice in what matters to you from over 3,000 taskmasters ($300 value)• A big ol' book & DVD bundle including Marvel: Year By Year, A Visual History Updated & Expanded, National Geographic Space Atlas, a DVD copy of Won't You Be My Neighbor, Nation Geographic's MARS season 1, Marvel Avengers: The Ultimate Guide, Black Panther: The Ultimate Guide, Marvel: Absolutely Everything You Need to Know, and Marvelocityfrom Den of Geek (us!)• A $200 gift card provided by Grok Nation• A custom designed cashmere sweater from Lingua Franca NYC ($350 value).• An assortment of aromatherapy products from Frankie and Myrrh, Inc ($85 value).• $400 cash prize provided by News by Quotes
The Marvel: Year By Year visual book is undisputedly the most comprehensive guide to the history of Marvel comics that has ever been published. The must-have book also details the landmark events in Marvel comics, TV, and movies in an in-depth and surprising manner. The book covers the history of Marvel staples like The Avengers and Spider-Man, as well as the geniuses who created them. The Marvelocity visual novel includes the best art from legendary Marvel artist Alex Ross. To ramp up the Marvel-ness, we're also giving away the ultimate guides to both Black Panther and The Avengers.
If you're a science geek or a space enthusiast, then you're definitely in luck. We're giving away a copy of Space Atlas, Second Edition: Mapping The Universe and Beyond as well as the first season of National Geographic's Mars. Written by James Trefil and including a foreword by Buzz Aldrin, Space Atlas combines photographs, maps, and illustrations to chart the entire universe and beyond. The visual novel also includes clear explanations of astrophysics, dark matter, and gravational waves. 
Click here to enter via our official giveaway page.
Entries will be accepted until February 27. One (1) lucky winner will be chosen and notified via email. Good luck!