News
Ghost Bait Revival Comes to Travel Channel
Paranormal investigators Bob Magill and Tina Storer use fear to trap spirits on Ghost Bait.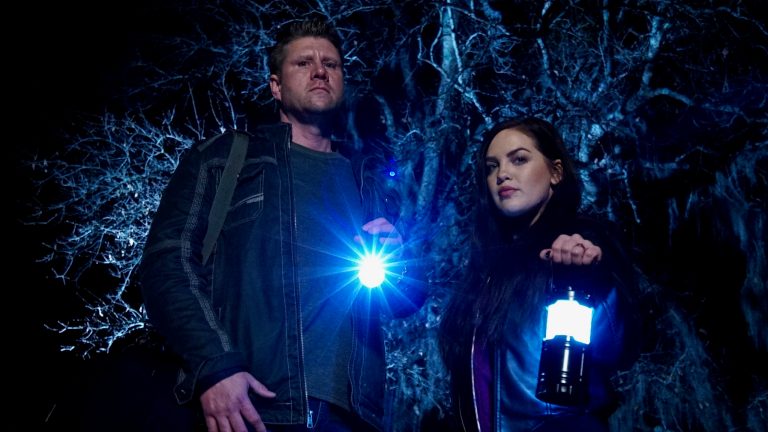 Ghosts smell fear like sharks smell blood. You want to catch a ghost? Get your most easily-frightened friends and lock them in a place renowned for its hauntings and tell them spectres are coming to eat his brains. Either the ghosts will come or your friend will have a heart attack and come back to haunt you. It's a win-win. That was almost the premise of Travel Channel's cult classic series Ghost Bait, which ran in 2013. The series was based on a radical experiment using human fear to confront the most terrifying hauntings. Travel Channel will premiere its Ghost Bait revival on Thursday, April 4 at 10 p.m. The season will consist of 12 half-hour episodes.
Paranormal pioneer Bob Magill and empathic investigator Tina Storer, the hosts of Ghost Bait, take on "frightening, personal hauntings in America" on the series. Magill also had his first paranormal experience at a young age and believes he is fulfilling a calling to help others who are experiencing the phenomenon he did as a child. Storer, who was part of the Massachusetts paranormal group Paranormal Xpeditions with Rachel Hoffman and Danielle Minacapelli, has been investigating the paranormal for over 10 years. Storer has made it her mission to help others also overcome their biggest fears by facing them head on.
Further reading: Demon House Creator Zak Bagans Talks About Its Destruction
"Bob and Tina are two of the most dedicated paranormal investigators out there, and the unique way they conduct their investigations will keep you on the edge of your seat," Jane Latman, general manager of Travel Channel, said in a statement.
Master of Social Sciences and licensed therapist Bob Magill created the web series Ghost Bait in 2011 to help genuinely terrified people who were experiencing intense paranormal activity using state-of-the-art technology. Storer had her first ghostly encounter when she was 14 years old. She has been in tune with the other side since she was very young. While she was fascinated with the paranormal, she was deathly afraid of the unknown. She overcame her fears when she immersed herself in the world of ghosts and entities.
Further reading: Kindred Spirits: Amy Bruni and Adam Berry Discuss Ghost Busting
"Some parapsychologists believe spirits feed off the energy of the living, and that fear is their food of choice," reads the press statement. "Using a shocking but effective method of isolation combined with sensory deprivation, the duo helps people overcome their fear of intense paranormal activity. After conducting their own paranormal investigation, Magill and Storer use their findings to elevate a client's fear level and then use that terror as bait to draw out the entity and force a confrontation. By facing their worst fears head on, Magill and Storer believe the living can overpower the negative forces around them to reclaim their sense of peace and control."
Latman added "fans can't help but root for the haunting victims as they're forced to face their worst fears."
Further reading: Haunted House Owner Reveals Details of Bothell Hell House
"In the premiere episode, Magill and Storer travel to the historic Brookdale Lodge in Santa Cruz, California, to investigate claims of an evil spirit bullying an employee named Agnes," reads the official synopsis. "The paranormal investigators discover the once famed hotel has a dark history filled with mysterious deaths and corruption. Agnes must overcome her deepest fears and challenge the oppressive entity plaguing her in order to continue her livelihood at the hotel. Isolated in the pool room, an area known for frightening activity, Agnes confronts the entity – alone."
In the premiere night's second episode, the investigators travel to Monongahela, Pennsylvania, to investigate claims of "paranormal activity terrorizing a young couple in their new home," according to the official synopsis. "During a chilling late-night investigation, the duo come face to face with a mysterious presence in the woods and capture a terrifying voice inside the house that repeats the phrase, 'in a portal.' As a last resort, homeowners, Jason and Nina, are forced to confront their fear of the evil demon in order to reclaim their house."
Ghost Bait is produced by Indigo Films for Travel Channel.
Ghost Bait premieres on Travel Channel on Thursday, April 4 at 10 p.m. and 10:30 p.m.
Culture Editor Tony Sokol cut his teeth on the wire services and also wrote and produced New York City's Vampyr Theatre and the rock opera AssassiNation: We Killed JFK. Read more of his work here or find him on Twitter @tsokol.