News
GFW Impact Has an El Patron Problem
GFW Impact continues to have a cloud hanging over it with El Patron ...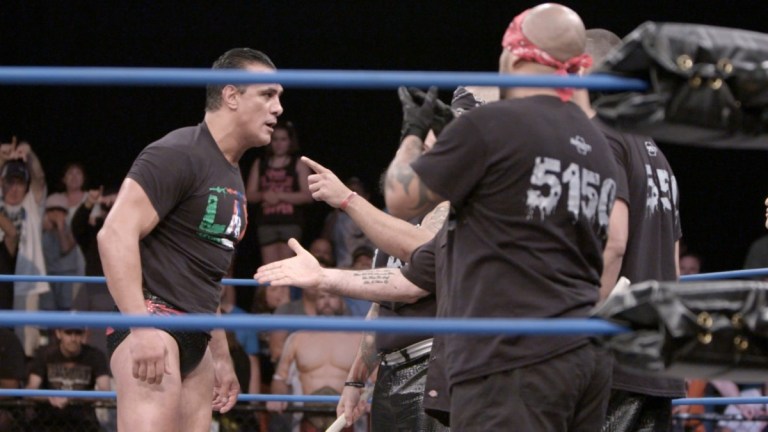 On this week's episode of GFW Impact, LAX committed a felony on TV, kidnapping two members of Alberto El Patron's family and holding that person against their will. Also, I think Konnan admitted to murder on TV as well with the Crazzy Steve comment, saying LAX shipped him away and he's never going to return.
I'm fine with the "LAX going after El Patron's family" angle, but let's keep it somewhat believable. I don't think they needed to kidnap El Hijo Dos Caras (they could have approached him backstage), and then publicly dragging them to the ring and assaulting them to the point El Patron made teh save, felt a little over the top.
Well, it felt a lot over the top.
This is all on top of the fact that El Patron is still, uncomfortably, feature don screen. It's hard to edit all of that television, I get it, but his involvement is only getting more and more weird. On this show, in the closing segment, he talked about his "latin temper" with Konnan. Yeah, so we've heard.
Even though it doesn't seem like he'll be charged with anything stemming from the Orlando airport incident, it's still a major distraction. And, it's one GFW can't afford right now.
Drago beat Sammy Guevara in a Super X Cup first round match
The video packages before these matches are incredibly well done. For the new wrestlers, it's giving the audience backstory and letting people know who they are. At the same time, everyone is giving their reason why winning the Super X Cup is important to them. Two weeks ago, I questioned why they would bring back a tournament that no one remembered and no one really cared about. But, these packages are making the tournament feel very important. It doesn't take much, but this is a really great example of how storylines that are very sport-driven really resonate. This tournament isn't about someone needing to get married for a green card. This tournament is filled with athletic wrestlers, doing athletic things, and all trying to win the tournament in order to advance their career and earn an X Division Championship opportunity. It's been really good.
This match in particular was strong, despite only getting four minutes of TV time. It did follow a formula that works sometimes, but I think can be problematic if done too often. Guevara was the one getting most of the offense before Drago scored the pin. This has become GFW's version of WWE 50-50 booking. When you boil it down, I prefer GFW's 50-50 booking to WWE's, in that they are at least somewhat consistent in results when it comes to who they're pushing, and they aren't as concerned with someone "getting their win back." But this formula seems to be very consistent and it's making match results predictable. Whoever is getting beat up for most of the match, they more often than not end up catching their opponent quick for a win.
Sienna beat Amber Nova – Sienna cut a promo after the match, calling out Karen Jarrett
I could do without Karen Jarrett on television. Right or wrong, it seems too much like she's trying to come across as a babyface Stephanie McMahon, and her narrating the charity video package only fits with that characteristic. I don't find her to be a particularly strong character and you could have come up with an angle to accomplish next week's title match without involving Karen.
That said, I liked how they had Sienna win a squash match before cutting her promo. That type of segment broke up the typical long-winded promo from (pick your wrestler) in the ring. I've wondered lately why GFW or WWE don't use the post-match interview in the ring or on the ramp, as was done about 20 years ago. It's also something UFC and Bellator use constantly (the winner of the fight getting a post-match interview). It's a great opportunity to let the wrestlers talk without it having to be a 15-minute promo.
Octagoncity, Garza Jr. & Laredo Kid beat Demus, Idris Abraham & Trevor Lee
Entertaining match, but with almost no storyline behind it, I felt like it was hard to invest. Trevor Lee is involved in an angle, but he's really the only one who is at the moment, and he didn't play a factor into the finish of the match at all. But, the match was fun to watch. GFW is relying heavily on their Mexican relationships on this show, and so far I would say it's working. The show has a different feel this week with so much newer talent.
Also, Bruce Prichard is a heel? Right? I mean, he must be. The heel that stole the title was standing there, the rightful champion came into the picture demanding the title match, and Prichard sent away rightful owner of the belt. So, Bruce Prichard is a heel. This happened when he barred Sonjay Dutt from the building after he tried to get back the title that rightfully belongs to him.
Matt Sydal beat Low Ki and El Hijo de Fantasma in a triple threat
Fun match with some great action, as you would expect from these three. After the match, Sydal tried asking Prichard for an X Division Title shot (man, there was a lot of Prichard on this show). That brought out Bobby Lashley, and he demanded a World Title shot before spearing Sydal.
Eli Drake beat ECIII, Moose & Eddie Edwards in a four-way match
The match was quicker than I expected, but this was a good win for Drake, who is still cementing himself as one of the top guys in GFW. This brought him closer, even if a stole the win after tossing ECIII out of the ring when he hit Moose with a One Percenter.
I liked that finish. It protects some of the guys and even though it's a cheap win, I think it does more to get Drake over because it fits the type of heel he is.
Read and download the full Den of Geek SDCC Special Edition magazine here!