News
GFW Decides to Leave El Patron Part of Taped TV Shows
After his suspension earlier this week, El Patron was still a central figure on GFW Impact ...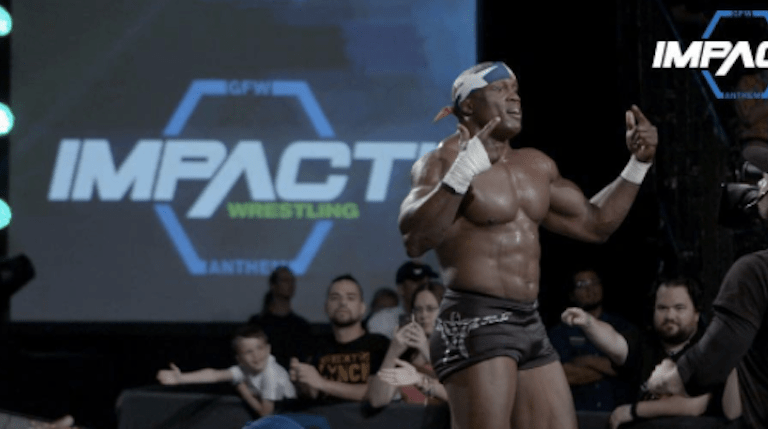 GFW suspended its Unified World Hvt. Champion, Alberto El Patron, following an incident between him and his fiance, WWE wrestler Paige, at the Orlando Airport earlier this week. But, El Patron remained on the television show, which was taped before the incidents, and he'll continue to be a central part of the storylines over the next several weeks.
With five shows in the can, there's not much GFW can do to edit El Patron out of the broadcast, especially with him a central part of its biggest storyline. But, I'll admit it did feel awkward watching him in the opening segment. Not to diminish the seriousness of the situation, and bring it down to a pro wrestling conversation, but it was even more difficult with him framed as the hero babyface.
Everything we have learned about his personal life in recent weeks, and especially this week, frames it much differently. Again, I don't know what GFW's alternatives were. The shows were taped and it would be a lot of segments to fill if they were to completely edit him out of the show. But, it was weird.
Over the next five weeks, there's potentially around 100 minutes of television with El Patron a part of it. That's a lot to edit out and replace.
So while I don't think GFW has a choice, now, with what to do with these TV shows, it is fair to be critical of them for putting El Patron, someone with a checkered past, in that spot to begin with. Remember, he was mysteriously stabbed about a year go.
That's where GFW should be criticized. El Patron was carrying a lot of baggage, and GFW still put the World Title on him and made him the lead babyface. So, while there isn't much they can do with these taped episodes, it's hard to feel bad for them. They knew what they were getting into with El Patron.
ACH beat Andrew Everett in the Super X Cup
Good match and I thought the commentary here was very good (wow, that feels weird to write). They praised ACH and gave his background, and Pope was good criticizing Everett for playing too much to the crowd and wasting time. Ultimately, you could argue it cost him the match after he took his time before trying a move off the top, that he missed, and led to ACH hitting the brainbuster.
The Swolemates Confront Adonis/Drake
What a giant waste of time. If the POP deal for GFW is a barter deal, like has been reported, there's no reason that GFW should feel compelled to do ridiculous promo stunts like this. It does absolutely zero for GFW/Impact. These two jacked up freaks in the ring dwarfed Drake and Adonis, whose whole gimmick is his physique. Not to mention, they did nothing. They argued, without a mic, and then took off their shirts. It was a complete waste of time.
Octagoncito beat Demus
The mini match was good. That's an example of some different things GFW can sprinkle into Impact to make it feel different. They can't do it every week, but once every few weeks, featuring those performers, gives the show a different feel. The Grado segment was silly, but it also wasn't the end of the world.
Marufuji beat Moose via DQ in a Grand Championship match
Typical structure to these Grand Title matches. One wrestler wins the first round, another wrestler wins the second round, and then something finally happens in the third round. The end result is a lot of waiting around for something to happen. It kills the flow of the television show, in all honesty.
Trevor Lee beat Williams Weeks
The storyline of Lee stealing the title is a little silly, but at least it's moving Trevor Lee in a new direction. He has the most untapped potential in the entire company. They allowed Lee to talk more, cutting the promo before the match, and the "caveman" gimmick seems to be gone. He was just talking like a heel, not as a character. It was a good promo. The crowd didn't react at all to Dutt's run-in through the crowd. It seems like the more exciting X Division talent right now is in the Super X Cup. Dutt's title win was over in India, but in Orlando, the crowd didn't seem to care too much about this segment. They also didn't note that Weeks was on Impact a few months ago, getting squashed by Kongo Kong.
Laurel Van Ness beat Ava Storie
LVN is becoming a guilty pleasure for me. I find her reactions very funny and her dress seems to be getting dirtier and more torn up every week. The overall character doesn't have a lot of legs to go somewhere long term, but LVN is showing some range here from a performance standpoint. I think they can have her snap out of the madwoman gimmick at some point and she can be a pretty dominating heel in the women's division.
Albero El Patron & Bobby Lashley beat LAX
I'm not a huge fan of having the tag team champions lose to a pair of randomly paired wrestlers, but when its the World Champion and the former World Champion, it's forgiveable. It doesn't change the fact that the segment was still very awkward with El Patron's involvement. It's going to be strange watching him on television over the next several weeks.