News
GFW Coming Up With Its Own Wrestling Super Hero
Super Cena? The moniker might be more fitting for Alberto El Patron in recent weeks ...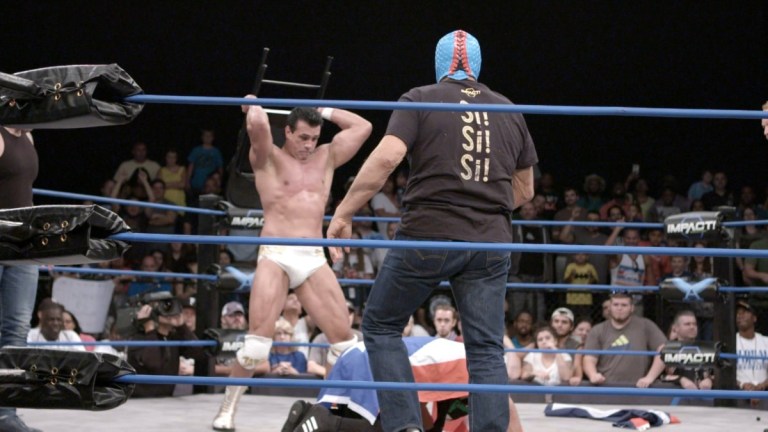 Super El Patron?
For years, Super Cena has been used as a moniker to mock John Cena in WWE, who seems to overcome whatever odds are put in front of him. Now, GFW Wrestling is doing something similar with Alberto Del Patron.
Just last week, El Patron faked joining LAX before ripping off his LAX shirt and then proceeding to whipping out the entire LAX stable, on his own.
Ok.
Now this week, El Patron was in a gauntlet match against LAX and he won, granted by count-out in the final match. After a beatdown, the Veterans of War came out to save El Patron, but they were quickly neutralized. So, of course, El Patron came back to life once again proceeded to dispatch the entire LAX stable on his own, yet again.
That's just not a good recipe for a few different reasons. First and foremost, it's burying LAX. The big heel group is getting beat up by one man week after week. That doesn't say a whole bunch about LAX as a group.
Also, it doesn't say much for the VOW either. They were quickly neutralized by LAX only for El Patron to immediately get up and chase off the entire LAX stable.
That's great for El Patron, but it's hard not to feel like this is all a waste of precious television time. Will they build around El Patron again? Will they just lift his suspension?
Even if they continue to push El Patron and lift his suspension, pushing him the way they are feels like a giant mistake. He's a ticking timebomb, and GFW needs to realize this and cut bait. Quickly.
ECIII, Chris Adonis & Eli Drake beat Moose, Marufuji & Eddie Edwards
This was a good opening match, for the most part. For whatever reason, it feels like Eli Drake is slipping through the cracks right now, and he really shouldn't be. He was put in a prime spot against DeAngelo Williams at Slammiversary, but for the last month he has been on losing tag teams and feuding, somewhat, with the Swolemates, which has been a complete waste of time for GFW and especially someone like Drake, who should be positioned higher. The focus here was on ECIII vs. Moose, and their eventual Grand Championship match.
Lashley vs. Matt Sydal was booked for Destination X
They're clearing setting up Sydal vs. Lashley, which is an interesting match. I'll give GFW credit in that they are getting a lot out of some talent they've brought in who aren't on full-time deals, and Sydal is definitely a big part of that. He came in at first and was a highlight aspect of the X Division and the contrast in styles between him and Lashley could be fun. It does remind me a little bit of Lashley vs. Eddie Edwards, which was a feud that isn't even a year old, but I think these guys can do something different.
Ishimori beat Davey Richards in a Super X Cup first round match
I thought this was one of the better matches of the first round, and on the whole, I like the way this tournament has played out. The matches have been technically sound and this match had a really great blend of athletic moves and also some mat wrestling. Richards and Ishimori both looked like they were the one to beat in the tournament, and Ishimori moved on.
Drago vs. Xavier and ACH vs. Ishimori will be the semifinals.
Sienna beat Rosemary in a Last Knockout Standing match to retain the Impact and GFW Knockouts Titles
Rosemary took some incredibly hard bumps in this match. The AK47 off the ring apron and then the fall from the top rope through the table on the outside were very hard. The walking brawl was fun, including the some things we've never seen before, such as the reverse tarantula on the grandstand. As someone who generally gets tired of the same gimmicks we see in these matches (chairs, tables, etc.) this was done well.
Octagoncito beat Trevor Lee via count-out
I didn't like this. When they started the storyline with Lee, I was excited to see them doing something with him, but all it has turned into is a comedy gimmick, for the most part. He's doing goofy stuff. Trevor Lee isn't goofy. He's kick-ass and he needs to be booked that way. I still don't have any confidence that GFW knows what it has with Lee.
Alberto El Patron beat Homicide, Santana and Ortiz in a gauntlet match
They're going all-in on El Patron. I didn't like the finish here. The match was fine, but what was VOW doing? They haven't been treated as main-event acts, yet here they were in the main event. Also, this is two weeks in a row that El Patron got the better of LAX. They need to continue to get some heat if this feud is going to matter.