News
Game of Thrones: Jason Momoa Talks About 'Almost Losing' Emilia Clarke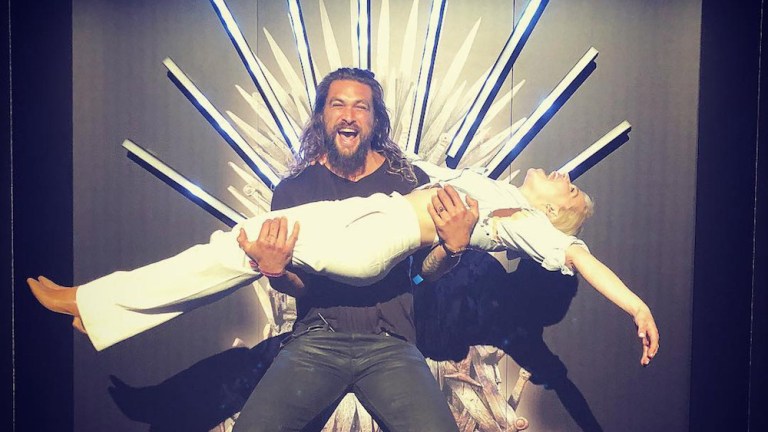 For all her talk of fire and blood, it is safe to say that Daenerys Targaryen is made of even stronger stuff. There's an ironclad steeliness to her resolve to not just survive, but thrive, persevere, and win. It is one of the things that make folks so curious about her final endgame in Game of Thrones Season 8. Yet, as we recently learned, it's sprung from a real-life source in Emilia Clarke's own resolve.
Last month, Emilia Clarke published a surprising and harrowing New Yorker essay that detailed how during the early seasons of Game of Thrones she had several real-life brushes with death due to two brain aneurysms that resulted in a total of three surgeries. The first surgery occurred after a nearly fatal aneurysm in 2011, merely months before Game of Thrones Season 2 was slated to go into production and only a matter of months following the first season's completion. During that period, Clarke suffered, among other challenges, aphasia, a brain trauma that caused her to be unable to remember even her own name for a week. Yet she fully recovered, even as the doctors were aware of a second aneurysm attached to her brain. It was a condition only Clarke's immediate family, employers, and friends were made aware of. Among them was Jason Momoa, the future-Aquaman and then co-star of Clarke, appearing as her barbarian husband Khal Drogo in Game of Thrones Season 1 (and again as a ghostly vision in season 2).
Since Clarke went public with her story, Momoa opened up about his memories of that period and how it still visibly saddens him.
Speaking to Entertainment Tonight during last week's Game of Thrones premiere, Momoa said, "I've kind of been a part of that whole situation for a very long time, so we've had so many scares and trying to find the right way to come out and help. I just think it's beautiful that—she's so brave in helping the world and trying to raise awareness. I mean, I'm very sad because we almost lost her numerous times. So I love her to bits, and she's here and she's going to do great things with it and teach the world."
Momoa would seem to allude to her later surgeries after the third season when doctors went in to operate on the second aneurysm before it "popped," but the resulting failure of the operation led to an immediate, more invasive opening of her skull. You can read the full details in Clarke's essay here.
In the time since these difficult troubles, Clarke's full recovery has seemingly mirrored Daenerys' rise to the top of the Game of Thrones hierarchy, with Clarke reaching the end of the series and starring in among other projects Solo: A Star Wars Story and Paul Feig/Emma Thompson's new romantic comedy later this year.
As the eighth and final season nears, Dany meanwhile stands with one of the most formidable hands to win the Iron Throne given the support she has now earned from the North atop her still two living and nigh unstoppable dragons. This of course assumes the Night King doesn't stop them, which we have some thoughts on. In the above ET interview though, Momoa and his real-life wife Lisa Bonet reveal that they're, unsurprisingly, on the Team Khaleesi train to the end.
Game of Thrones Season 8 premieres on Sunday, April 14 on HBO.
David Crow is the Film Section Editor at Den of Geek. He's also a member of the Online Film Critics Society. Read more of his work here. You can follow him on Twitter @DCrowsNest.