News
Fright Fest: Win Our Epic Horror Streaming Party Giveaway!
Throw the perfect horror streaming party with this great prize bundle. One winner can take home over $1,000 worth of spooky prizes!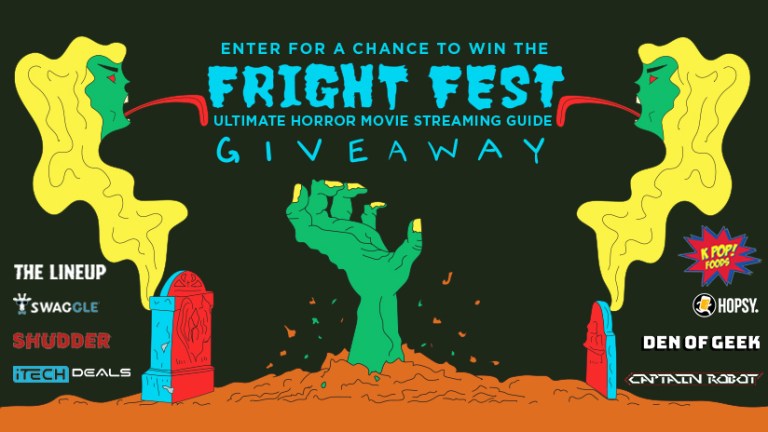 It's October, and as horror experts, it's our job to help you make your month even spookier. To celebrate the month, we've teamed up with tons of other geeky partners and we're all giving away an epic Fright Fest prize bundle. It's perfect for one lucky winner who's aiming to host the best horror viewing party of the year.
Our prizes (summed up in the image below) include: one Apple iPod for spooky watching on-the-go, a one-year subscription to AMC's horror movie streaming service Shudder, a one-year subscription to Creepy Crate, a book prize package from The Lineup, the fifth season of American Horror Story on Blu-ray, the first season of iZombie on DVD, the complete fifth season of The Walking Dead on Blu-ray, a FUNKO Pop Action Figure of Rick Grimes, a Hopsy Home Tap Room Beer Serving Kit, $200 worth of Swaggle credit, and $250 worth of Korean style snacks from KPOP Foods. All in all, the winner of this giveaway will be receiving over $1,000 worth in prizes.
You'll be more than well-equipped to throw the perfect spooky party complete with tons to watch, eat, and drink. AMC's Shudder service alone has a plethora of spooky movies to choose from, ranging between classics like Alfred Hitchcock's The Birds and Shudder-exclusive thrills like Can't Take It Back.Though not all of your guests might have a strong appetite for horror, you'll certainly be able to quench their thirst with a fresh beer on draught with your new Hopsy at-home taproom kit. Plus, once the party's over, you'll enjoy a year's worth of swag from The Lineup's Creepy Crate, continued on-the-go chills with your new Apple iPod Touch, and lots more in this horrifyingly huge swag bundle.
Entries will be accepted until October 31st. One (1) winner will be notified via email after the end of the entry period. Good luck!