News
Fire and Fury Book About the Donald Trump White House to Become a TV Series
Donald Trump will be returning to television, in a way, as Michael Wolff's bestselling Fire and Fury is about to become a TV series.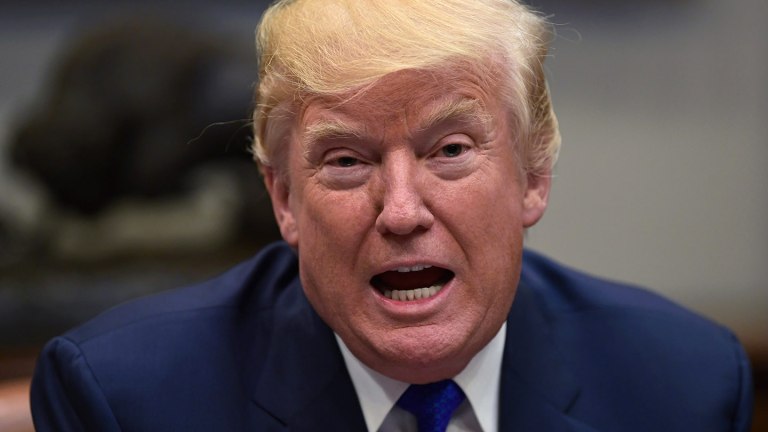 Start fan-casting Donald Trump now, because Michael Wolff's bestselling Fire and Fury nonfiction glimpse into the Trump White House is about to become a television series. You can hear the howling of angry tweets already. Indeed, on the eve of the President of the United States un-ironically hosting what he claims will be the first annual "Fake News Awards" (or as Stephen Colbert dubbed them, "the Fakies"), it was announced that the infamously thin-skinned president will be the subject of a less-than-flattering TV series.
Endeavor Content, the financing and sales arm of talent agency William Morris Endeavor and IMG, announced Wednesday that it had acquired the television rights to Fire and Fury in a deal that is said to be in the seven-figure range. The resulting series, which is notably not described as a limited or miniseries, will see author and journalist Michael Wolff stay on as executive producer, as well as former BBC and Channel 4 executive Michael Jackson. There is currently no television network or showrunner attached to the project, but we expect that to change soon.
Fire and Fury is the instantly notorious and detailed account of President Donald J. Trump's first year behind the Resolute Desk. The book is the result of Wolff's revelatory and exclusive access to many of the players in Trump's West Wing during the year of 2017. While the book wasn't even announced until November of last year, it started making waves in the news when excerpts published prior to its 2018 release date revealed that former White House adviser Steve Bannon—a major source for Wolff—suggested that he considered Donald Trump Jr.'s meeting with Russians during the 2016 presidential campaign to be viewed as treasonous. Since the book's publication, it has soared on book charts, despite disputed details, thanks to its depiction of a White House in chaos. Instead of depicting a strong business leader running the government more efficiently, it portrays feudal factions vying for the limited attention of a president who allegedly goes to bed early most evenings with a cheeseburger in hand.
Demand for Fire and Fury was so high—especially after President Trump called it a "phony book"—that publisher Henry Holt moved its release date from Jan. 9 to Jan. 5. The book debuted at No. 1 on The New York Times bestseller list, and currently has shipped 700,000 hardcovers while having another 1.4 million on order. In addition, there have been more than 250,000 ebook and another 100,000 audiobook purchases of Fire and Fury.
If the current president is so eager to have his tenure compared to Obama's, it took nearly eight years for the first Obama biopics—Southside with You and the very underrated Barry—to be made. Trump's return to television is ahead of schedule in a bigly way.