News
Fantastic Beasts: Ezra Miller & David Yates Talk Real World, Far-Right Influences
Ezra Miller and David Yates discuss the historic and modern far-right movements that influenced Fantastic Beasts and Where to Find Them.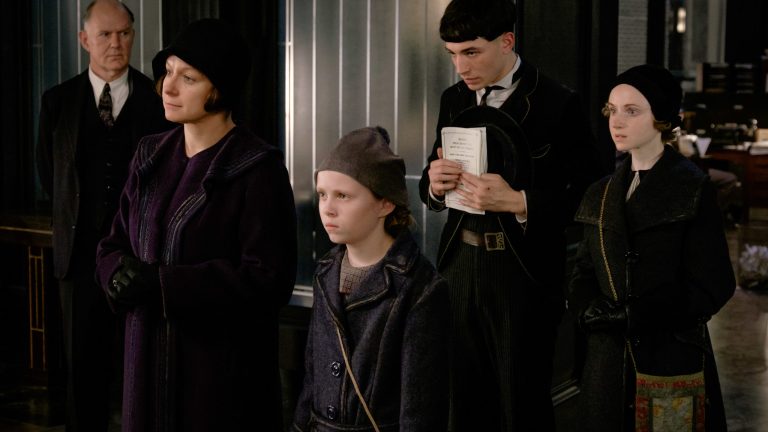 There are many beasts, who are indeed quite fantastic, throughout the latest film set in the Wizarding World of Harry Potter. Yet, as the franchise transitions into focusing on a different time period and a different set of characters—mainly Newt Scamander (Eddie Redmayne) in 1926 New York to be specific—Fantastic Beasts and Where to Find Them screenwriter J.K. Rowling and director David Yates are exploring new influences. And, as it turns out, many of them are hardly fantasy, especially in 2016.
Take for example Ezra Miller's new enigmatic character in the film, Credence. In Fantastic Beasts, Credence is the extremely repressed son of Mary Lou (Samantha Morton), the leader of a New York Chapter of the New Salem Philanthropic Society. Despite that charitable title, the group is in an almost cult-like state of repression, and as a society of "No-Maj" people (folks who have no magical abilities), they are obsessed with proving that a secret world of wizards and witches exists beneath our own.
While talking with Ezra Miller in a roundtable interview, I brought up these real world parallels to modern puritanical groups looking for conspiracies, and he had a fascinating answer about the real life eugenics societies of the 1920s that New Salem is based on.
"I was interested in what the New Salem Philanthropic Society is originally based on, which is really eugenics communities, which existed on mass in the 1920s in the United States," Miller told me. "And eugenics was the practice of, the sort of pseudo-science that paved the way for white supremacy and fascism in the 20th century. And it started, actually, in the U.S. and Scandinavia, and not in Austria or in Germany. Those communities were very real, they existed even in New York; there are photographs that you can find and look at, and very strange pictures of people who believed they were the embodiment of normality. But they looked very strange and very scary in these pictures."
During a separate one-on-one interview with David Yates, the filmmaker talked to me about even more of these specific elements, particularly when I mentioned the film seems to hint toward the rise of fascism for its sequels. And while we never talked about any specific modern political events, given that our interview was conducted the night before the U.S. election, Yates' answer now has a striking immediacy.
"There's a reason [J.K. Rowling] picked 1926, and the world of 1926 to tell this story, because it's not a million miles away from the things we might be experiencing right now," Yates said with a laugh. "I think there's, again, frightening parallels ultimately. And the notion that, how do you identify a community and in some way label it? It's a very interesting idea in the movie, and something that Jo was very keen to explore. The eugenics movement was really frightening, and so I think inevitably Jo as a writer reflects on what's happening around her in the real world, and that sort of imbues itself somewhat on the script."
Yates went on to directly talk about modern anxieties over the rise of far right in 2016, and how it seems to be breaking into the mainstream.
"She's quite intrigued by the rise of the right, or the rise of extreme voices in a world where I've grown up, and she has, in a fairly liberal—there's been a liberal consensus about how the world sort of works. And now that's being challenged, and establishment should always be challenged, it's important and healthy to do so. It just seems to me, there's these extremes popping up everywhere, and it's a little scary in a way. And ultimately, that just reflects on some of this writing."
However, Miller's performance as Credence, who is a very tortured character that is implicitly suffering from his first scene from abuse, also allowed the actor to tap into some other tragic places for his research.
"The most important real world research I did was having some really critical conversations with survivors of abuse, similar to the abuse that Credence survives or does not survive in this film," Miller explained. "So that was really important. I will send a particular shout-out to this organization called Childline in the UK that is a response network for kids who need to talk or need intervention, or who are just having a hard time and just need to chat online with someone who will listen, or on the phone. It's been running for a couple of decades, and they were really generous, and let me come in, talk to a lot of their responders, and even talk to a survivor who works with them still, who specifically survived abuse in a series of foster homes.
"And there were a couple of other people who I found in my life, who had lived similar experiences, and really trying to listen to them, to grasp some understanding of that just impossible pain. It was important to me, particularly because I had the privilege of growing up in a home free of violence. It felt important to hear the real story. That's not always my approach to a character, I don't always feel like an actor has to talk to the person most similar to their character on planet Earth, but in this case, I felt like it was really important to hear those voices, and to incorporate those into my process."
How they affect the film will be evident when Fantastic Beasts and Where to Find Them opens on Nov. 18.