Features
Fall Movies Preview 2017: 34 Upcoming Films
As the weather cools and the leaves begin to turn, we anticipate all the must see films in the fall movie season of 2017!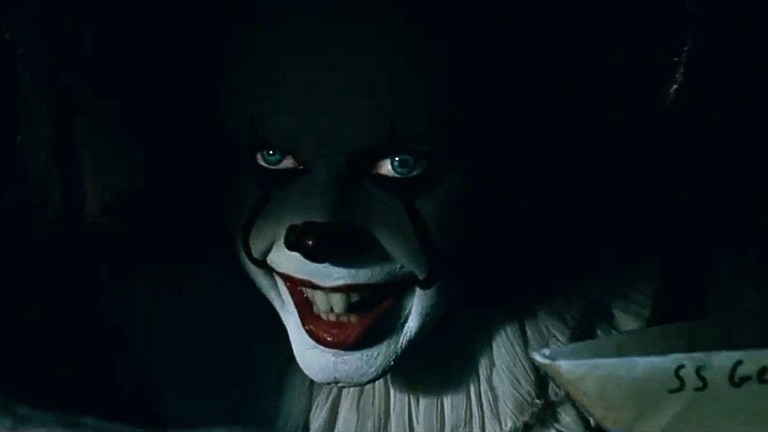 The summer movie season is officially over. Ending on a wee bit of a whimper, be it in quality (Annabelle: Creation) or both that and box office (The Dark Tower), it is time to move on and look toward the fall movie season. Yep, now is the time when studios and independent distributors alike release their purported heavy hitters with an eye on that Oscar prize. It is also a season that can produce slightly more eclectic qualities in its mainstream releases, and hopefully a few surprises here and there to boot.
Also, yes, there might be a few new franchise movies like Star Wars, Blade Runner, Thor, and Justice League on the horizon. Oh my!
There is just something creepy about a clown, right? They're meant to entertain children, but the pale skin, blood-red lips, and loud noises are nothing but nightmare fuel. Stephen King tapped into that with his magnum opus It, and director Andy Muschietti looks to drill right back into that primal horror with this adaptation of only half of the novel this fall. By moving its childhoods of broken dreams from the 1950s to the '80s, the new film enjoys a Stranger Things affectation, but the horror looks genuinely like classic King, and far grimmer than any previous TV movie attempt at it.
mother! – September 15
After his ambitious but quite shaky big-budget Biblical epic Noah a few years ago, writer-director Darren Aronofsky is returning to the territory he excels at: dark, weird psychodramas that walk right on the edge of being all-out horror films. At least that's what mother! certainly looks like from its truly unsettling trailers. Jennifer Lawrence and Javier Bardem star as a married couple whose house in the country is invaded by a growing number of mysterious guests—and who just might be there by invitation. Details of the plot have remained shrouded, but this feels like a return to the Aronofsky who gave us Black Swan, Requiem for a Dream, and Pi. Also like Black Swan, there is a bit of Polanski around its edges.
American Assassin – September 15
In American Assassin, Dylan O'Brien plays Mitch Rapp, the CIA black ops agent at the center of the late Vince Flynn's long-running series of espionage novels. The movie, like the book it's based on (which Flynn wrote later in the cycle), is Rapp's origin story—how a thirst for vengeance led him as a young man to the CIA and the training of a tough and unpredictable mentor (Michael Keaton). The Rapp books have a loyal audience but it's taken so long for them to get to the screen that elements of this may look overly familiar to movie audiences. But O'Brien showed he could handle a lead in The Maze Runner, and Michael Keaton just makes everything better.
This one's kind of a no-brainer. Whatever its flaws, 2014's Kingsman: The Secret Service was a raunchy, no-holds-barred, highly entertaining spoof of the spy genre with a note-perfect central performance from Colin Firth. He's back in this one—we don't know how yet, since his character was dead when we last saw him—and so is Taron Egerton as Eggsy and Mark Strong as Merlin. They're also joined by Channing Tatum, Jeff Bridges, Halle Berry, and Julianne Moore as the villain. That cast alone is worth the price of admission, and the clips we've seen indicate that this movie is as delightfully out of its mind as its rude-boy predecessor.
The Lego Ninjago Movie – September 22
I have to confess that I don't know much about Lego's line of Ninjago sets (nor the TV show it inspired), but after the massive success of The Lego Movie and The Lego Batman Movie—both of which were legitimately terrific films to boot—I will never bet against a film based on those little colored construction blocks again. Having said that, both Lego itself and Batman are fully ingrained in pop culture while Ninjago is perhaps not as well known to the public at large. Can Warner Bros. and those tiny toys knock one out of the park for a third time? Even the wise Master Wu (voiced here by Jackie Chan, of course) may not know the answer.
Battle of the Sexes – September 22
This combination of real-life sports history and comedy from the directors of Little Miss Sunshine (Valerie Faris and Jonathan Dayton) casts Steve Carell as Bobby Riggs and Emma Stone as Billie Jean King, two tennis superstars whose epic 1973 match that was viewed by a reported 90 million people around the world was a milestone in the acceptance of women as legitimate championship-level tennis players. The subject matter is no doubt as relevant as ever, and you'll probably hear Oscar buzz for both Stone and Carell in what are sure to be striking performances.
American Made – September 29
Tom Cruise teams with his Edge of Tomorrow director Doug Liman for a comedy-drama based on the life of Barry Seal, a former airline pilot who first became a drug smuggler and ended up an informant for the DEA. Early reviews from the UK are middling at best, and it feels like we've seen characters like this before—guys in the '70s and '80s who somehow got caught up in both drug empires and covert government ops. Liman and Cruise did make magic together with Edge of Tomorrow, but Cruise is coming off two bombs in a row with his Jack Reacher sequel and the disastrous The Mummy, so we'll put a big question mark next to this one.
Flatliners – September 29
Billed as a sequel and not a remake of the 1990 horror favorite, this Flatliners nevertheless has the same basic premise: A group of medical students conduct experiments in near-death experiences, only to seemingly bring something back with them from the other side. The trailer makes the film look stylish and occasionally creepy, but it all seems familiar as well. Good cast though, with Ellen Page, Nina Dobrev, Diego Luna, Kiersey Clemons, and Kiefer Sutherland as the older version of his character from the first movie. Director Niels Arden Oplev helmed the original 2009 Swedish adaptation of The Girl with the Dragon Tattoo.
Never thought I'd be saying this about a sequel to Blade Runner, but this looks flat-out sensational. While the first movie is not quite the masterpiece it's made out to be (it moves at a deathly pace and its character and plot problems are still right where they were in 1982), it created a rich future universe arguably ripe for more exploration. Add to that one of the best directors working today (Denis Villeneuve, coming off another sci-fi triumph with Arrival), a great cast led by Ryan Gosling and Harrison Ford, and an unsettling sense of the profoundly mysterious, and you've got the makings of a new genre classic.
The Mountain Between Us – October 6
Based on a novel by Charles Martin, this survival drama stars Kate Winslet and Idris Elba as, respectively, a journalist and a surgeon who make it out of a plane crash but find themselves stranded in a remote wilderness in northeastern Utah. A number of other actors were attached to the leads over the course of the film's development, but it doesn't get much better than the two who ended up in the movie. Will it wind up being a harrowing yet moving saga of triumph over the odds, or a sexier version of The Edge?
Goodbye Christopher Robin – October 13
Winnie-the-Pooh is one of the most beloved creations of children's literature from the last hundred years. But for all the pastoral peace his very nature suggests, Pooh Bear was the product of a scholar scarred by the First World War and a desire to recapture the lost innocence he glimpsed in his son Christopher Robin. Goodbye Christopher Robin will hopefully also capture some of that magic with a story about finding light from darkness while we're entrenched in our own trials. The film likewise sports an impressive cast that includes Domhnall Gleeson as Pooh's creator, A.A. Milne, and Margot Robbie as his wife Daphne.
Marshall – October 13
Chadwick Boseman is making a great career out of playing major historical figures, from Jackie Robinson to James Brown. But with Marshall, he plays a figure whose life reveals that even in the corridors of power, a black man will be forced to drive through brick walls. With the new film, Boseman is Thurgood Marshall, the first African American on the Supreme Court bench. However, he had to get there by facing everyday racism, both common and scorched earth destructive. The film recounts that journey along with a cast that includes Josh Gad, Keesha Sharp, Kate Hudson, Sterling K. Brown, and Dan Stevens.
Michael Fassbender in a murder mystery? Need we say more? Just in case, the film is based on a Swedish novel and is the latest movie from the enigmatic Tomas Alfredson, whose previous work includes Tinker Tailor Soldier Spy and Let the Right One In. With this film, Fassbender plays detective Henry Hole, an investigator who discovers a pink scarf wrapped at the scene of a grisly murder around a snowman. It's the beginning of a trend—and perhaps a trip back to the serial killer subgenre from the '90s. If so, the movie could chill to the bone. It also stars Rebecca Ferguson, J.K. Simmons, and Val Kilmer.
Only the Brave – October 20
With temperatures rising every year, and wildfires continuing to spread, the firemen who dare to run toward the smoke only become more vital. One such group was an elite crew out of Prescott, Arizona who battled the Yarnell Hill Fire in June 2013 in the face of hellish conditions. The blaze claimed 19 lives on that team, and Only the Brave appears poised to canonize that sacrifice onscreen. Directed by Tron: Legacy's Joseph Kosinski, this firefighter drama is also stacked with an impressive cast of performers, including Josh Brolin, Jeff Bridges, Miles Teller, and Jennifer Connelly.
Leatherface – October 20
There's a new Texas Chainsaw Massacre reboot because… well, we don't rightly know. But it exists, and you can't take that away from it! The trailer is above.
This past summer saw his greatest fictional creation on the silver screen, and now Professor William Moulton Marston's own truth, in a way, is also making the jump. Still, we imagine the Wonder Woman creator might like to get the filmmakers under oath with the lie detector test he also invented (true story). In this new film, writer-director Angela Robinson offers a dramatic account about Professor Marston (Luke Evans) and his rather progressive (i.e. polyamorous) marriage arrangement with his wife Elizabeth Marston (Rebecca Hall), and their shared love, Olive Byrne (Bella Heathcote). All those chains and lassos came from somewhere, right?
Jigsaw – October 27
He's back. Not that anyone really thought when the last Saw movie had the subtitle of The Final Chapter that it was being honest. There is always a new beginning, and in this case it's the soft-reboot of Jigsaw—a retread which aims to "retake" Halloween for a new (and hopefully improved?) Saw franchise. There is definitely a more playful, self-aware tone to the games now, and Once Bitten's Laura Vandervoort might actually be able to raise an eyebrow long enough to survive the ridiculousness. Or end up as a crimson smear. Fans can find out in time for trick 'r treating.
If we're being honest, the Thor movies have been among the weaker of Marvel Studios' impressive oeuvre. Yet that appears likely to change with Thor: Ragnarok. The God of Thunder's third time up to bat seems to have been given a jolt of psychedelic lightning by kiwi director Taika Waititi, the indie filmmaker behind Hunt for Wilderpeople and What We Do in the Shadows. With luck, he'll bring a wry, slightly mad touch to Thor. Oh yeah, the Hulk's in it too. But with Cate Blanchett threatening to steal all the scenes as Hera, the Goddess of Death, we could finally have a superhero movie where audiences are compelled to see the appealing side of oblivion.
LBJ – November 3
There have been many movies made about President Lyndon B. Johnson, and there will likely be many more. Along with his successor, Richard Nixon, the Vietnam War era presidents carried themselves with an air of tragedy worthy of Shakespeare. After all, LBJ alone signed the Civil Rights Act and Voting Rights Act, and used Medicaid to help build a "Great Society." But his decisions that led to escalating our involvement in Vietnam into a full-fledged war cost tens of thousands of lives just from the American side alone. It's a damnable opera, this time being told by director Rob Reiner and with Woody Harrelson as Johnson and Jennifer Jason Leigh as his wife Lady Bird.
Murder on the Orient Express – November 10
Director and star Kenneth Branagh is poised to take moviegoers back to a time when commuting was treated with an air of grandeur and sophistication. Granted, there could also be the occasional murder, but this is hardly a deal breaker for such luxuries! In Branagh's version of Agatha Christie's classic whodunit, Murder on the Orient Express, Branagh leads an all-star cast that includes Daisy Ridley, Michelle Pfeiffer, Penelope Cruz, Willem Dafoe, Josh Gad, Judi Dench, and more. Homicide has never seemed so classy.
There is a Justice League movie coming to theaters. Finally. The DCEU's pantheon is at last getting together for their first epic team-up, which includes Ben Affleck's Batman, Jason Momoa's Aquaman, Ray Fisher as Cyborg, Ezra Miller as the Flash, and another hero you might have heard about: Gal Gadot as Wonder Woman. After leading the best DC movie in ages, Gadot's Diana Prince is primed to take center stage. And with Joss Whedon kindly taking over post-production and reshoot duties from Zack Snyder, there's every chance to wonder about what to expect.
Coco – November 22
Pixar is back in theaters just in time for Thanksgiving this year with Coco. By all accounts, the movie will prove to continue the animation studio's patented magic as it explores the concept of family through multiple generations by uniting a boy from Mexico with his long deceased ancestors on Día de los Muertos, the Day of the Dead. Complete with new music and an appealingly multicultural visage for these troubled times, Coco should prove a cathartic charmer. It also looks visually stunning.
Molly's Game – November 22
Aaron Sorkin has never sat in the director's chair before. However, as he has written iconic screenplays for the likes of The Social Network, Steve Jobs, and A Few Good Men, we're more than willing to give him the benefit of the doubt. Especially when he mixes high stakes poker with crime drama in Molly's Game, a gambler's delight that casts Jessica Chastain as the titular Molly, a former Olympic class athlete turned queen of an exclusive poker venue where celebrities rubbed shoulders with the Russian mob. What could wrong? In terms of cinema, it sounds like very little.
The funny thing about history is that it's already a shared universe that you may have taken for granted! Hence how appropriate that after Christopher Nolan's Dunkirk rocked audiences, the story "continues" in Joe Wright's intriguing The Darkest Hour. Set both before and after the events of that famed evacuation, Gary Oldman steps with swagger into the shoes of legendary British Prime Minister Winston Churchill as the mighty isle faces its greatest struggle against Nazi Germany and the imminent Blitzkrieg assault. Soon Britain's direst moment will become its finest. The film also features Kristin Scott Thomas, Ben Mendelsohn, and Lily James.
Death Wish – November 22
So Bruce Willis is starring in a remake of Death Wish… that is being thrown into the politically sensitive backdrop of him doing "the police's job" in Chicago. Yes, this could go off the rails really quick, and that's without taking into account it remakes a cult classic. Still, there is something intriguing about this "Punisher" fantasy being updated for today, even if it likely ends up going where no one wants it to.
The Disaster Artist – December 8
There really just is something about The Room, and not the harrowing masterpiece starring Brie Larson. Nay, we speak of the harrowing train wreck starring its writer-director Tommy Wiseau. It's a movie so mythically awful that the story of how its triumphant mediocrity came into existence must surely also be worthy of cinematic posterity, right? Thus enter The Disaster Artist, a comedic "biopic" on Wiseau that is directed by and stars James Franco. It also features Seth Rogen, Dave Franco, Zac Efron, Alison Brie, and Hannibal Buress.
Guillermo del Toro has long wanted to make a Creature from the Black Lagoon movie. Alas then that this ship may have always been destined to pass in the night. Luckily though, we're instead getting his wholly original version of an aquatic creature feature. The Shape of Water is one of the most fascinating prospects of the season, finally embracing the auteur's lingering romance with the cinematic monster for good and all. In the period piece, Sally Hawkins' Elisa is a mute janitor who no one notices, save for Doug Jones' maritime beastie left to waste away in a government research laboratory. Fortunately, there's nothing dark about a universe this flush with potential.
As if you needed a reminder that there is a new Star Wars movie on its way? And it's not just any Star Wars movie, but the Star Wars movie that answers all those lingering questions: Who is the last Jedi? Why did Leia hug Rey over Chewie? Will Finn ever wake up and recommence his star-crossed bromance with Poe? Plus, has Luke really been an absentee dad? All that and presumably some space battles and lightsaber swinging will occur when Rian Johnson's Star Wars: The Last Jedi finally kicks it into lightspeed and into your local multiplex.
The world of Jumanji is back in this semi-sequel/semi-reboot of the beloved brand. And to the film's credit, it is approaching the material with a rather novel idea: Instead of forcing the world of colonial safari adventures into children's every day suburban lives, this is throwing the kids into the jungle as they transform into archetypes ripped right off of pulp novel covers. This includes gender bending laughs as a cool girl becomes a rotund professor played by Jack Black, and the shy girl turns into a pinup ass-kicker embodied by Karen Gillan. And then there is Dwayne Johnson, Mr. Franchise Viagra himself. A nerd gets turned into the Rock? The jokes practically write themselves in this goofy but potentially enjoyable setup.
Pitch Perfect 3 – December 22
As I live and breathe, the Bellas are back to complete their Aca-trilogy! Indeed, Pitch Perfect 3 returns to the shockingly competitive world of acapella singing with a film that finds the Bellas hating their post-college lives enough to reunite for a USO Tour. That sounds fun… until they earn the attention of a competitive group on the tour that uses instruments. The horror! Seriously though, this movie sees Anna Kendrick, Anna Camp, Rebel Wilson, Brittany Snow, Elizabeth Banks, Hailee Steinfeld, and the rest of the onscreen team hitting the stage. That's why you're already clearing your throat and preparing for the big night.
The Current War – December 22
Before there was Steve Jobs vs. Bill Gates, or Blu-ray vs. HD DVD, the ultimate technological war was waged over a hundred years ago between Thomas Edison and George Westinghouse. Direct current or alternating current? The patent of the lightbulb "inventor" or the the superior products of his competition, which were aided greatly by another little genius named Nikola Tesla? It was a battle fought in newspapers, courtrooms, and on death row. And it is the subject of The Current War, an intriguing new film that stars Benedict Cumberbatch, Michael Shannon, Tom Holland, Nicholas Hoult, and Katherine Waterston.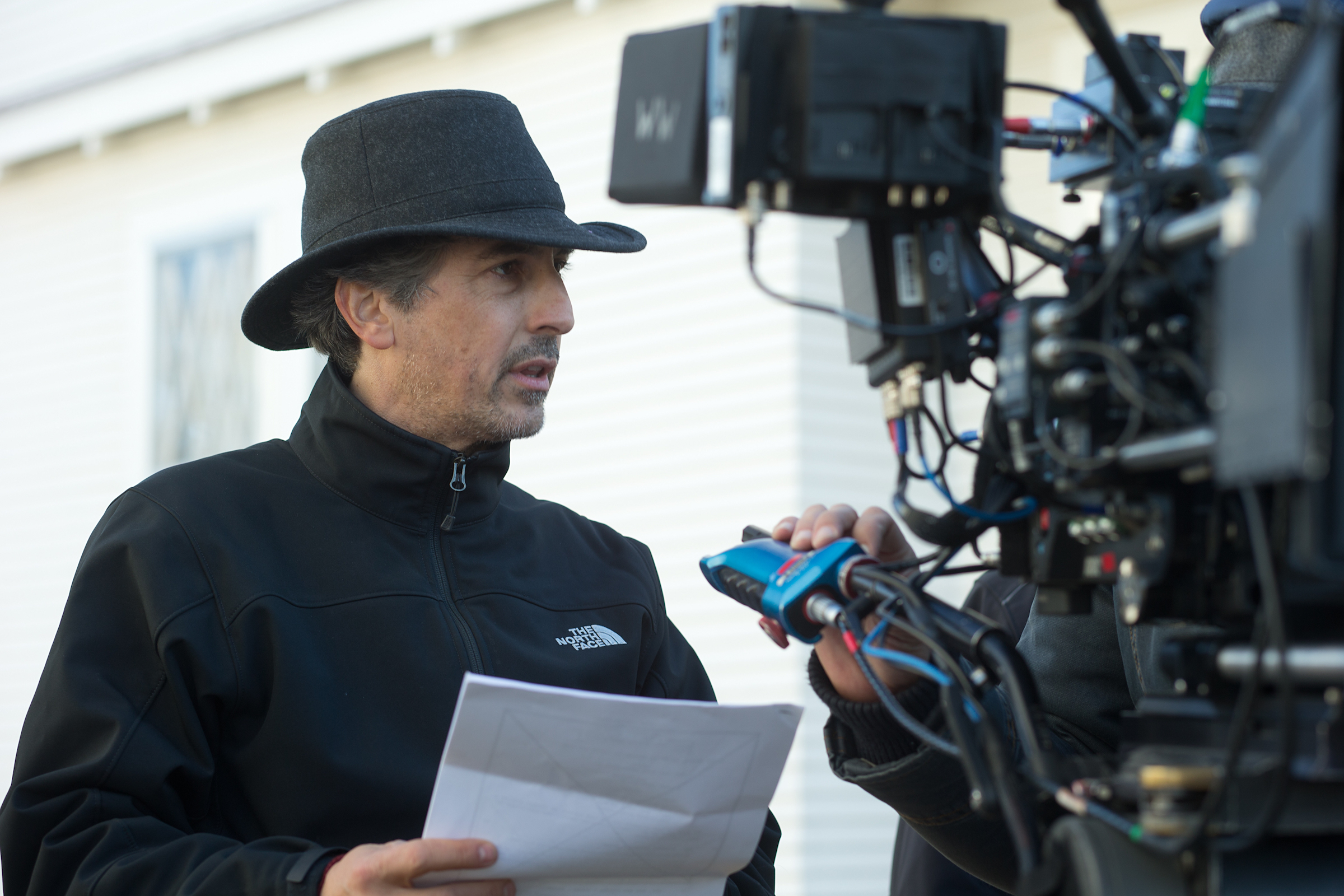 Downsizing – December 22
Alexander Payne returns to theaters with a film that sounds amusingly mad. More than likely a bit satirical, Downsizing focuses on a husband (Matt Damon) and wife (Kristen Wiig) who decide life has become unbearable. Hence they elect to shrink themselves down to micro levels… only the wife backs out at the last minute leaving Damon a fraction of the man he used to be and totally alone. Probably The Descendantsdirector's most allegorical film to date, topping even the fanged Election, Downsizing could have a very big payoff. The picture also features Christoph Waltz, Alec Baldwin, and Jason Sudeikis.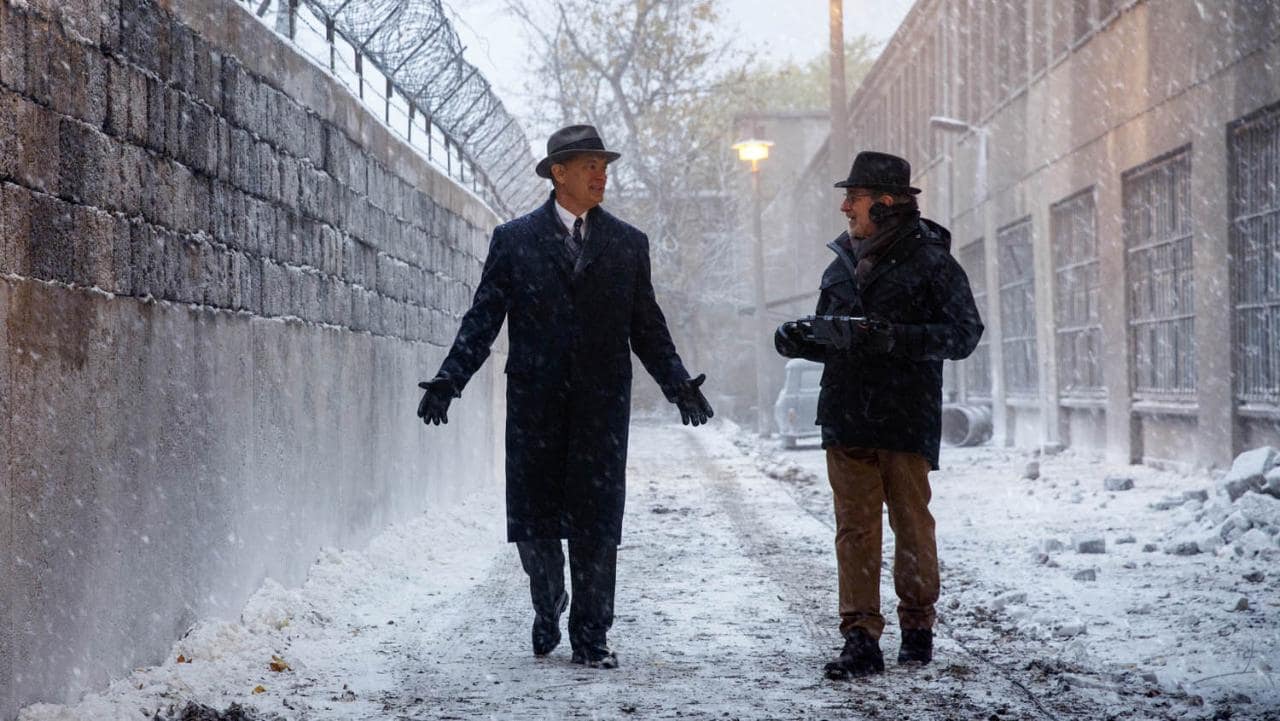 The Post – December 22
Steven Spielberg likely could not have chosen a more-timely subject for his next film, hence why The Post (formerly known as The Papers) was fast-tracked for a Christmastime release. In a film set during the height of one of the American government's greatest scandals, the Pentagon Papers, the film covers The Washington Post's decision to side with journalist Daniel Ellsberg in his fight to publish evidence of the government secretly enlarging the Vietnam War and crossing borders. A film about The Post versus a hostile executive branch? Huh. This heavy-hitter stars Meryl Streep, Tom Hanks, Alison Brie, and Carrie Coon.
The Greatest Showman – December 25
Not so long ago, the idea of doing a live-action musical seemed like a risky proposition in Hollywood. Doubly so if it were scored to an original set of songs and dances. Yet in our post-La La Land landscape, something like The Greatest Showman has a lot more knowing appeal. With music decidedly more poppy than Damien Chazelle's throwback, The Greatest Showman blends period piece with anachronistic modernity as it gives a fantastical account of P.T. Barnum, the founder of the most beloved circus in history. And Hugh Jackman, perhaps the actual greatest living showman, is going to be tapping across the proverbial boards as the ringmaster. He is accompanied by a musically inclined cast that includes Michelle Williams, Zac Efron, Zendaya, and Rebecca Ferguson.