Features
Exploring the Doctor Who Studio Tour
Simon gets nerdbumps visiting the Doctor Who Studio Tour at the BBC's Roath Lock in Cardiff...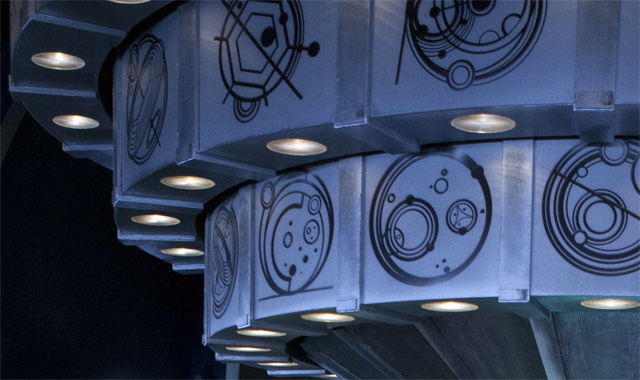 There's already a lot to enjoy at the Doctor Who Experience, that these days is situated down by the BBC's Roath Lock studios in Cardiff. It's effectively the same day out that was once located down in London, but with one or two added bits. In fact, now there's quite an extra incentive to go, given that the BBC is adding a chance to tour the Doctor Who set. There are limited slots available to do this, and naturally enough the first batch has long gone. But plans are afoot to open up the studio tour element again next year. 
We went down to check things out a Saturday or two back. I was armed with two younger Doctor Who fans (perfectly legal, they're both mine), and we went to catch up on the Experience side of things, and take the tour. 
We did the tour first, which is a short walk from the main Doctor Who Experience attraction. It takes about five minutes, and you're taken through a sturdy security gate, into the Roath Lock complex itself. Just walking down the corridor there is a bit of an eye-opener. It's pretty plain, but the signs on the doors give a clue as to just what kind of work you'd be seeing were you walking through on a production day. The empty canteen would surely, on a different day, have Matt and Jenna arguing over the last packet of Fizzy Chewits. 
Shortly, we arrived at a door, behind which lay something that's something of a Holy Grail for Doctor Who fans: the real, legitimate, proper TARDIS set. It's a set on three levels, that you access by going up some stairs. From the outside? Nothing special. It's wood, and lots of it, with no attempt to disguise the fact. But when you get to the parts that the camera sees, nerd gold awaits. 
The TARDIS exterior door is surrounded by green screen material, and as you step in (after an obligatory photo, natch), you're in no doubt this is the real deal. Parts of the console are roped off, so you can't attempt to fly away while nobody is looking. But we were given a few minutes to explore, ask questions, and just pinch ourselves for a minute that we were in the TARDIS itself.
Our guide, thankfully, left us to it at this point. They were there if they wanted us, but they knew what this meant. They'd seen it before, and they're going to see it lots of times again.
It's an impressive, and massively detailed set, as you'd expect from the HD era of television. It would have been better if we could have got up close with the detail of the TARDIS console, in truth, and when we visited the lights and sounds weren't on. But that didn't dampen things for us. As pretentious as it sounds, the place just had an aura to it. Granted, it was an aura that burst when you walked out the door and were back in an otherwise plain looking studio looking at bits of wood again. For a magical few moments, we were in the real, wonderful TARDIS itself. Nerdbumps, friends. Nerdbumps.
You pay extra on your ticket for the studio tour element, and you also get a walking tour of Cardiff-based locations built into that.
The Experience itself, meanwhile, is as much fun as it always was. The first part is a lively chance to join the Doctor on an adventure. It's set around the end of series five of the show, and a quick refresher on The Pandorica Opens and The Big Bang is helpful, but far from compulsory. How the Experience will adapt to a change in Doctor from Matt Smith to Peter Capaldi remains to be seen. As it stands, though, our small party enjoyed it immensely.
The second part of the Experience is the museum side, and this is continually refreshed. Lots of props and costumes from last year's special, The Snowmen, were on display, and by the time you read this, the replica first Doctor TARDIS from Mark Gatiss' upcoming docudrama An Adventure In Space And Time will have been added.
It's a nice balance they've managed here, in an attraction that straddles different age ranges and levels of Doctor Who interest really rather well. And while a refresh of the Experience part may be useful in six to twelve months, it's still a strong way for a Doctor Who fan to fill a few hours.
And that TARDIS set is just glorious.
More information on the Doctor Who Experience can be found here.
Please, if you can, buy our charity horror stories ebook, Den Of Eek!, raising money for Geeks Vs Cancer. Details here.