News
Elvis Presley Animated Series Agent King Coming to Netflix
The King of Rock and Roll has a double life as Elvis Presley gets animated as Agent King on upcoming Netflix series.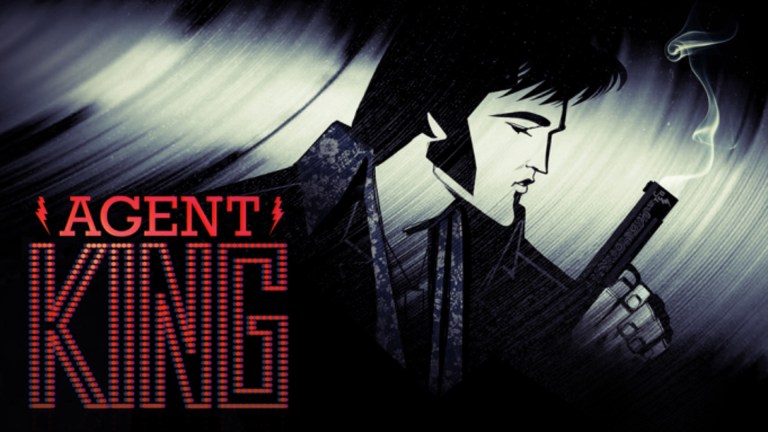 Elvis Presley, the King of Rock and Roll, earned a black belt in Karate, indulged "Suspicious Minds," and got special agent status from President Nixon. Priscilla Presley will put all these together in the upcoming Agent King, an adult animated comedy series which will run on Netflix, according to Variety.
The series also merges concepts behind both Marvel and DC legends, and the mythology of The Gong Show's Chuck Barris, who may or may not have been an assassin for the CIA, according to the book and movie Confessions of a Dangerous Mind. In Agent King, Elvis will shake his pelvis during working hours but will transform into an undercover agent who keeps America safe.
read more: How the Elvis 68 Comeback Special Happened Despite Colonel Parker
"From the time Elvis was a young boy he always dreamed of being the superhero fighting crime and saving the world! Agent King lets him do just that," Priscilla Presley said in a statement.
This is true. Elvis earned a seventh-degree black belt. While there is some debate over this, his trainer, Chito-Ryu stylist Hank Slemansky, insisted Presley do it right because the martial art was getting a bad reputation from too many fake or bad black belt claimants. Presley started his training while he was still in the army, earning his first-degree black belt in 1960. He was also very proud of the drug agency badge he got from the president.
read more: Elvis Biopic Casts Austin Butler as Presley Opposite Tom Hanks
Priscilla Presley co-created the series with John Eddie. It is being developed by Sony Pictures Animation, Sony Pictures Television, and Authentic Brands Group. Mike Arnold (Archer) will be a showrunner, writer and executive producer for the new series. It is being executive produced by Jamie Salter (Elvis Presley: The Searcher), as well as Cory Slater (Elvis All-Star Tribute) and Marc Rosen (Sense8).
read more: Elvis Presley: The Searcher Soundtrack Is a Musical Education
Presley's animated wardrobe will be designed by the legendary John Varatos. There is no word yet on whether he wears the same cape he occasionally performed in over his custom, sweat-absorbing stage jumpsuit.
No Agent King release date has been announced.
Read and download the Den of Geek SDCC 2019 Special Edition Magazine right here!
Culture Editor Tony Sokol cut his teeth on the wire services and also wrote and produced New York City's Vampyr Theatre and the rock opera AssassiNation: We Killed JFK. Read more of his work here or find him on Twitter @tsokol.