News
Eli Drake Wins GFW Global Championship on Impact
Drake beat out 19 other wrestlers in a gauntlet match to win his first World Title ...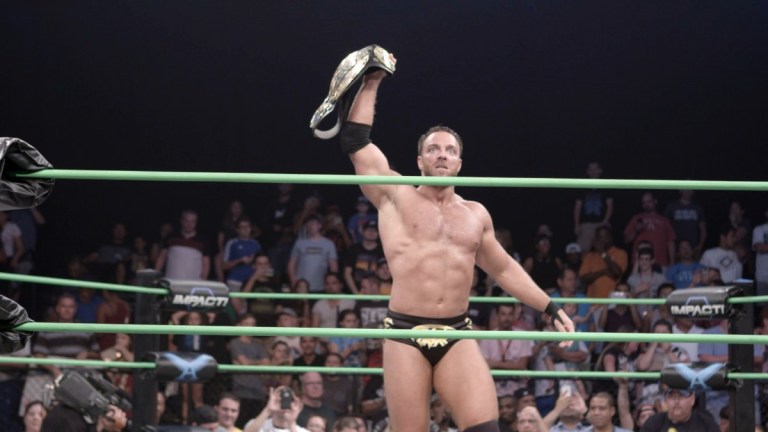 Eli Drake is the new GFW Global Champion, winning a 20-man gauntlet match on Impact Wrestling Thursday night to crowd the new title holder.
Drake was an intersting choice for the GFW brass, replacing Alberto El Patron after it appears he's done with the company entirely. Drake represents what appears to be a drastic change in direction for GFW creative ahead of Bound for Glory, which will take place in early November.
It's not that Drake isn't a solid choice as champion. He's incredibly entertaining and is, without question, the best promo in the company. He hasn't been featured in a strong wrestling role ahead of the gauntlet match on this episode, but he had good chemistry with Jim Cornette in backstage segments and no matter who he is in the ring with, the promos to hype big matches will be entertaining.
What was more striking than Drake winning the title was who GFW decided to omit from the match. Matt Sydal, who beat Lashley last week, wasn't included. Granted, Sydal won a title shot on last week's episode, it still would have made sense to include him here, especially over some of the guys they did decide to feature in the match.
The biggest omission was James Storm.
Storm has been out of action since suffering a concussion at Slammiversary. But, Storm was featured in a backstage video earlier during this episode. So, it was clear to the television audience that Storm was in the building. Given his positioning as a top star in GFW over the past few years, including a must-hyped title shot against Lashley this past spring, it was surprising not to see Storm get a spot in a match to crown a new champion.
oVe beat The Heatseekers
This was booked much better than their debut last week. oVe was much more dominant in this match, they barely had to sell at all. This is what their debut should have felt like if they want to get them over as soon-to-be title challengers to LAX. It makes sense for oVe to be slotted as babyfaces if they are going to challenge the heels for the title, although it doesn't feel like a natural fit, especially after their vignettes came across heelish. Regardless, this was a big step in the right direction for oVe after a lackluster debut last week.
Also, the Heatseekers are currently the NWA World Tag Team Champions. I found it odd that GFW wouldn't at least mention that at some point? It would have made oVe's win feel even bigger. However, I could also see a scenario where the NWA didn't want that said, so their tag champions don't look like enhancement talent on TV.
Jim Cornette finshed Lashley
The show has been heavy on video packages throughout the first 40 minutes, but it hasn't been bad. The meeting Cornette held at ringside and the backstage segment here were both strong and made sense, telling more chapters of the story. It's a little concerning that they've adopted the "invisible camera" approach that WWE often uses.
Id rather GFW abandon the idea of having an authority figure on the show. It's been so overdone at this point. That being said, if they are going to use an authority figure, I like Cornette in that role and it's refreshing to see someone coming across as a babyface and also be in charge.
LAX plotted their crimes backstage
LAX was at their hangout. Konnan asked about the beer and tequila sales, and someone said they jacked up the prices. Konnan asked Diamante about the girls, and she said that she "has the hoes in check and they're making us a lot of money." Konnan said that Homicide wasn't with him, because he was handling stuff down near the border.
I like LAX … but Diamante is a pimp now? This is another example of GFW taking the WWE approach of invisible cameras. I don't like it on Raw and SmackDown, and I don't like it here. If LAX were actually a criminal organization, do you think they would talk about their illegal beer smuggling and an apparent brothel they run on camera? Things like this aren't realistic, and there are ways to tell stories without pretending the cameras don't exist.
Eli Drake won a 20-man gauntlet to become GFW Global Champion
After the match, American Top Team once again attached a GFW referee and Lashley once again tried to stop them. The angle was fine, furthering the Lashley/ATT storyline regarding how they want him to leave pro wrestling, but the timing was weird. It was time taken away from Eli Drake winning the championship, which absolutely should have been the focus of the end of the show. The focus should always be on the championship.