News
EC Comics Anthology Series, Biopic in the Works
Hivemind, the company behind The Expanse on Amazon, has teamed up with EC Comics to produce two screen projects.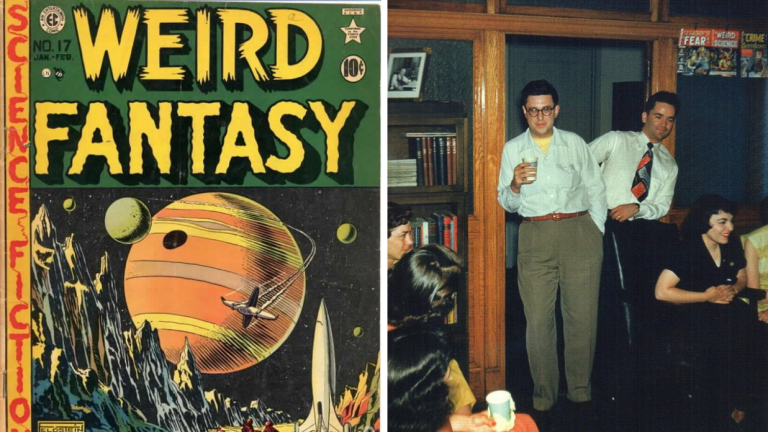 Comic book publisher EC Comics, whose name you may recognize from titles like Tales From the Crypt, Weird Science, Two-Fisted Tales, and MAD Magazine, is getting back into the screen adaptation business. Or, more accurately, the publisher has signed a deal with production company Hivemind to bring some of its creations to new life.
To put the deal into context, Hivemind is the production company behind Netflix's The Witcher, which looks very cool, and has Scary Stories to Tell In the Dark currently in the works at CBS Films. Hivemind is also currently producing The Expanse for Amazon.
Which comics will EC Comics and Hivemind team up for first? According to Deadline, the partnership will focus on Weird Fantasy and a biopic of EC Comics publisher William M. Gaines for its first projects.
Weird Fantasy was a dark science fiction and fantasy anthology. A sister publication of Weird Science, Weird Fantasy ran for 22 issues in the 1950s, never doing as well as EC Comics' horror titles. The series included work from: Frank Frazetta, Al Feldstein, Al Williamson, Wally Wood, Harvey Kurtzman, Joe Orlando, Reed Crandall, Will Elder, and Bernard Krigstein.
The biopic will highlight the story of Gaines, a comic book publisher and counterculture icon. Gaines' father was Max Gaines, who was the person to greenlight Wonder Woman at DC Comics. William Gaines would become a target in the 1950s for conservative groups convinced that his comics led to juvenile delinquency. The panic would eventually lead to a Congressional investigation that nearly had a devastating effect on the comics industry. Following the experience, Gaines spent his life as a free speech advocate, founding the satirical MAD Magazine, which still runs today.
"The EC library is a timeless literary achievement that deserves to stand alongside the works of Stephen King, Philip K. Dick, and H.P. Lovecraft. Weird Fantasy is a truly historic property that shattered many barriers, and our goal is to make the television series just as fearless and forward-thinking as the stories that inspired it," EC Comics' Dinesh Shamdasani said in a statement.
These announcements represent two very different, but exciting projects from a historically influential comic book publisher. We will follow this collaboration between EC Comics and Hivemind with great interest. More news as we hear it!
Kayti Burt is a staff editor covering books, TV, movies, and fan culture at Den of Geek. Read more of her work here or follow her on Twitter @kaytiburt.