News
DuckTales Finale Casts Don Cheadle as Donald Duck
Acclaimed actor Don Cheadle finds his voice in this DuckTales clip.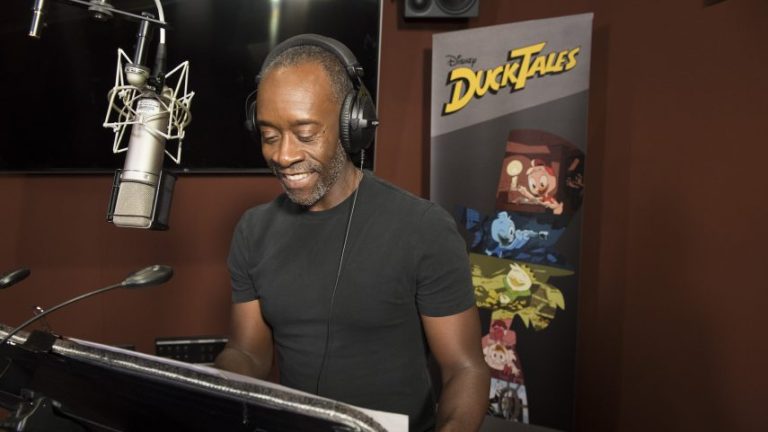 "What does a duck want? What will a duck sacrifice for what he wants? These are questions people have been pondering for many many centuries," a great actor once asked. Writer, director and Academy award winning actor Don Cheadle, who brought a cool center to the genocide drama Hotel Rwanda, an iron heart to Marvel Comics' War Machine, and fleet fingers to his interpretation of jazz musician Miles Davis is taking on a classic role: Donald Duck, according to Entertainment Weekly. Can I hear you say rubber baby buggy bumpers?
" You've got to do your homework and bring your A-game when you're trying to voice Donald Duck," Cheadle says in a teaser clip from the Disney Channel. "It's an awesome opportunity because there are only so many roles that you look forward to playing as an actor."
Cheadle will guest star in the season 1 finale of the Disney Channel animated series DuckTales, he announced Friday at Comic-Con 2018. The special one-hour final episode, titled "The Shadow War!" will air Saturday, August 18. Read the Den of Geek SDCC 2018 Special Edition Magazine Here!
"Strap in for high-flying adventures with Duckburg's most famous trillionaire, Scrooge McDuck, and his mischief-making triplet grandnephews; Huey, Dewey and Louie," reads the official synopsis. "After a long overdue family reunion reunites Scrooge with his nephew Donald Duck, grandnephews and epic past, the family of ducks dive into a life more exciting than they could have ever imagined. Intrigued by the wonder of McDuck Manor, the triplets along with Mrs. Beakley's granddaughter, Webby, learn of long-kept family secrets from Scrooge's epic past, sending the family on daring escapades around the world!"
Fenton Crackshell-Cabrera (voiced by Lin-Manuel Miranda), Magica De Spell (Catherine Tate), and Lena (Kimiko Glenn), will return for the season finale.
Cheadle ponders feathered mysteries in this clip.
DuckTales' special one-hour final episode, "The Shadow War!" will air Saturday, August 18.