News
Dr. Seuss' Cat Throws His Hat Into the Presidential Vat
Forget about Peoples' candidates. The Cat in the Hat is running for president. Dr. Seuss was a political cartoonist.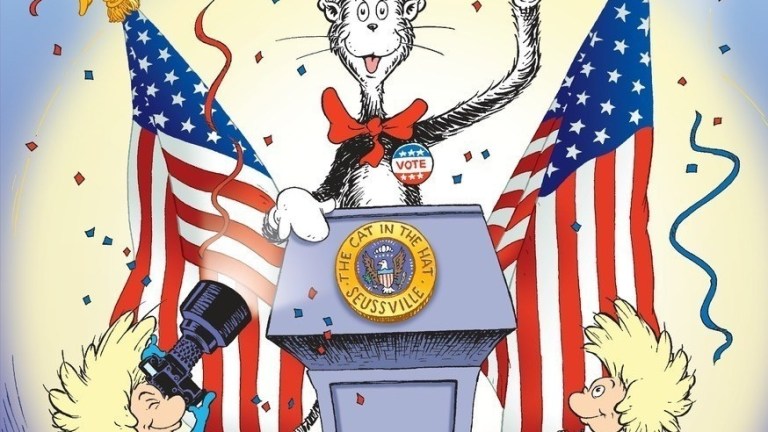 The country's divided, but there's hope for the future. The late Dr. Seuss is offering a suture. The national election is so filled with hate. Now, the Cat in The Hat is the Kids' Candidate. Yes, Dr. Seuss's most famous feline is tossing his red and white stovepipe hat, a more colorful one than Honest Abe Lincoln wore, for the 2016 Presidential Election. The Cat in the Hat named Thing 1 and Thing 2 as his running mates.
The announcement was made by Dr. Seuss Enterprises and Random House Children's Books during a rally at the childhood home of Theodor Geisel in Springfield, MA, at 74 Fairfield Street, as part of an anti-bullying campaign. This is fitting, given the extortive tactics of the two major parties' presidential hopefuls. There is a clear choice here, people, whether you have stars on your bellies or not. Daffy Duck also announced he is dipping his beak into politics back in March. He's a greedy, miser. The Cat in the Hat is an ardent supporter of climate change countermeasures.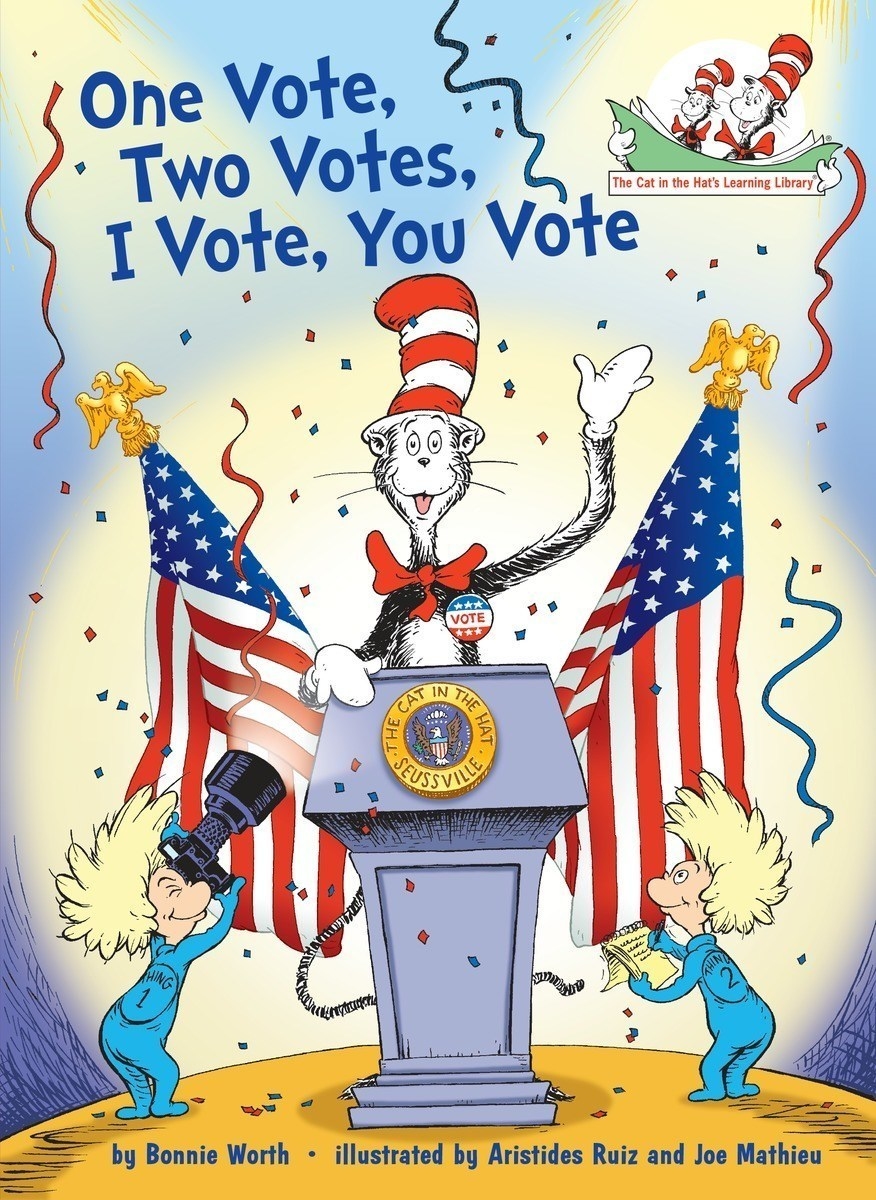 The Cat in the Hat has always been a rebel. He eats cake in the bath, for goodness sake. His presidential campaign will represent "all Dr. Seuss believed about children—that they have the intellect, imagination, and power to impact our world positively, while also having fun," it said in the official announcement.
"A person's a person, no matter how small," said Horton, the elephant best known for breaking ranks with the GOP for his unifying message in Horton Hears a Who!. Dr. Seuss encourages non-conformity. Horton bows to the wishes of neither Kanga, nor Roo.
"Unless someone like you cares a whole awful lot, nothing is going to get better. It's not," warned The Lorax, in an emotional endorsement of global proportions.
"I know, up on top you are seeing great sights, But down here at the bottom, we, too, should have rights," proclaimed Yertle the Turtle, a long-time independent.
Dr. Seuss wrote The Cat in the Hat on a dare in 1954. Life Magazine said kids weren't learning to read because children's books were so boring. That and the sequel, The Cat in the Hat Comes Back, encouraged kids to rise against the tyranny of dictatorial power. Things 1 and 2 represented the repressed workers, cleaning up The Cat in the Hat's mess for so much less than a minimum wage. Also their living conditions left something to be desired. They lived in a hat, for a kick-off. And in the second book, there weren't just two of them, their numbers ran out of letters.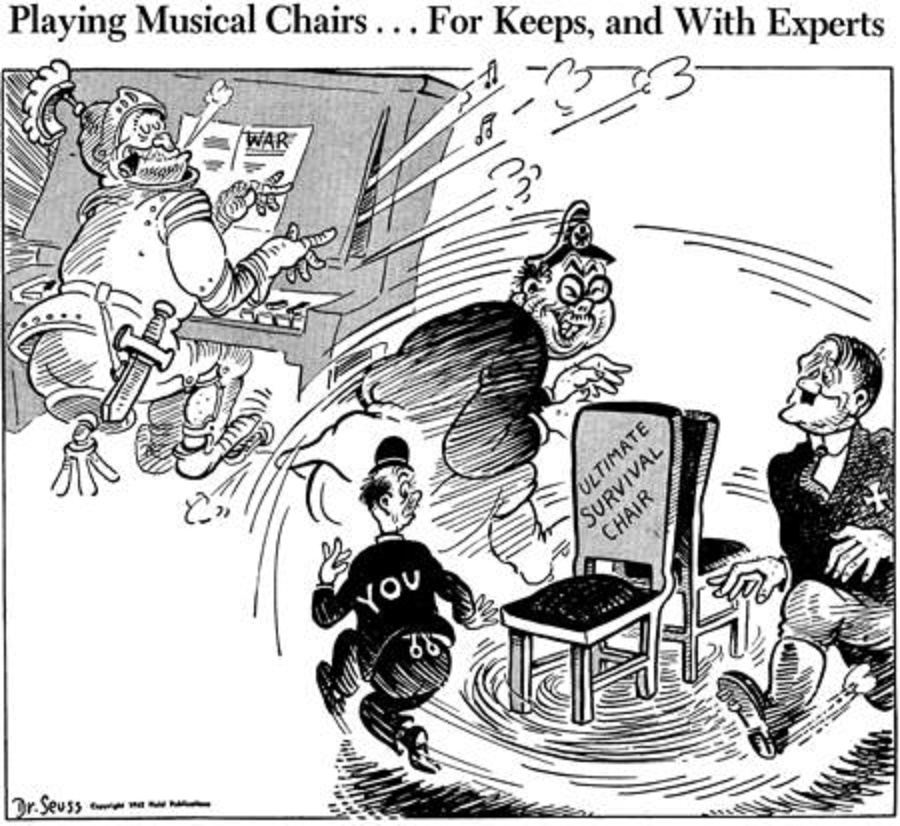 Dr. Seuss is no stranger to political commentary. Before he made the most educational rhymes for kids, many of which included the most sublime social, political and ecological commentary, he drew political cartoons for the New York newspaper PM. Geisel was chief editorial cartoonist from 1941to 1943 during World War II, when he took on the Axis of fascists Adolf Hitler, and Japan, before the country swore off violence altogether, the best thing to actually come out of World War II. Thanks Japan.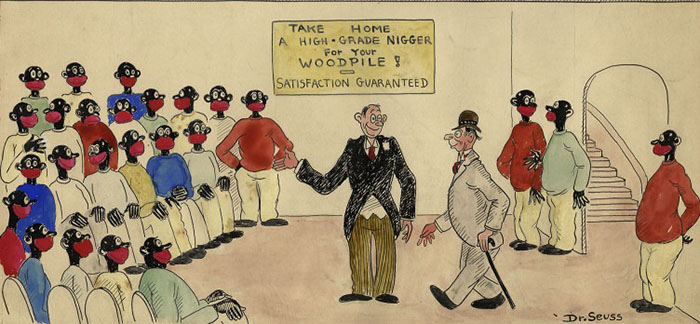 Even a good doctor like Seuss has his controversies. Early in his career, in 1929, Geisel illustrated four-panel cartoon "Cross-Section of The World's Most Prosperous Department Store," that included vicious African American caricatures under a a sign reading, "Take home a high grade nigger for your woodpile! Satisfaction guaranteed." I would like to think Geisel meant this as subversive satire against such prevailing callousness, but have no proof of his intentions. In either case, he learned his lesson well enough to teach inclusion to generations to come.
The Sneetches from 1961 took on racism and bigotry and how corporate power, in the form of McBean, can be used to fan the flames of hatred. Even the baby Sneetches are prejudiced. The yellow Stars on Thars that bedecked the bellies were based on the Star of David that Jews were forced to wear under the Nazi party regime.
The Lorax took on the greedy Once-ler, whose firm cut down all the Truffula trees and put the ecosystem in danger. The Lorax was published in 1971 as an environmental morality tale, just before the first anniversary of Earth Day. Dr. Seuss admitted that The Lorax was straight propaganda, was proud of his polemic against pollution. Who needs thneeds? "Business is business! And business must grow," Seuss writes, scathingly standing with the Truffula Trees.
Horton Hears a Who! gave voice to the little people in 1958. When pro-life groups tried to use the famous catchphrase as a slogan, Seuss and his widow threatened to sue them.Yertle the Turtle (1958) was an allegory on the rise and fall of Hitler. It was removed from a lot of schools because it was considered too political.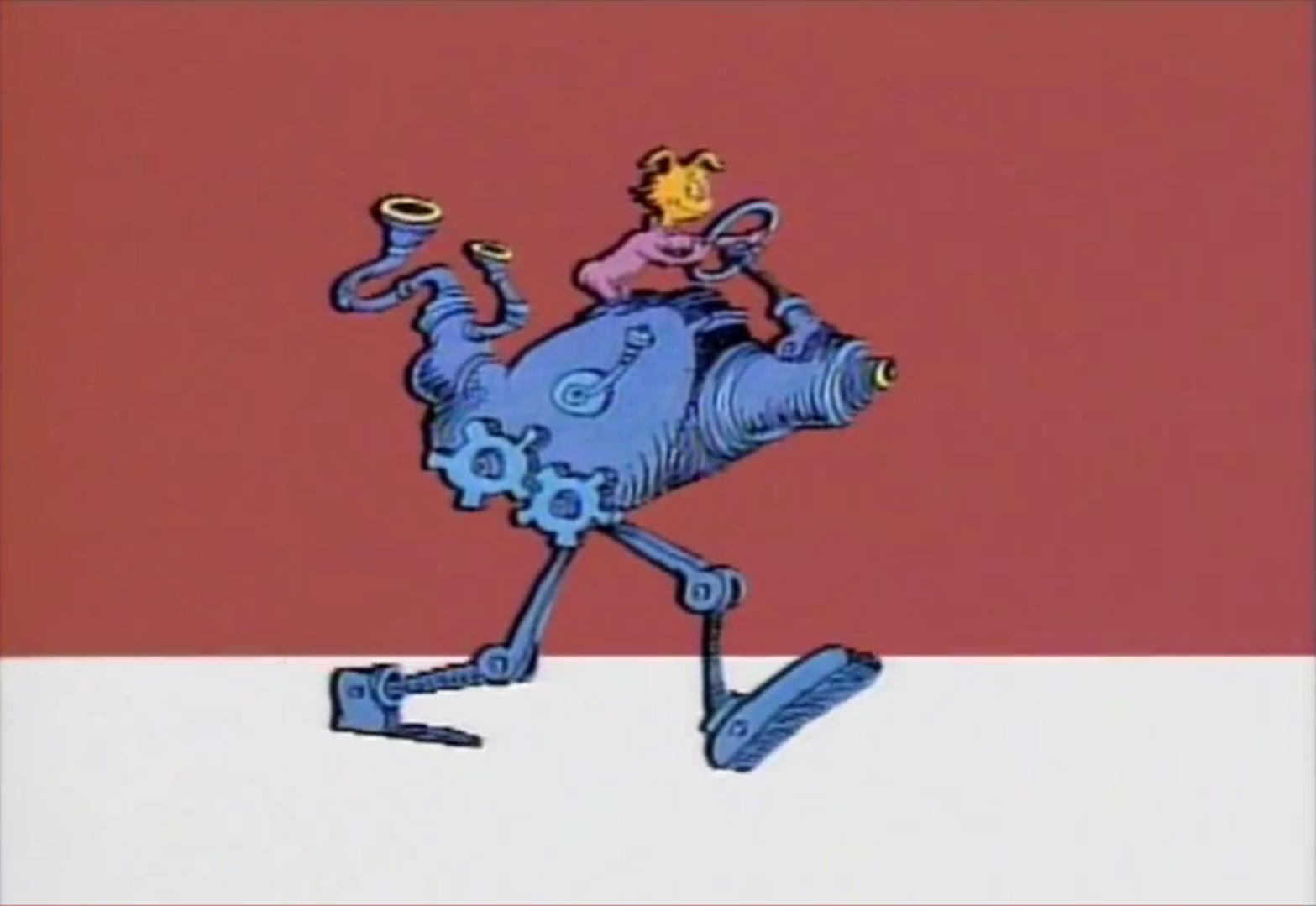 Marvin K. Mooney Will You Please Go Now!, which Geisel wrote in 1972, was turned into an attack on President Nixon, when he rewrote it with Art Buchwald in July of 1974 for The Washington Post. Well, Buchwald didn't rewrite it, you can't improve on Seuss, he just crossed out the words "Marvin K. Mooney" and replaced it with "Richard M. Nixon." Nixon resigned ten days after the piece was published.
The Butter Battle Book took on the Cold War in the Regan Era of 1984. The Yooks were the Americans and the Zooks, dressed in red, were the then-Union of Soviet Socialists, who thought they knew the best way to butter their bread.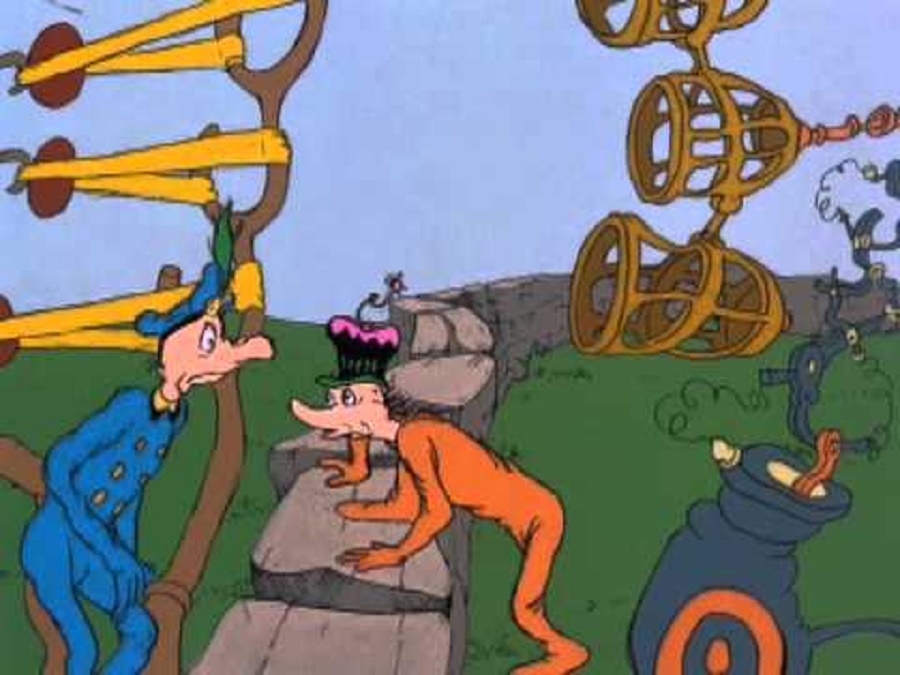 The Cat in the Hat for President campaign also comes with a book from The Cat in the Hat Learning Library called One Vote, Two Votes, I Vote, You Vote. The book explains, in the most simple and easily remembered language, "the basic principles of democracy, how political parties are made, why Election Day is held in early November," and other things you might not see on Mulberry Street.
"We are absolutely delighted to share this exciting news today, and we know that Dr. Seuss would be thrilled to see the Cat in the Hat encouraging children nationwide to exercise their voice and learn about the importance of voting while having fun—and most important carrying out a belief in kids that was so important to him throughout his career," Susan Brandt, President of Licensing and Marketing at Dr. Seuss Enterprises L.P., said in a statement.
The Cat in the Hat promises that he will show kids that "very vote counts, and every voice matters!"
Because he always clean up before he leaves, Random House Children's Books and Dr. Seuss Enterprises will make a $10,000 donation to, at least, one of these charities:
Conservation International, which uses an innovative blend of science, policy, and partnerships to protect the nature people rely on for food, fresh water, and livelihoods.

First Book, which is a nonprofit social enterprise that has distributed more than 150 million books and educational resources to programs and schools serving children from low-income families throughout the United States and Canada.

Feed the Children, which believes that it can create a world where no child goes to bed hungry. Oceana, the largest international advocacy group working solely to protect the world's oceans.

PACER National Bullying Prevention Center which actively leads social change so that bullying is no longer considered an accepted childhood rite of passage.
Children can vote for the Cat and their preferred cause by sending a ballot slip to Random House Children's Books. Ballots can be downloaded and printed at home from the campaign headquarters, CatInHat4Prez.com, or picked up in participating retailers across the country or from participating educators this fall. Voting will run from July 26, 2016, through November 8, 2016, and the winning charity will be announced on December 1, 2016.
"Just as the Cat introduced children to the joy of reading—opening up for them a world of ideas—he is now introducing children to the concept of voting in a way that is both informative and fun, in One Vote, Two Votes, I Vote, You Vote—and I know Dr. Seuss would be pleased to see children working with the Cat and his other characters to make positive changes in their world," says Cathy Goldsmith, President & Publisher of Random House's Beginner Books line and Dr. Seuss publishing program.
Dr. Seuss wrote and illustrated books for children that "empowered them to believe in their voice and place in the world." The Cat in the Hat for President Campaign celebrates this prevalent theme in Dr. Seuss's books and his commitment to it.
Theodor "Seuss" Geisel is one of the most beloved children's book authors of all time. Geisel wrote and illustrated 45 books during his lifetime, including Caldecott Honors for McElligot's Pool, If I Ran the Zoo, and Bartholomew and the Oobleck. Geisel won the Pulitzer Prize and eight honorary doctorates.
Theodor Geisel died on September 24, 1991.