News
Doctor Who Community Records Who Against Guns Podcast
You have until Saturday to help raise money to combat gun violence & get this exclusive Classic Who commentary.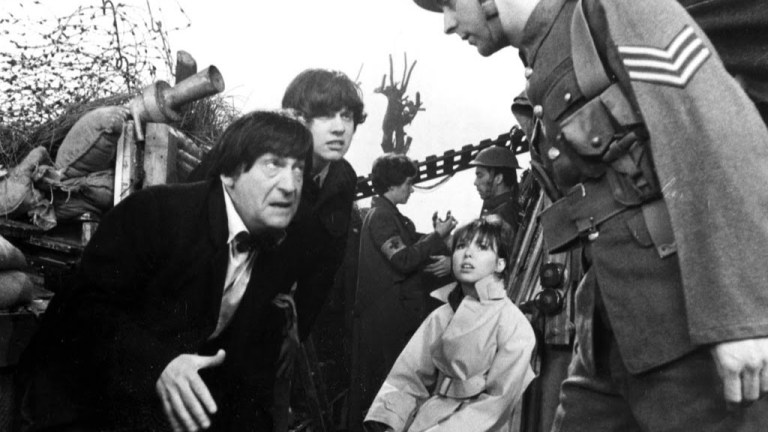 In the wake of the most recent school shooting at Marjory Stoneman Douglas High School, the Doctor Who community has come together to raise money to help end gun violence in an initiative called Who Against Guns. You have until Saturday, March 30th to contribute and gain access to the exclusive Doctor Who commentary that serves as an incentive.
Some of our favorite Doctor Who podcasters, fans, and writers—including Steven Moffat—participated in the commentary for 1969 Classic Who story "The War Games," which just so happens to be Den of Geek's "one essential episode" recommendation for the Second Doctor era.
The commentary features an all-star cast of over 40 Doctor Who podcasters, writers, and fans. Anyone who donates at least $10 to one of the recommended organizations will get special instructions on how to download the commentary.
Doctor Who writers who are part of the commentary include: Paul Cornell ("Human Nature," "Father's Day"), Jamie Mathieson ("Oxygen," "Flatline") Andrew Smith ("Full Circle") and Peter Harness ("The Zygon Invasion," "Kill The Moon"). Comic artists Rachael Stott (Doctor Who: The Thirteenth Doctor) and Simon Fraser (Doctor Who: The Eleventh Doctor) will be part of the podcast commentary extravaganza, along with representatives from Doctor Who podcasts Radio Free Skaro, Verity!, Reality Bomb, Coal Hill AV Club, Mutter's Spiral, TARBIS, Web of Queer, and Who and Company.
Fans who donate at least $10 to March For Our Lives, the Brady Campaign to Prevent Gun Violence, or Moms Demand Action in the US (and other organizations internationally) can send a receipt to gallifreystands@realitybombpodcast.com and will be able to download the exclusive podcast commentary of "The War Games." 
As of the time of this writing, the initiative has earned over $18,000 to support organizations working to end gun violence.
Many Doctor Who writers have tweeted about Who Against Guns to share their support. Here is a sampling…
Here's the official description from the announcement over on the Reality Bomb website:
We've all been moved by recent events. The survivors at Marjory Stoneman Douglas High School are using their voices to speak for those who cannot, to say "never again," and demand change.

We are asking the Doctor Who community to follow their example and to shine a light on this urgent issue.

This March, representatives of all your favourite Doctor Who podcasts and some special guests will be coming together to do a podcast commentary of a beloved classic series story. (What that story is… that would be telling.)

But here's the thing: we're not putting out this podcast on any one show's feed. We're only releasing it to listeners who provide a donation to an organization committed to ending gun violence.
To learn more or to donate, head over to the Who Against Guns page.