News
DeAngelo Williams Makes Convincing Case on Impact Wrestling
As we head to Slammiversary, Impact Wrestling has done a good job of selling the NFL's DeAngelo Williams as a wrestler.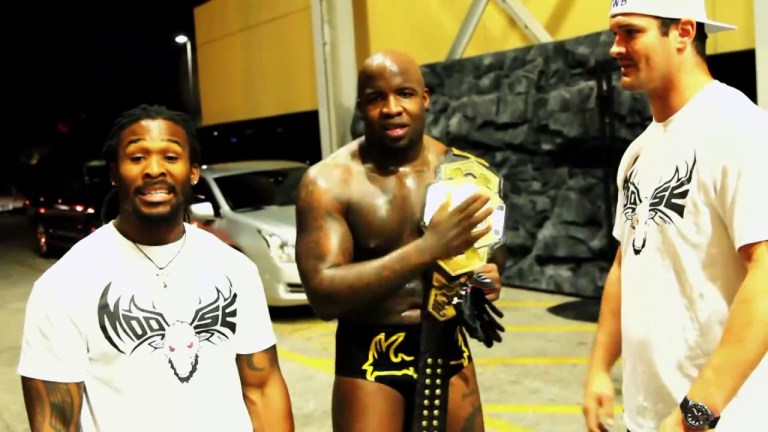 Impact Wrestling is heading to Slammiverasry on Sunday night, its first pay-per-view under the Anthem Sports umbrella, and this week's go-home show began with an interesting video package of all the contract signings for the four big matches.
It felt like they were trying to harness some of the hype that UFC generates from its weigh-in events. That's a smart strategy, and while I'm not sure the execution was 100 percent effective, I applaud Impact for at least trying something new and different.
Eddie Edwards and Davey Richards will wrestle in a Full Metal Mayhem match, along with their wives, and they stayed at the table while the other matches signed their contracts, and they never broke character, staring each other down while everyone else signed their matches. The women left, for some reason. Then, because it's a pro-wrestling contract signing, they needed to almost brawl and an eight-man tag was booked for later in the show.
That's where the opening segment lost me as a viewer. Bruce Prichard, the man we are supposed to believe is in charge of this national broadcast, began a broadcast of Impact Wrestling without a main event booked. Seems a little weird that you would have this nationally-televised show and NOT have a main event booked just a couple of hours before it would be set to air.
That's a long-used booking strategy, and in 2017, it's definitely run its course.
For the most part, the show was heavy on video packages with not much new content. But that's OK. They're hyping the pay-per-view, which is what they should be doing.
Now, you could argue that not all of the build was perfect. The eight-man main event was a mess, which we'll get to in a bit, and certain elements don't feel like they have enough steam before the company heads into one of its only two big pay-per-view shows of the year.
Perhaps the strongest video package was on NFL running back DeAngelo Williams, who will wrestle on a team with Moose at the show on Sunday. Williams talked about being introduced to wrestling as a kid and it showed how serious he was taking wrestling this Sunday.
Celebrity use in pro wrestling doesn't always work. In fact in most cases, it doesn't work. But I have a feeling this is going to be different. Williams is a legit athlete, coming from the NFL, and he looks believable in his training. I'm also a fan of how they show him talking about why he wants to do this. He comes across very genuine in his appreciation for wrestling.
Several other packages ran on Joseph Park and Jeremy Borash ahead of their tag team match against Josh Mathews and Scott Steiner.
If this is leading up to Abyss returning as a babyface, then it's smart and really well done. Instead of turning Abyss babyface coming out of Decay, to have him go back into the Joseph Park character, but then bring Abyss back in order to protect J.B. is a clever way to do it from a storyline perspective. He's protecting J.B., which is why he's the babyface, as opposed to just turning without explanation. If this is the payoff, it also makes more sense why Joseph Park was so afraid of Scott Steiner when he debuted last month. Abyss isn't afraid of Steiner, but Park was.
Matt Sydal & Sonjay Dutt beat Low Ki & Trevor Lee
Neither Low Ki or Dutt involved in the finish but they teased a lot heading into Slammiversary, and Dutt's dive at the end did lead to the finish. It was a fine television match, but nothing all that special.
Eli Drake & Chris Adonis beat The Mumbai Cats
Not sure how I feel about the inclusion of the "Mumbai Cats" here. They were used to put Adonis and Drake over, which was fine, and it doesn't hurt anyone else on the roster because whoever was portraying the characters was under a mask and we'll never know. But they teased the Mumbai Cats a handful of times over the last four episodes, and for it to build to a squash match, which doesn't reveal their identity, seems pointless. Adonis and Drake looked good as a team, though. There's something about their styles that gel nicely. I hope they keep this duo together for a bit, because it feels like it has some legs.
Swoggle beat Rockstar Spud in a Street Fight
There are no words for what we all just witnessed. The referee, in a No DQ match, was threatening to DQ a wrestler, and then the referee got involved in fighting one of the wrestlers. It's find to let it go, because I think this was supposed to be a comedy segment, but nah. I actually thought the match was fine with its aggressiveness at the beginning, but as soon as Kumar got involved by breaking up punches — again, in a No DQ match — and then to have the referee get involved in the match itself, made the segment go from fine to ridiculous
Allie, Rosemary and Braxton Sutter beat KM, Sienna and Laurel Van Ness
Good match that gave Rosemary her win back
Alberto El Patron, Mahabali Shera, Eddie Edwards and James Storm beat Bobby Lashley, ECIII, Kongo Kong and Davey Richards
There were a few things wrong with this week's main event. First and foremost, Kongo Kong took the loss. I get putting an eighth man in the match, so that no one who was advertised for the pay-per-view on Sunday has to take a loss three days before the big show. That all makes sense. But the sacrificial lamb should have been someone other than Kong, who Impact has built up as a formidable monster.
The other problem here was the babyfaces going on. Why does anyone need to spend money to see the babyfaces go over on Sunday if they went over on this show, and were shown celebrating just three days before Slammiversary? That's the moment the audience should have had to pay to see.