News
David Crosby Documentary Coming From Cameron Crowe
Almost Famous director to produce a film about the guitarist who almost cut his hair. David Crosby documentary coming.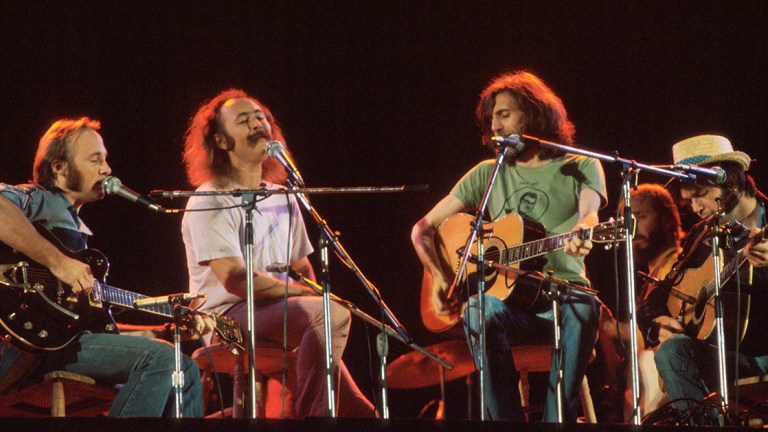 Cameron Crowe is letting his freak flag fly. The Academy Award-winning director of the Seattle grunge scene set movie Singles and the autobiographical rock journalism film Almost Famous will produce a documentary on David Crosby, according to The Hollywood Reporter. The singer songwriter came to prominence playing rhythm guitar and harmonizing with the sixties folk-rock band The Byrds, joined the supergroup Crosby, Stills, Nash and Young. He also may very well have been the rock star who walked into a party like he was walking into a yacht on Carly Simon's still-mysterious hit "You're So Vain." The as-yet-untitled film will be made by Crowe's production company Vinyl Films, along with BMG.  The documentary will be the first feature directed by A.J. Eaton.
If you think you're experiencing déjà vu, you are not. This is the first fully authorized documentary about Crosby. The film will cover Crosby's contributions to The Byrds, Crosby, Stills & Nash and Crosby, Stills, Nash & Young, his battle with drug addiction, his jailing his re-emergence as a solo artist.
"It's just such a compelling story," Crowe said in a statement per THR. "David Crosby has been near the forefront of music and social change for the last four decades.  Now 76, he's forging a new path by seeking out younger musicians and trying to make a mark in a world now so different from the generation he came to define in the '60s. It's a raw and moving portrait, rough edges and all."
The film will including Crosby's latest album, 2017's Sky Trails, which he recorded with younger musicians, including his son. The album is produced by James Raymond, who co-wrote several of the songs.
Crowe, whose movies include Jerry Maguire, Say Anything, the 2011 Pearl Jam documentary, Pearl Jam Twenty, and The Union, which chronicled the 2011 collaboration between Elton John and Leon Russell, conducted a series of in-depth interviews with Crosby for the film.
David Van Cortlandt Crosby joined The Byrds in 1964, and gave Bob Dylan his first number one hit with "Mr. Tambourine Man" a year later. Crosby joined Stephen Stills of Buffalo Springfield on stage at the Monterey Pop Festival in 1967, and two to went on to form Crosby, Stills & Nash in 1968 with Graham Nash of The Hollies. Neil Young joined the group live appearances at Woodstock before playing on the album Déjà Vu. Crosby also recorded 3 gold albums with Nash.
Crosby such songs as "Lady Friend," "Why," and "Eight Miles High" with the Byrds and "Guinnevere," "Wooden Ships," "Shadow Captain," "In My Dreams," "Almost Cut My Hair," and Déjà Vu" for Crosby, Stills, Nash & the occasional Young. Crosby has released six solo albums. Crosby was inducted into the Rock and Roll Hall of Fame twice: once for his work in The Byrds and once for his work with CSN.
The film is the latest in BMG's move into music-related video content. They produced the Joan Jett documentary Bad Reputation, which premiered at Sundance earlier this year, and will produce documentaries about Marc Bolan and T. Rex, and the Jamaican record label Trojan.
There is no word yet on when the film is expected to be completed.