News
Stardust: First Image of Johnny Flynn as David Bowie
Stardust, a film that will depict David Bowie's 1971 first American visit, sets actor/singer Johnny Flynn to play the legend.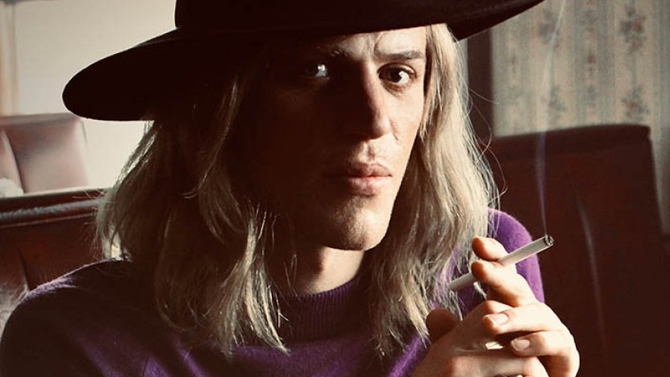 The life of the late rock legend, David Bowie, is to become the dramatic centerpiece of a biopic titled Stardust. Tackling the task of portraying Bowie is Johnny Flynn, a musician who's already banked quite the resume as an actor.
Stardust will chronicle a critical waypoint in the career of Bowie (born David Robert Jones), set in 1971 during the then-24-year-old's first trip to America. After Bowie made evolutionary leaps from early-1960s teen idol to "Space Oddity" in 1969 to Dylan-esque/Britpop hybrid on album Hunky Dory and a dark transition on The Man Who Sold the World, his first stateside sojourn yielded inspiration for his next creative step. There, he conceived the plan to parlay his onstage androgyny into the persona that we know as Ziggy Stardust, the titular character (joined by band The Spiders from Mars,) of his 1972 smash album and, indirectly, 1973's Aladdin Sane.
In the latest news, Stardust has released an image, giving us our first glimpse of Flynn's depiction of Bowie. As the plot description indicated, his look here is evocative of his look circa-1971 during his long-locks days after the release of the Hunky Dory album, from which he'd spawned hits like "Changes," "Oh You Pretty Things," and "Life on Mars."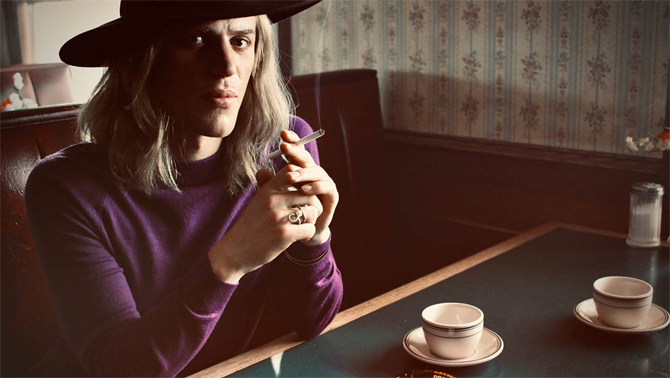 The film will see Flynn, a South-African-born singer/songwriter, tackle the lofty challenge of playing the Thin White Duke himself. He'll bring experience from runs on miniseries such as the BBC's Les Misérables and ITV's Vanity Fair, Netflix/Channel 4's Lovesick and is familiar with filling big biographical shoes, having played young Albert Einstein on the first season of National Geographic's anthology miniseries, Genius. He also fielded a London stage run – opposite Game of Thrones' Kit Harrington – on Sam Shepherd's True West.
Flynn will be joined in the Stardust cast by Jena Malone (Nocturnal Animals, The Hunger Games films), who will play Angie, Bowie's first wife, and Marc Maron (GLOW, Maron), who will play a record company publicist.
Set to direct Stardust are the duo of Christopher Bell (The Last Czars) and Gabriel Range (I Am Slave). This film is produced by Paul Van Carter and Nick Taussig of Salon Pictures. Piccadilly Pictures' Christopher Figg will finance, with Film Constellation soliciting global sales.
The concept of Stardust, focused on a specific transition point in Bowie's music career, is an interesting one. While the art-rocker – who passed away on January 10, 2016 – may have left behind an extensive catalogue made up from vastly different eras celebrated in their own right, it was his character-manifesting performance-piece era during the early-1970s that arguably remains his most influential creative achievement, spearheading the Glam Rock movement, which led to a major evolution in Rock that manifested in the Punk, New Romantic and New Wave eras in the ensuing decade. Now, we'll get to see the catalyst to all of that chronicled in a film.
Stardust has yet to announce a release date, but we will keep you updated here on the major developments.
Read and download the Den of Geek SDCC 2019 Special Edition Magazine right here!
Joseph Baxter is a contributor for Den of Geek and Syfy Wire. You can find his work here. Follow him on Twitter @josbaxter.