News
Daryl Hannah's Paradox Trailer Casts Neil Young as Outlaw
Neil Young makes his big screen acting debut in Daryl Hannah's first movie Paradox.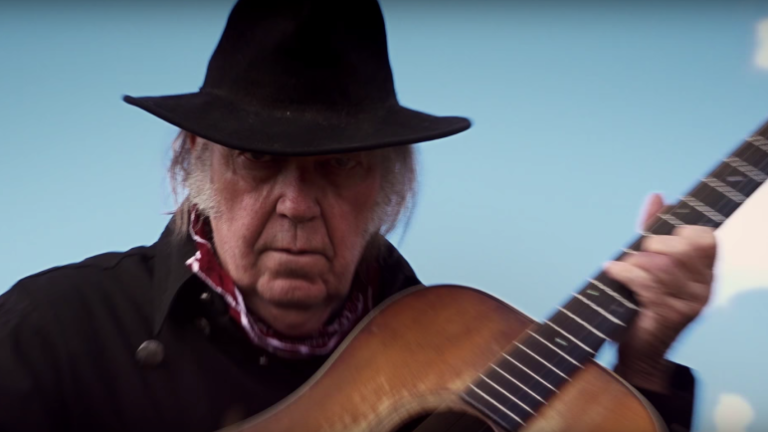 Neil Young has always been a musical outlaw, standing up for farmers' rights with Willie Nelson and John Mellencamp, turning MTV Unplugged tapings into rehearsals, and remaining a dangling participle in CSN and Y. Now he will make his big screen debut as a man in a black hat in the film Paradox, Daryl Hannah's directorial debut. Netflix released the first official trailer for the upcoming western movie, which will premiere at South by Southwest on March 15.
"Many moons ago, in the future, a mangy group of outlaws hid out by a precious water source while the real bad guys quietly stole the seas of life," says the narrator in the trailer.
The film is set "sometime in the future past." Netflix's website categorizes the movie as "Cerebral." Young appears twice in the trailer, which calls the film "an unrealistic tale."  Paradox is being described as "a fantasy, a loud poem and a free-spirited tale of music and love." It follows a group of outlaws who set up camp in the mountains to hide out between heists. Paradox stars Young as the "Man in the Black Hat. It also features Willie Nelson and his sons Lukas and Micah as the "Particle Kid" and "Jail Time," respectively.
Neil Young + Promise of the Real, which features Lukas and Micah Nelson, also recorded the soundtrack. Paradox (Original Music From the Film) will drop on Reprise records on March 23, the same day the film will stream on Netflix. The album includes new music composed for the film, plus classic Neil Young songs, along with covers of Willie Nelson, who also recorded spoken word pieces, Lead Belly, and the Turtles.
The soundtrack is Neil Young's fourth album with Promise of the Real, following 2017's The Visitor, 2016's EARTH, and 2015's The Monsanto Years.
You can watch the trailer here:
Paradox premieres at South by Southwest on March 15. The film comes out on Netflix on March 23rd.