News
Dark They Were And Golden Eyed
Martin searches for the spirit of the marginalised geeks of yore...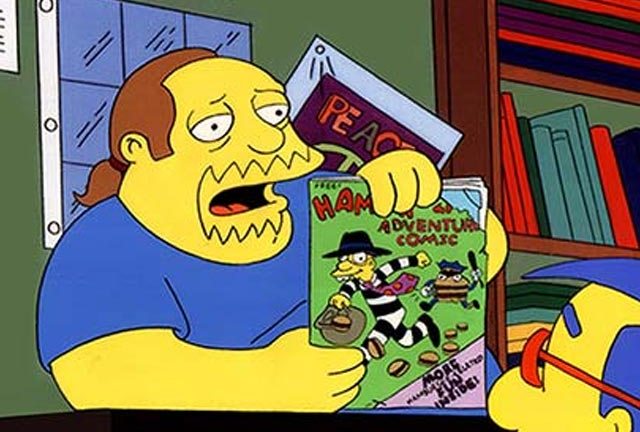 Five minutes from DoG HQ in the heart of London's West End there is a dense and interwoven mesh of almost undrivable alleys, side-roads and surprisingly lush squares comprising Soho and environs, where the UK branches of stateside behemoths such as Warner Bros, Universal and Paramount rub shoulders with the locus of British media-creators.
It's easy to get lost, and whoever mapped it for Google has clearly never been there – many a time I have returned in a black cab from a screening in 'little Hollywood' (which has none of the cultural icons that hallmark neighbouring 'Little Italy' and 'Chinatown') because only the taxi-drivers seem to know the way back to the real world.
Anyway, my poor sense of direction and endless meanderings round the abutting editing-houses, post-production palaces and Greek cafes often return me to a number of nostalgic locations from my geeky youth. Geek emporiums, long vanished, or moved on…
Because of the area's association with movies, Dean Street was a good source not only for perusing great "8 x "10 stills from productions new and old, but also pretty handy for picking up cut-price props from recent productions. Costumes too – I remember paying £7 for one of the extras jackets from the space-station opening of Saturn 3, and marvelling at how it looked great but had no lining and very rough stitching. For higher prices there were 'hero'-grade items of wardrobe to acquire, as well as weaponry from all ages and eras, including the future.
But the most poignant part of any lost idlings around Soho is my inevitable pass-through of St. Anne's Court, which defies its grandiloquent name by actually being a fairly dingy little alley connecting Wardour Street to Dean Street. Here you will pass some anonymous glass business façade that once held a place that – to me – was an Aladdin's cave of geekdom…
Dark They Were And Golden Eyed was a delightfully shambolic two-level science-fiction and horror bookshop that resided in that spot from 1970 until its decline in 1980, and whose polysyllabic name derived from a short story by Ray Bradbury. Myself, I visited the shop only a couple of times, with my sword-and-sorcery obsessed father. Since our interests diverged, I would end up perusing its vast shelves by myself and pouring pretty much any pocket-money I had into the old tills at the end of the ramshackle queues of geeks.
Back then, you were aware that science-fiction was counter-culture, despite the popularity of Star Wars; at DTWAGE the space-operas nestled in crudely-opened cardboard boxes sat cheek to cheek with the cross-hatching of Robert Crumb, punk and new wave fanzines, as well as surprisingly glossy magazines devoted to (strictly theoretical) instructions on illegal horticulture of all kinds. Put simply, the market for sci-fi was a very retrospective one, and no shop of that size was able to carry on regular trading solely off the back of geek wares.
It was here that I found the Alien movie novel for a fiver, which was sort of an extended 'Bunty' photo-strip, but with a bit more blood and death, featuring over 1000 full colour photos. On my second trip I followed up this purchase with the excellent Alien: The Illustrated Story, a graphic novel of the movie apparently based on an earlier version of the O'Bannon/Shusett script, as it featured the 'Lambert-slap' which was not to be seen in the original until the special edition DVDs twenty years later.
And I wonder if I will ever be made as happy as that again for a fiver. Even accounting for inflation.
DTWAGE was finally bought by its suppliers and morphed into Forbidden Planet, who by the early eighties had split its trade between the flagship 'purist' sci-fi shop near Charing Cross road and the more movie-oriented Forbidden Planet 2 in Tin Pan Alley.
Then, as now, I found FP's endless acres of sci-fi novels so overwhelming that I frequently left with nothing. I don't know if it was chronic indecision, information overload or just the fact that the industrial numbers of available books at Forbidden Planet seemed to diminish the value of all of them, and in truth I usually only exited the shop with a novel that I had expressly gone in to buy. As Douglas Addams said, the universe is too large a place, and most people move somewhere smaller.
Things were easier at Forbidden Planet 2, where the buying decision was vastly simplified by the fact that I would happily have cleared the entire shop in one rabid supermarket dash. As it stood, I usually ended up leaving with the US import Starlog magazine (or UK substitute Starburst if I was strapped for cash) or Cinemagic (one of the few US imports that you could occasionally also find in a newsagents). If I was super-flush, I would walk out with the latest edition of the horrendously expensive Cinefex, the oddly-formatted luxury SFX digest for the nerd who absolutely must know which kit the nurnies on the Millennium Falcon were sourced off.
There were the odd alternative source for the geek looking to score his stuff in the seedier and more marginalised atmosphere of the now-gone DTWAGE; a comics shop in New Cross, another in North London and a really great one in Bristol, the name of which I have shamefully forgotten.
And in these haunts, wherever they were, my dad would hunt out his sword and sorcery as I dwelt over in the movies and space section (occasionally sneaking a browse at the Vampirella back catalogues and the racier Rich Corben stuff). Through my dad's love of Heavy Metal magazine I became familiar with the work of Moebius that had inspired my beloved Alien, and with the existential angst of French science-fiction of the period.
Now, we are all geeks, it seems, or at least we are more numerous; my generation remembers being raised on Star Wars and hunting out those hard-to-get full-colour US editions of comics that would only appear in the UK later and in black-and-white. We were a long way from Hollywood and a long way from full-color [sic] America, and the geek scene at the time retained a frisson of illicit desire which had far less to do with the semi-nude girls in Warren comics than with the awareness that liking this sort of stuff was a bit…odd.
Now I walk around the roomy supermarket-style aisles of Forbidden Planet – which has inherited the geek interest of my generation and those after me – in its new home in Shaftesbury Avenue, and feel the same sense of avarice and fascination, but also slightly sadder that the perusal of the latest sci-fi and horror mags (Hey! This is not a bloody library!) is a glossier and more commercial experience.
And sometimes I long for the small-minded propriety of Comic Book Guy in The Simpsons, and for the rough-hewn hard edge of DTWAGE, where the (admittedly mostly male) geeks would queue at great length to purchase little-known comics and magazines, all with the fervour and desperation of 1950s Russian housewives who have heard that the baker has some bread today.
So salute those determined geeks who kept UK sci-fi alive with crumpled five-pound notes that they could barely spare; and I'll salute my dad and his ruthless hunting-out of the latest issue of Conan, or of graphic novels like Neverwhere or of art collections by Chris Foss or Patrick Woodroffe. On his journey, I think I found mine.
Interview with Nick Landau, founder of Forbidden Planet
Martin writes his (mostly) sci-fi column every Friday at Den Of Geek.