Features
Crowdfunding Friday: haunted houses, owls and alien eyes
This week's crowdfunding selection includes an animated haunted house documentary, and a story about ads in the back of old comics...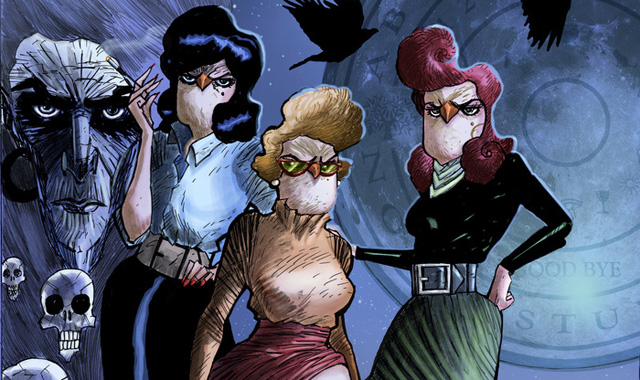 The thing weirdest thing about crowdfunding websites is their ability to invent a demand for stuff you wouldn't necessarily think would have a market. Only this week, we've stumbled on a successful campaign for some sort of gigantic stone tortoise, some magic multimedia eggs from another dimension, and God only knows what this card game's all about.
While not all of these things are to our taste, we're happy that crowdfunding provides a platform to all kinds of eccentric ideas – and that's the loose theme for this week's selection of projects, which includes a macabre point-and-click adventure, a spooky animated short film, and an illustrated story about what happens when a kid decides to buy all the stuff from the back of an old comic.
Borley Rectory
Haunted house movies are back in vogue of late thanks to the cinematic stylings of James Wan, so what better time than to back an animated documentary about the most haunted house in Britain? The project's founder, writer and director Ashley Thorpe, is a regular contributor to legendary magazine Fangoria, providing both writing and cover illustrations. He's well placed, therefore, to tell the story of a house full of nuns trapped behind bricked-up walls, screaming girls in blue rooms, and all kinds of other sinister goings-on in Borley Rectory.
Composer and former Siouxsie & The Banshees member Steve Severin will be providing the music, while actor Julian Sands will be providing the narration. With a pedigree like that, this could be the definitive story of a decidedly spooky UK building – and given that Borley Rectory mysteriously burned down in 1939, animation could be the perfect means of telling it.
Fran Bow         
The humble point-and-click adventure has enjoyed a mini renaissance of late, largely thanks to crowdfunding websites, and this macabre indie game, Fran Bow, is the latest example of a resurgent genre. The product of two Swedish developers, it's the creepy tale of a girl attempting to escape from an asylum, find her pet cat, and find out who killed her parents.
The art style has the atmosphere of Tim Burton's work, coupled with the handmade feel of Czech stop-motion animation, and the gameplay's shot through with a streak of black humour. Natalia and Isak are almost halfway to getting the $20,000 they're looking for, and given just how quirky and beguiling their pitch video is, it's possible you'll be tempted to back it, too.
Mystery Box
Here's a great premise for a story: remember those adverts in the back of old comics, which promised so much but provided so little? Mystery Box wonders, what if those adverts – for sea monkeys, X-ray specs, mind-control devices and body-building courses actually did what they said they would? In the world according to campaign founder and co-author Adam Jay Epstein, a young boy orders a box of tat from the back of a comic, only to have the title's mystery box show up, absolutely full of wonders. Before he knows it, the boy's town is overrun by mischievous sea monkeys  -which are actual monkey-shrimp hybrids about the size of a cat – giant dragons, and a seven-foot-tall alien eye.
It's a great, nostalgic idea, and its artwork is colourful and fresh. $22 gets you a soft-bound version of the book, while pledging more will get you all kinds of goodies, including some handsome t-shirts and a hand-painted alien eye. It's a fun project, and well worth a closer look.
Owlgirls
If you're after a very different sort of comic book, how about Owlgirls? It's a period piece about three female detectives who solve crimes in 1940s New York. The twist is, the sisters have mystical powers. Oh, and also the heads of owls.
The Owlgirls' task is to hunt down various creatures who've slipped into our plane of existence, all at the behest of Death himself. It's a mad, sprawling story that takes in demons and monsters, and a multitude of locations, from Prague to the plains of Africa. A ridiculously low pledge of $7 gets you a signed issue of the first issue of Owlgirls, as well as a pdf and various other digital trinkets. With rewards like that, you'd be a twit to miss it. (Sorry.)