News
Crime + Punishment Crooked Cop Doc Hits Hulu in August
Whistleblowing cops draw a thin blue line on police quotas in documentary Crime + Punishment, coming to Hulu.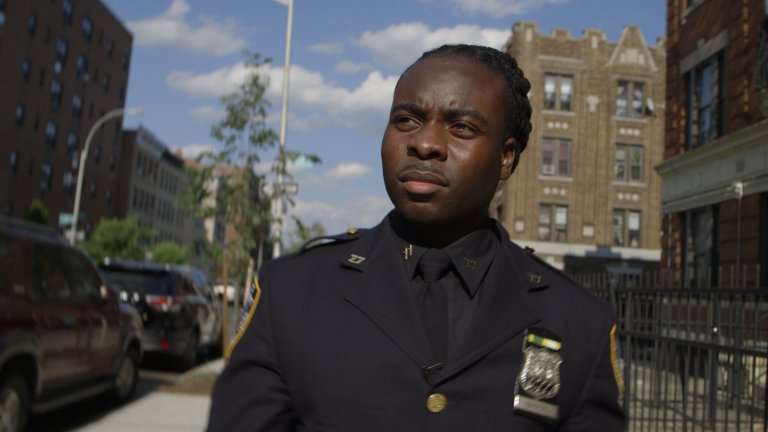 Corrupt cops have been around since the earliest days of policing. America's first professional police force was created in New York City in 1845 and policemen only served one-year terms. They were paid for serving warrants, detaining suspects and appearing in court. Detectives got rewards for bringing back stolen goods. In 1894 the New York State Senate's Lexow Committee found the NYPD routinely got kickbacks from cathouses, counterfeiters, gamblers and business owners.  Evidence of modern city-wide corruption will be exposed when IFC Films' Crime + Punishment airs as a Hulu documentary.
"Amidst a landmark class action lawsuit over illegal policing quotas, Crime + Punishment chronicles the real lives and struggles of a group of black and Latino whistleblower cops and the young minorities they are pressured to arrest and summons in New York City," reads the documentary's official website.
"Crime + Punishment is a galvanizing documentary that goes behind the scenes and undercover to expose racism, corruption, and intimidation within the New York Police Department," reads the official synopsis. "Shot between 2014 and 2017, Crime + Punishment chronicles the efforts of the NYPD 12, a band of minority officers who speak out against the continued use of arrest and summons quotas—an illegal practice that overwhelmingly targets young black and Hispanic men.
"Putting their careers on the line, the officers mount a David vs. Goliath legal challenge— only to find themselves weathering harassment and retaliation from within their own departments. With remarkable, fly-on-the-wall access, director Stephen Maing crafts a jolting 21st-century Serpico that unfolds with the verve and style of a highly cinematic policer."
Directed, produced and filmed by Stephen Maing, Crime + Punishment debuted at the 2018 Sundance Film Festival and went on to win the U.S. Documentary Special Jury Award for Social Impact Filmmaking, the Grand Jury Prize at the 2018 Independent Film Festival in Boston.
"It was an act of bravery and defiance by all the cops and families who allowed their stories to be documented over the past four years so I'm heartened to know their efforts will not be in vain and this story made widely accessible," Maing said in a statement.
Brooklyn-based filmmaker Maing's feature documentary High Tech, Low Life explored two dissident citizen-journalists fighting China's state-monitored censorship. His short film The Surrender  documented State Department intelligence analyst Stephen Kim's harsh prosecution under the Espionage Act.
"It's exciting to have Hulu's amazing partnership and share this film theatrically, pursue an ambitious social impact campaign and present these previously unheard voices of active duty officers into the national dialogue around police reform," Maing said in a statement. "I am grateful for the collaborations and support I've received along the way, but most importantly to the brave participants of the film who have stepped forward for the sake of other citizens and officers."
The film was executive produced by Academy Award winner Laura Poitras.
Crime + Punishment will hit theaters and Hulu simultaneously on August 24.