News
Comedy Legend Jerry Lewis Dies at 91
Versatile, innovative and controversial, Jerry Lewis leaves a legacy of laughs and charity work.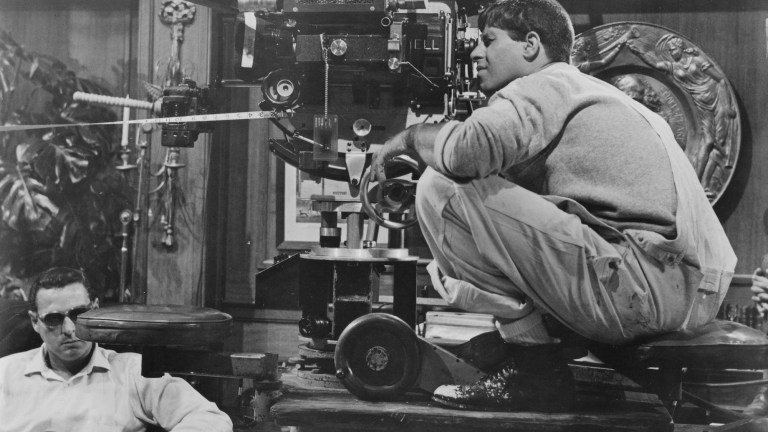 "Hey lady" may never sound the same. Jerry Lewis, the legendary comedian, actor, singer and philanthropist, has died at the age of 91.
Lewis is as well known for starring and directing films like The Nutty Professor, Cinderfella, and The Bellboy as he is for his marathon fundraising telethons for Muscular Dystrophy. He first found fame with his legendary ten-year partnership with Dean Martin.
The future highest-paid performer in film and network TV was born Joseph Levitch in March 1926 in Newark, New Jersey. His Russian Jewish émigré parents were entertainers. Lewis' father performed on vaudeville, his mother played piano in a radio station. Lewis made his stage debut when he was five. He dropped out of school to play the Borscht Circuit in the Catskill Mountains summer resorts.
"I was tall, skinny, gawky; cute but funny-looking," Lewis wrote in Dean and Me: A Love Story, his 2005 memoir. "With the voice God had given me, I certainly wasn't going to be a singer like my dad, with his Al Jolson baritone. I always saw the humor in things, the joke possibilities. At the same time, I didn't have the confidence to stand on a stage and talk. God hadn't made me handsome, but he'd given me something, I always felt: funny bones."
Lewis paired with Dean Martin in 1946. Starting in nightclubs, Martin and Lewis moved their way through almost countless radio shows and made 16 movies. The pair costarred in such films as My Friend Irma (1949), At War With the Army (1950), Sailor Beware (1952), The Caddy (1953), Living It Up (1954), You're Never Too Young (1955), and Artists and Models (1955). The last movie they made together was Hollywood or Bust (1956). Martin and Lewis made their last nightclub appearance together at New York's Copacabana on July 25, 1956, ten years to the day after their first show together. Frank Sinatra brought them back together at the Muscular Dystrophy telethon of 1976. Martin died in 1995.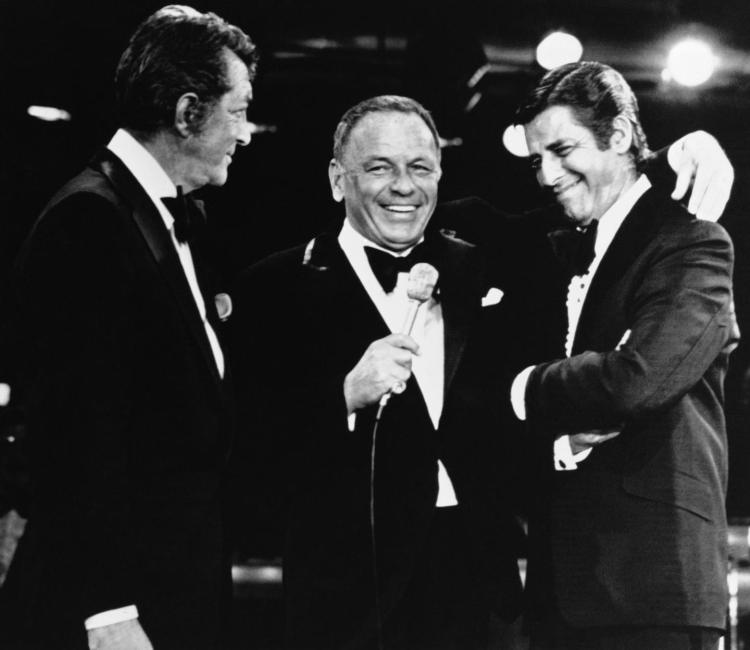 After the partnership ended, Lewis teamed with director Frank Tashlin for such films as Rock-A-Bye Baby (1958). Lewis broke out to write, direct and produce his own films like The Nutty Professor. Jerry Lewis movies weren't as popular by the mid-1960s, but he remained influential, even teaching film at the University of Southern California.
Years after Charlie Chaplin's The Great Dictator, and years before Roberto Benignini's Life Is Beautiful, Lewis tried to find a lighter side to Hitler's atrocities. The comedian set his 1972 film The Day the Clown Cried in a Nazi concentration camp. Lewis considered the finished film an artistic failure and pulled it before it was released.
"You will never see it, no one will ever see it," Lewis said at a press conference at the Cannes Film Festival in 2013. "Because I am embarrassed at the poor work." He donated a copy to the Library of Congress in August 2015, with understanding that it not be shown for a decade.
Lewis made his movie comeback in 1980, with the film Hardly Working. Martin Scorsese cast him as a popular talk show host in The King of Comedy (1982), which starred Robert De Niro. Lewis also appeared in Cookie (1989), Billy Crystal's Mr. Saturday Night (1992), Arizona Dream (1993), Funny Bones (1995), Max Rose (2016), and The Trust (2016). On TV, he guest-starred on a 2006 episode of Law & Order: SVU.
Lewis was nominated for a Nobel Peace Prize in 1977 for his Labor Day Weekend Muscular Dystrophy Telethons, which raised awareness to the disease and almost $2.5 billion for its treatment by the late 2000s. He was given the Comic Life Achievement Award at the National Academy of Cable Programming's ACE Awards in 1991, the American Comedy Awards lifetime achievement award in 1998 and the Los Angeles Film Critics Association's career achievement award in 2004. Lewis won the Academy of Motion Pictures Arts and Sciences' lifetime achievement award in 2009. Jerry has two stars on the Hollywood Walk of Fame, one for motion pictures and one for his television work.
An innovative film technician, Lewis helped develop and popularize a closed-circuit apparatus called the "video assist," which let directors view shoots without having to wait for the film to be developed. He wrote the book The Total Film Maker in 1971.
Lewis survived open-heart surgery, pulmonary fibrosis, and prostate cancer. He suffered chronic pain from a chipped spinal column he got from performing physical comedy on The Andy Williams Show in 1965, and became addicted to the painkiller Percodan. He attracted controversy late in his career by sticking with culturally insensitive jokes and occasionally declaring that women aren't funny.
Lewis married singer Patti Palmer when he was 18. They were married from 1944 to 1982. The couple had five sons and adopted another child. Lewis married SanDee Pitnick in 1983. They adopted a daughter, Danielle.